Best Snuffle Mat for Dogs [2023 review]
25.04.2021.
Every product and service on World Dog Finder is independently selected by our editors, contributors, and experts. If you purchase something through our links, we may earn a referral fee. Learn more
---
When a dog gets bored, they can become destructive and develop behavioral issues. Luckily, there are toys and other equipment you can get for your dog to keep them entertained. One of these products is a dog snuffle mat. If you haven't heard about snuffle mats before, here is what you should know about them and the effects they have on dogs.
What are snuffle mats?
A snuffle mat is basically a food and treat-dispensing puzzle toy. It mimics grass and other surfaces that will make your dog work to find treats or food. Snuffle mats have different strands that can hide treats or kibble, so your dog will have to snoop and invest a little effort in getting them. The primary idea behind a snuffle mat is to keep your dog entertained for hours, or at least as long as they have to stay home alone.
Why should you get a snuffle mat?
There are many reasons you should get your dog a snuffle mat, especially if they have trouble staying home alone. Some dogs might even suffer from separation anxiety, which prevents them from feeling relaxed and confident while their owners are away. Anxiety disorders, like separation anxiety, can be managed and "trained out" of the dog, but it will involve a lot of training. Dog owners dealing with their dog's anxiety disorders will need all the help they can get, so a snuffle mat might be a convenient tool.
Benefits of snuffle mats
Like with any other product you get for your dog, it has to provide some benefits. Otherwise, the product is useless. Even basic dog toys offer benefits in the forms of playtime and hours of fun. Luckily, snuffle mats offer plenty of benefits to dogs and dog owners. Some of the best benefits snuffle mats offer are;
Gives you moments of peace
Taking care of a dog is very rewarding, but it can be very tiring and overwhelming at times. Dog owners might want a break from time to time, even if it is just for a couple of minutes. Snuffle mats will intrigue your dog and make sure you have a couple of minutes for yourself.
Mental stimulation
Dogs love being busy, especially if it is an intelligent breed like the Border Collie or a Belgian Malinois. Providing your dog with physical stimulation is important, but it is not enough. Your clever pooch will benefit from using toys like the snuffle mat that can provide much-needed mental stimulation.
Stress and anxiety reduction
Mental stimulation is vital for your dog's mental health. After using the snuffle mat, dogs generally feel less stressed or anxious. Their minds are occupied by the task of finding treats or kibble between the straps, so they have less time to focus on their stress and anxiety. Plus, dogs have a natural reaction to sniffing - it lovers their pulse and relaxes them.
Slow eating
Some dogs eat too fast; it seems as they inhale their food. When they eat too fast, they can get an upset stomach and might suffer some unwanted consequences. Plus, the risk of bloat in dogs is more significant if they are fast eaters. Snuffle mats will make your dog work for their food, which will greatly slow down their feeding.
Another great way to slow down your fast-eating dog is slow-feeding dog bowls. Check out this article for more information - Slow feeders for dogs.
Now that you know what benefits you and your dog can get from a snuffle mat, here are our suggestions for the best dog snuffle mats;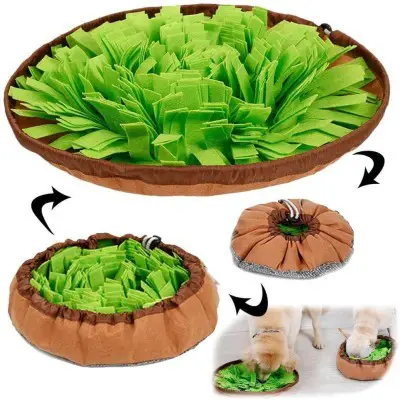 There is a good reason more than 10.000 satisfied customers recommend the AWOOF Pet Snuffle Mat; it is useful, and dogs have hours and hours of fun with it. It can even shrink to travel size. This snuffle mat can be used as a toy or as a dog bowl for slowing down your fast-eating dog. The strands are green, and the goal is to mimic the grass dogs love to snoop around. This is our top pick for dog snuffle mats.
Pros
Grass-like
Non-slip bottom
Affordable
Machine washable
Cons
Dogs can lift it
Dogs that dig the mat might destroy it pretty fast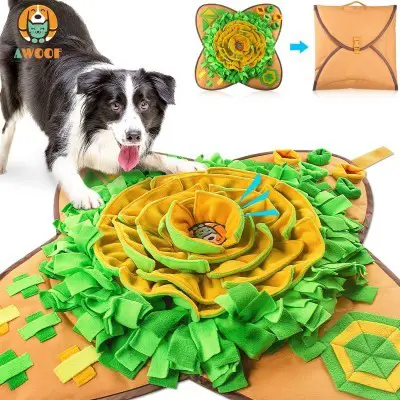 When it comes to dog snuffle mats, AWOOF seems to know what they are doing. If you have a larger dog that needs stress relief or additional mental stimulation, get them an AWOOF Snuffle Mat for larger dogs. This interactive snuffle mat will give your dog all they need - mental stimulation, puzzle toy with different levels, and it is big enough so larger dogs won't just flip it over.
Pros
Safety buckles
For larger dogs
Different hiding types
Stable
Cons
Overly enthusiastic chewers can destroy the mat quickly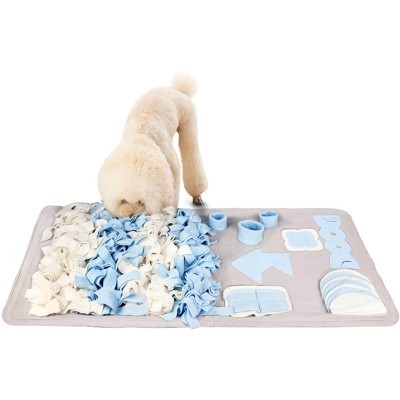 The Stellaire Chern Snuffle Mat includes a non-slip bottom that should keep this mat in place for hours of fun. It is made of polar fleece and upcycled material, making this snuffle mat machine washable and relatively easy to maintain. This mat is soft enough not to cause friction burns on your dog's nose and face. This is an excellent recommendation.
Pros
Soft
Machine washable
Non-slip bottom
Cons
Some owners reported the mat being easily tearable
World Dog Finder team