The Best Air Purifiers for Dogs in 2023
14.04.2021.
Every product and service on World Dog Finder is independently selected by our editors, contributors, and experts. If you purchase something through our links, we may earn a referral fee. Learn more
---
Our environment is getting more and more polluted every day, and maintaining a healthy home can be difficult. Air purifiers can benefit our dogs and us, and getting one might be a good idea. If you or your dog have breathing issues, allergies, or are just worried about unhealthy pollutants in the air, getting an air purifier can literally be a lifesaver.
Who needs an air purifier?
An air purifier is a great idea for all dog owners that have pet allergies. A great product can easily and quickly clear the air of unwanted dandruff and other particles that can affect our health and breathing. In general, it is a good idea to get one that will make the air inside your home healthier and cleaner.
What to look for in an air purifier for dogs?
Choosing the right purifier might not be as easy as one might think. There are different things to consider. There are four types of air purifiers to choose from, and they all have different effects. Here are the four primary groups;
UV air purifier - This type uses UV-C light to kill germs in the air.
Ionizers - Ionizing air cleaners work on the principle of ionizing dust particles in the effective range. The negatively charged particles are then drawn to positive particles inside it.
Filters - These types of air purifiers are great for removing odor and dandruff. They are not the best choice for airborne viruses and bacteria. There are two types of filters - HEPA and carbon filters.
Ozone - Ozone purifiers are effective against bacteria. They use oxidation to damage their cell membranes and kill them. They are not the best at fighting odor and dandruff.
As you can see, there are different types of air purifiers for dogs, and choosing the right one could be problematic. If you decided on one type, here are other things you should consider when buying one of these for your home;
Room size - Different models have different capacities. Make sure the one you get fits the size of the room.
Maintenance - Some types of air purifiers are easy to maintain, while others might require a lot more of your time, money, and energy.
Type - Choosing the right type is essential, and the right choice will be determined by the problem you want to fix at home. If you are worried about odor or dandruff, get a HEPA filter, and if you are concerned about viruses, you should choose ozone, UV, or ionizing models.
Noise level - Getting an air purifier that is continually going on your nerves or prevents you from sleeping is not a good option. Think about how much noise you can take and get a model that can work in a quiet mode.
ACR - ACR or Air Change Rate is the most crucial feature in a purifier. This is the volume of air your chosen model can purify in an hour.
We have prepared a list of our favorite air purifiers for dogs and dog owners. If you get any of these from this list, you can be sure you made the right decision.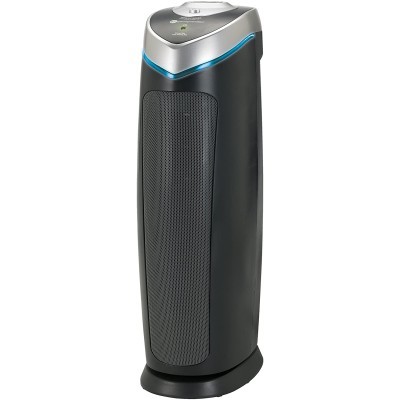 The Germ Guardian Air Purifier is the last one you will ever need. This is our TOP PICK and the best model we have tried at our own home. As Golden Retriever owners, we can tell you that the odor was getting pretty bad. It wasn't until we put this air purifier in our home that the situation got under control again. The Germ Guardian has HEPA filtration with a charcoal filter included. It is incredibly effective in odor control not only from your dog but also from cigar smoke and cooking odors, and it is effective against bacteria and viruses. It has an integrated UV filter that kills germs. It is a top choice that will make your living situation a lot healthier and less smelly.
Pros
Triple protection
Affordable
Good design
Cons
Some owners reported problems with a burnt electric circuit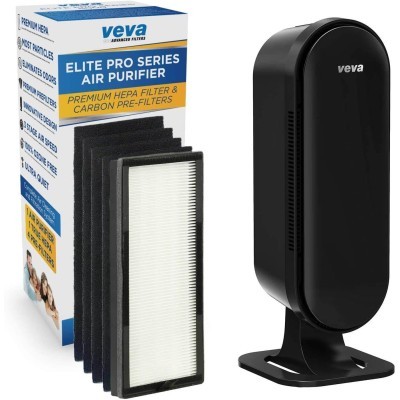 We love an air purifier that looks like a speaker! It is very easy to incorporate it into a home, and it can be your subtle partner for healthier living. The VEVA 8000 Elite Pro Series Air Purifier is a great and affordable choice with a HEPA filter and four carbon pre-filters. This model has activated charcoal nanotechnology. It has different speed settings and can run quietly or fast and effectively. This is a great option for all of us suffering from allergies or have pets with an unpleasant odor.
Pros
Affordable
Effective
Great design
Cons
Replaceable carbon filters
Relatively short lifespan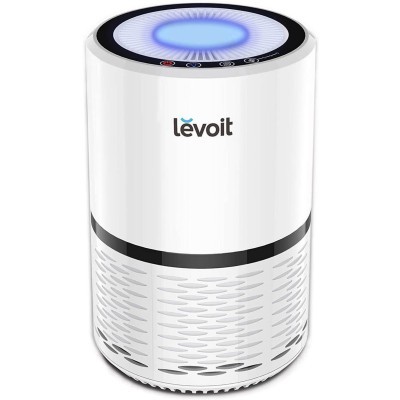 If you want to get an air purifier with excellent reviews and other dog owners are satisfied with, then the LEVOIT Air Purifier for Home is the one for you. This model has 3-stage filtration that is effective against pollen, dandruff, dust mites, odors, but it lacks the germ elimination system. If you are satisfied with the germ situation in your home, this might not be such a problem. It has a HEPA filter that effectively removes particles to 0,3 microns. Plus, it doubles as a night light and has a great design.
Pros
Effective
Night light as well
Affordable
Great against allergens
21.000+ 5-star reviews
Cons
Ineffective against germs
Some owners reported fan problems
There are other products that can help you clear your home from mites, fleas, or ticks. Check out this article - Best flea treatment for dogs.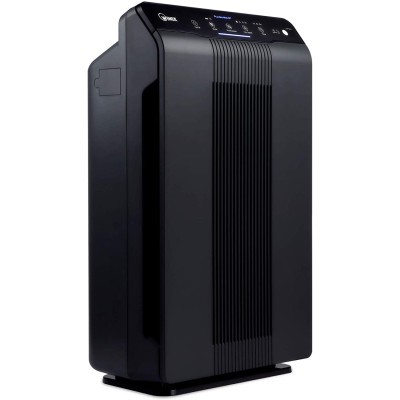 The Winix 5500-2 Air Purifier is a close second for the top pick place, but the thing that pushed it to the second place was a slightly higher price. This purifier has a true HEPA filter combined with AOC Carbon Filter, and it captures and purifies 99,7% of all air pollutants in the room. A cool feature is that the carbon filter is washable, so no need to order a new one every couple of months. One of the best things about this filter is its ability to neutralize dog odors. It is extremely effective. It has a Plasma Wave filter that is permanent, and it doesn't need changing. It can filter a medium-sized room up to 360 square feet.
Pros
Effective
Permanent filter
Plasma Wave technology
Cons
Some owners reported being scared of ozone release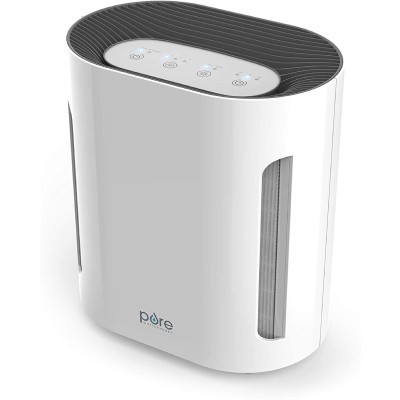 This air purifier is effective against three things - germs, allergens, and odors, which is just what you need in a house with pets. It combines the UV-C light filtration and HEPA filters for maximum protection and purification. The Pure Enrichment PureZone Air Purifier has a timer, so you don't need to think about turning it on and off. It has a great design, and the noise it produces is limited to 30 dB, which means it is relatively quiet. One of the best things about it is that the manufacturer offers a 5-year warranty on it.
Pros
Triple protection
Quiet
Effective
5-year guarantee
Cons
Some owners reported ACR problems
World Dog Finder team