How To Choose the Best Puppy Pad?
18.02.2021.
Every product and service on World Dog Finder is independently selected by our editors, contributors, and experts. If you purchase something through our links, we may earn a referral fee. Learn more
---
Potty training a puppy can be a long process, and sometimes a puppy pad could be helpful. There are many available puppy pads, and if you don't know what to look for, you can end up buying the wrong product. Every puppy pad has some unique qualities that make them better suited for certain types of dogs. You don't want to end up buying a pad that won't hold the liquid the way it was supposed to.
Here is a short step-by-step guide on how to teach your dog to use puppy pads and begin the potty training process;
Place your puppy on the puppy pad several times a day. Make sure they know where it is and how to reach it.
When the puppy starts "doing their business," use your clicker, so they know what is expected from them. You can read more about clicker training here - Introduction to clicker training.
If your puppy starts showing signs they might relieve themselves, bring them quickly onto the puppy pad.
Use a reward system and reward your puppy every time they do what they are supposed to - urinate on a pad.
When the puppy learns to use it every time, you can slowly start moving the pad towards the front door.
Once that is learned successfully, you can move the pad right in front of the front door. Remember to take baby steps.
The last step is to move the pad further from the front door and remove it altogether.
If you are interested in learning in more detail about potty training, you can check out this article to help you with the process - Potty training made easy.
What to look for in a puppy pad?
As we mentioned earlier, there are some things you should look for in puppy pads. New or inexperienced owners might not know what they have to look for. Being bombarded with so many options can be confusing. Here are some things that are most important when choosing a puppy pad.
No leakage
One of the most important things a puppy pad needs to have is no leakage. The back part of the pad should be made of waterproof material, which will keep all the liquids away from your floor.
Absorption
Arguably the most important thing in all puppy pads is their absorbing capability. You will want to get a pad that will is really absorbent and dries quickly. This feature will help reduce the time spent on chasing your dog around the apartment to wipe their pee-soaked paws.
Odor blocking
The urine itself doesn't have a nasty odor, but some things like nitrogen can react with bacteria and other things. That will cause a nasty smell. It would be best to go for a pad that has odor-blocking abilities.
Strength
Do you know what happens with a wet paper towel and how easy it is to shred? Nobody would want that happening with a urine-soaked puppy pad. Make sure you decide on a pad that won't tear when it is soaked with urine.
Attractants
Attractants are natural chemicals that will draw your dog to the pee pad. Potty training can be a long process, and every little thing that helps is a good thing.
Fluid capacity
One of the best things to get in a puppy pad is the exact fluid capacity. You won't have to guess how much urine the pad can hold; you will know exactly.
Here is the list of our 5 favorite puppy pads.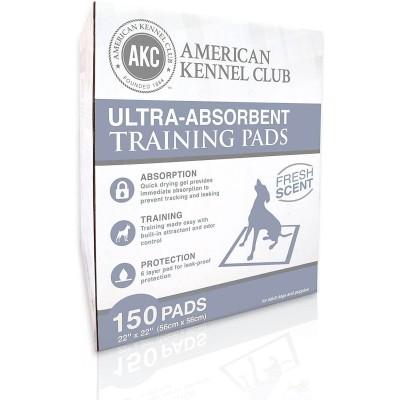 There is not much we can say about an institution like the American Kennel Club that hasn't already been said; they have been taking care of American puppies for over 130 years, so you can be sure they make great dog products. These puppy pads are scented, come in different designs, and include an attractant. Your puppy will be trained in just days with the help of these great pee pads.
Pros
Attractant
Affordable
Scented
Cons
Not sure what the layers are made of
No wetness indicator
It is a good idea to get your dog a safe place that is just for them. Some owners think getting a crate is cruel, but they are a great way to keep your puppy safe and in check. Check out this article for more details - Crate training a puppy.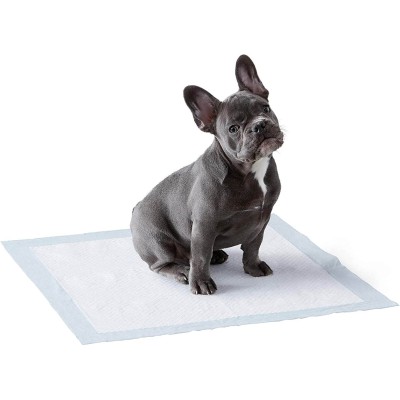 Even though Amazon doesn't revolve around dogs, it certainly seems they know what they are doing when making products for them. The Amazon Basics Potty Training Pads are recommended by more than 99.000 happy users, and you can't argue with that. Their 5-layer pads are leak-proof and turn the urine into a gel upon contact. Probably the best thing about them is their price tag. This is also one of the most budget-friendly puppy pads out there.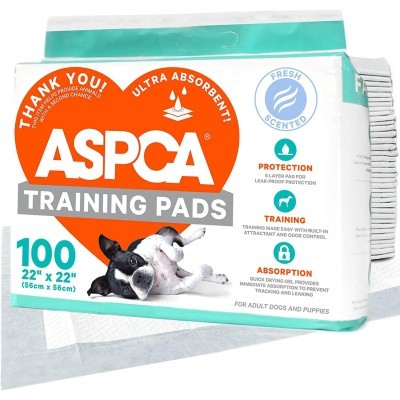 Suppose you are looking for puppy pads that are recommended by veterinarians. In that case, ASPCA Dog Training Pads are the clear way to go. These puppy pads are created by the American Society for the Prevention of Cruelty to Animals (ASPCA), so not only are you getting a great tool to help you with potty training, you are supporting a great cause. These pads are absorbent, and they have quick-drying properties. The urine is turned to gel a few moments after contact, so there is no reason to worry about leakage.
Pros
Affordable
Supporting ASPCA
Absorbent
Citrus smell
Cons
Can't hold too much urine
Some owners reported leakage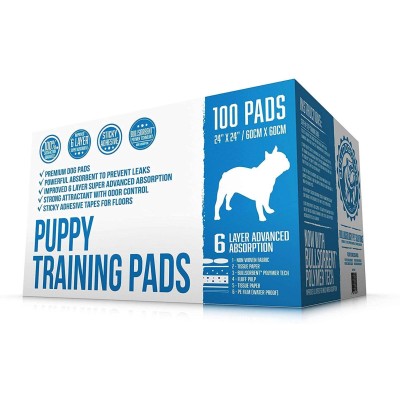 Bulldogology Premium Puppy Pee Pads are an excellent choice for dog owners that want puppy pads that block odors and naturally attract dogs. These pads use advanced polymers for absorption. They turn the urine into a gel upon contact, and the attractant will let your dog know where their designated potty place is. A cool feature these training pads have is a sticky back part. It keeps them in place, and your puppy will not drag them away.
Pros
Sticky back
Odor neutralizer
Attractant
6-layers
Cons
Tearable
Some owners reported leakage
Other than potty training, there are other things your puppy will have to learn. Check out this article - Leash training.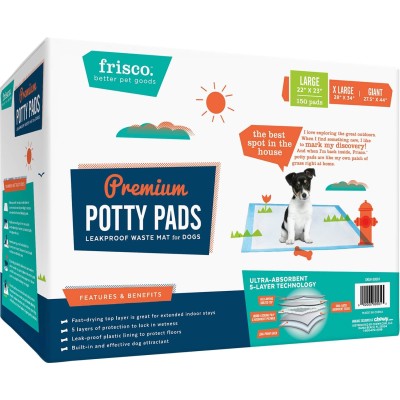 The most important thing you want out of your puppy pads is leakage control. There is no better pick than the Frisco Training & Potty Pads when it comes to that issue. These guys made an excellent, leak-proof product that will be an ideal solution for housebreaking a puppy. It offers a quilted top layer and a completely leak-proof line at the bottom. These pads include an attractant, so your puppy will be drawn to the pad. This is one of the best choices a new owner can make if they decided to use pads to aid in potty training.
Pros
Best leak-proof characteristics
5 size options
World Dog Finder team