Best Puppy Shampoos in 2023
27.04.2021.
Every product and service on World Dog Finder is independently selected by our editors, contributors, and experts. If you purchase something through our links, we may earn a referral fee. Learn more
---
Keeping your dog clean and well-groomed is an important part of dog ownership, and washing or bathing your puppy is an essential part of it. Experienced dog owners know what products they should use and how regularly they need to wash their puppies. However, if you are a new owner, knowing exactly which products you should use can be challenging. Luckily, we are here to help you decide what the best puppy shampoo is. Here are a few things you should know about puppy shampoos.
What makes a good puppy shampoo?
Just like with human shampoos, some are just better than others. The same distinction exists in the world of puppy shampoos, and you should know what to look for when buying a puppy shampoo. Here are the most important things to look for in a puppy shampoo;
Fragrance
It can seem like a great idea to get a puppy shampoo that will include fragrance to neutralize the "puppy smell." However, not all fragrances are safe for your new puppy. Make sure you read the label carefully because some fragrances can hurt your puppy's skin.
Neutral pH levels
The first thing you should know is that your puppy's skin has a pH level of 7, a neutral pH level. Look for puppy shampoo that has a similar pH level. That will prevent their skin from getting damaged or inflamed.
Ingredients
Some ingredients used in puppy shampoos have a calming effect on the puppy's skin. Sure, smelling good is important, but shampoos that include things like aloe vera, oatmeal, or vitamin E will soothe the puppy's skin.
Mild formula
Just like human babies have more sensitive skin than adults do, puppies have more sensitive skin than adult dogs do. Luckily, there are shampoos developed explicitly for puppies. It is a good idea to look for that types of shampoos with a mild formula.
Origin
We are more interested in getting shampoos from countries we know and trust. Countries like the USA, Canada, Australia, western Europe, and New Zealand have strict guidelines and laws for dog products. Look for shampoos made in those countries.
Can I use human shampoo for my puppy?
Generally speaking, it is never a good idea to use human products on dogs. You should avoid using human shampoos on your puppy. Bathing them in warm water is better than using shampoo you are not sure how they will react to.
What about baby shampoo?
Human baby shampoos are a lot milder than adult shampoos. If you have nothing else and your puppy absolutely needs a bath, you can use human baby shampoo. Still, it is better to avoid using it long-term. Make sure you get a mild, soothing puppy shampoo the first chance you get, so you don't risk your puppy's health.
Now that you know what to look for in puppy shampoos, here are our top 3 puppy shampoo recommendations.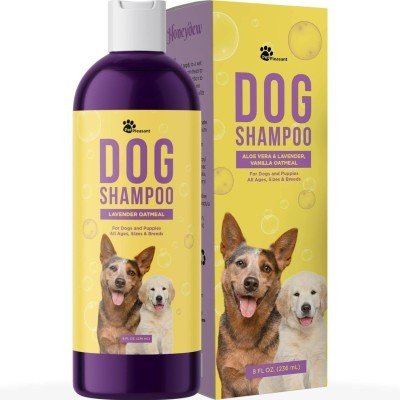 Why do we love Honeydew Dog Shampoo For Smelly Dogs? Because it can stay with your puppy for their whole life. You know how difficult it can be switching dog foods, but switching shampoos can be just as problematic. Luckily, Honeydew Dog Shampoo is mild enough for puppies and safe for adult dogs. The Honeydew's shampoo includes vanilla, oatmeal, and lavender, so you can be sure it is very mild. This is as natural as puppy shampoos come, and it is an excellent choice for all puppies - a top recommendation.
Pros
Natural formula
Mild
Hypoallergenic
No sulfates and parabens
Smells great
Cons
Some owners reported their dogs having a reaction to it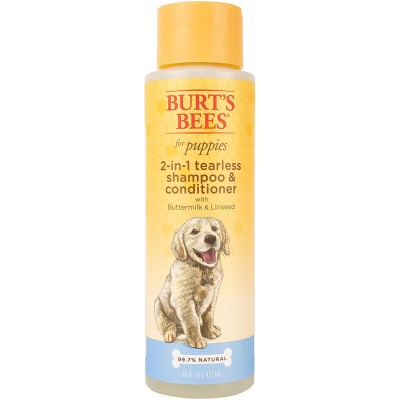 If you are looking for a 2-in-1 puppy shampoo, Burt's Bees for Dogs Shampoo & Conditioner is a great pick. This is another puppy shampoo you can use throughout your puppy's life. Not only will it clean your puppy, but it will neutralize the bad smell for days after the bath. It has a neutral pH, so this shampoo should be pretty mild. It includes buttermilk and several other natural ingredients: excellent puppy shampoo and a great recommendation.
Pros
Natural ingredients
Buttermilk
Mild
Tearless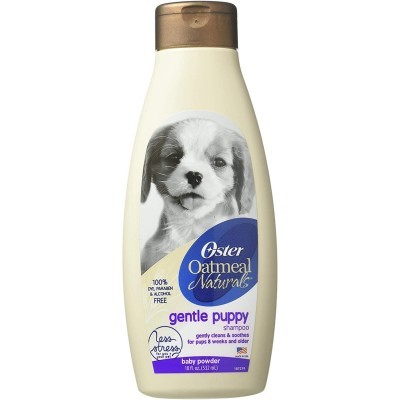 The Oster Oatmeal Essentials Shampoo has three different options, Extra Soothing, Gentle Puppy, and Shed Control. All formulas are gentle and mild, explicitly developed for puppies. Even older dogs can benefit from this mild shampoo. Older dogs can have sensitive skin; in fact, it is quite common. If you have an adult dog with sensitive skin, you can easily use this mildly-formulated puppy shampoo that will be gentle enough on their skin. This shampoo includes wheat protein and a mild baby powder scent.
Pros
Wheat protein
Natural
Mild
Cons
Low-level of oatmeal
Some dog owners reported eye reactions in their dogs
World Dog Finder team