Top 9 Best Puppy Food 2023
30.01.2021.
Every product and service on World Dog Finder is independently selected by our editors, contributors, and experts. If you purchase something through our links, we may earn a referral fee. Learn more
---
Becoming a new puppy owner is one of the best things you can do for yourself and your family. And one of the first things you need to decide on is the best puppy food you will feed your dog with.
Choosing the best brand of puppy food for your new dog is not a simple task, nor it should be. Like most responsible owners, you probably only want what's best for your dog. Having them on a healthy and balanced diet is essential for their development and health. Here are our top 7 puppy foods that will be great for your puppy.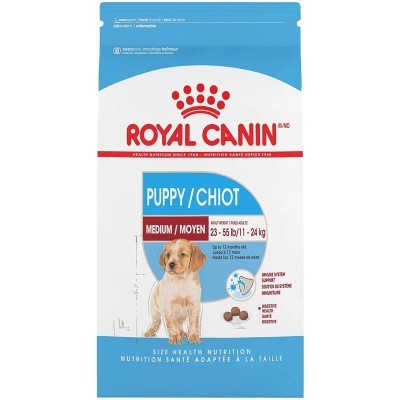 There have been many debates about the quality of the Royal Canin food brand and their dog food ranges. Many breeders and owners stopped using this brand because of their "declining" quality over the last 10 years, but there is one thing no one can take away from them - their puppy and newborn dog food still remain one of the best foods there are in the market today.
Royal Canin is an industry giant, and its innovative food production technology raised the bar in the industry. Their puppy food is still the highest possible quality, and their recipe is a perfect blend of taste and healthy nutrients. The packages come in different sizes and even have specialized formulas for different breeds.
Pros
Trusted company
4.8 rating
Makes the transition from milk to kibble easy
Cons
Some dogs don't like the taste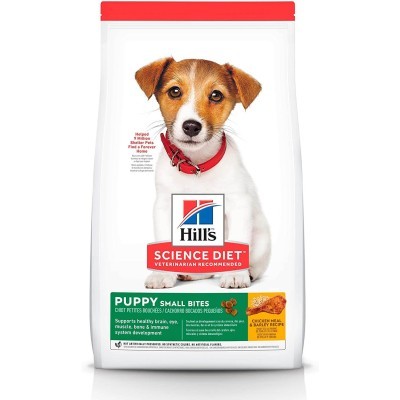 Hill's is a well-known dog food manufacturer we trust for quite some time now. Personally, my first dog was on Hill's because of a sensitive stomach, and I was delighted with the quality of the food. Hill's gets most of its protein from chicken and contains whole grain corn and wheat.
Numerous owners have mentioned how well their dog's coats look because of the Dry Puppy Food. Of course, they still needed to take proper care of it; it is just that the Hill's special recipe offers plenty of benefits dog owners don't even know. This is a highly recommended puppy food. P.S. this food is often recommended by breeders and veterinarians.
Pros
Chicken protein
4.8 rating
small kibble
Cons
Many dogs are allergic to chicken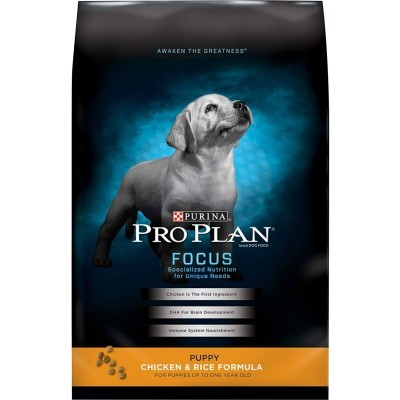 Purina is a famous dog food manufacturer that is known for having high-quality puppy food as well. They are often the dog food veterinarians recommend, and they are pretty proud they have a formula that works for so many years.
Purina Puppy Pro Plan is a good dog food choice for your dog because it has most of its protein derived from poultry. It is the food containing gluten and grain, which might be more important in your dog's diet than you think. Even wild wolves are natural omnivores, and plants should be a part of their daily meals. This food often receives positive reviews, and it indeed makes one of the top choices.
Pros
Balanced
Vet-recommended
Poultry protein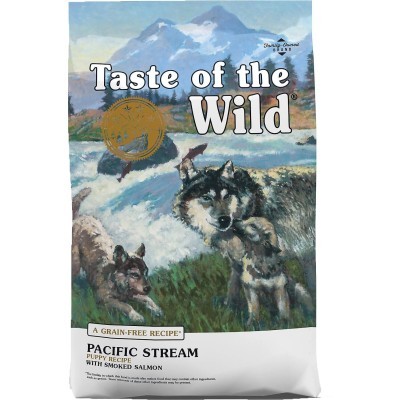 Taste of the Wild has a different approach to puppy food, and instead of getting their protein from land-based animals, they took a look in the ocean. They take most of their protein from salmon and other fish, and salmon oil is one of the healthiest ingredients a dog can get.
The puppy's diet is crucial during their development, and rapid growth faze. Taste of the Wild knows that and created dog food full of omega fatty acids, which are incredibly beneficial for a developing puppy. You can ask your vet about this brand of food, and they will most likely have good things to say about it.
Pros
Fish-based
High quality
Omega fatty acids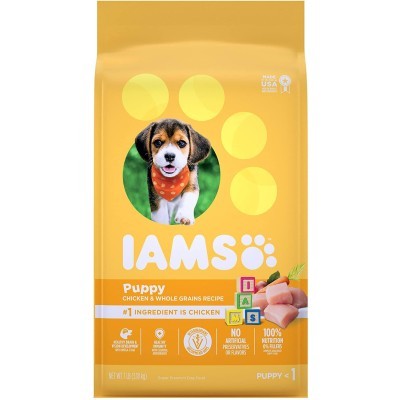 IAMS is one of the best choices for store-bought foods. Even though some owners believe this is not a brand of the highest quality, IAMS still has one of the best fat-to-protein ratio. Their dry puppy food has small kibble, and next to Pedigree, it is the best store option.
If you are on a strict budget and looking for a great value-for-money option, then IAMS ProActive Health Smart Puppy is your choice. It contains fish oil, which is beneficial for the dog's joints and coats.
Pros
Affordable
Fish Oil
Fat-to-Protein ratio
Cons
Lower-quality ingredients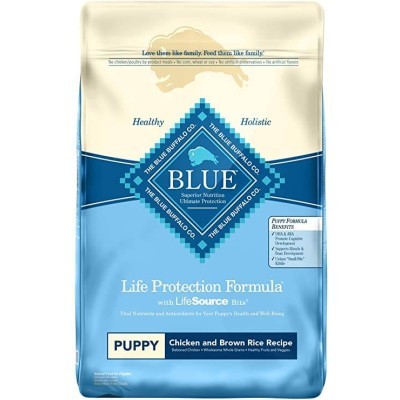 Blue Buffalo is another chicken-based puppy dog food, but unlike others, this food doesn't use the "by-product" ingredients. You might be surprised to hear that most manufacturers use by-product, and Blue Buffalo stepped up and created a great product your puppy will love.
This recommended puppy food has controlled L-carnitine levels, so your puppy gets the best start and development support there is. Plus, Blue Buffalo dog food is full of omega 3 and 6 fatty acids that will make your puppy's coat nice and shiny.
Pros
High quality
Omega fatty acids
Cons
Pricey
not well-distributed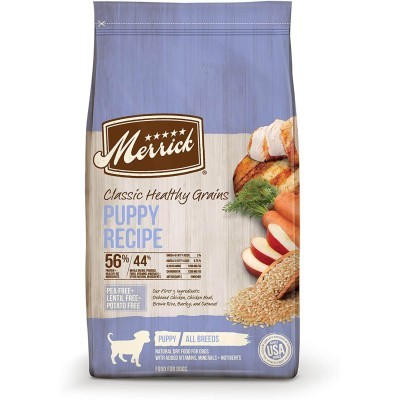 Merrick is a well-known brand in the puppy food industry. They are a reliable manufacturer with great product lines. The Merrick Classic Puppy Healthy Grain comes highly recommended by breeders, owners, and vets alike. It is a puppy food that falls in the middle-priced category, so it won't break your budget.
Merrick puppy food gets its protein from chicken and chicken meals. Interestingly, this food contains no potatoes, peas, or lentils yet retains the description's well-balanced part.
Pros
High quality
High in chicken protein
Affordable
Cons
Kibble might be too small for larger puppies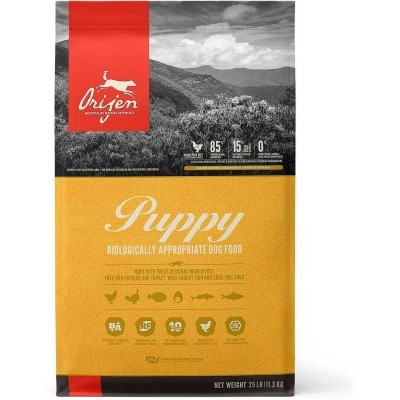 If you are a dog owner, you probably heard about Orijen before. This Canadian pet food manufacturer is arguably the best out there. Their pet food is unmatchable, and the nutrients in it are of the highest quality. However, there is a problem - the price tag. It is also one of the most expensive puppy foods out there. Many European breeders start their puppies on Orijen for the first couple of months of their lives, then switch them to an option that is easier on their pockets.
The protein source in Orijen puppy food is from chicken and turkey. It has about 43% protein and 23% healthy fats. It also includes cage-free eggs and around 26% of carbohydrates. If your budget can handle Orijen, it is definitely the right pick for your puppy.
Pros
High-quality ingredients
Overall quality
Animal protein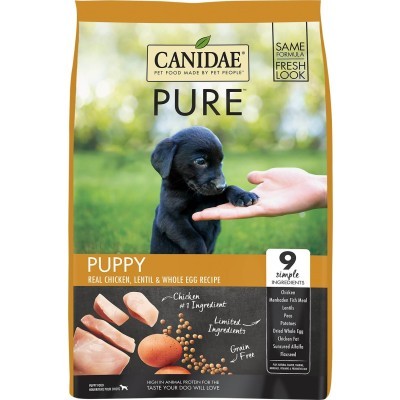 If you are looking to get puppy food from a trusted brand with great reviews, CANIDAE Grain-Free PURE Puppy is something to look into. Canidae has a different approach to making puppy food, and each bag contains a maximum of 10 ingredients. You can be sure there will be no fillers or unnecessary ingredients to achieve volume and weight.
CANIDAE PURE Puppy is not the cheapest choice, but it makes up for it with quality. This puppy food has ingredients that can go toe-to-toe with the mighty Orijen. This puppy food has six protein sources: bison, lamb, duck, chicken, boar, and wild salmon. It contains 30% protein, 12% healthy fats, and 41% carbs. If your budget can withstand the higher price, this is one of the best options for developing puppies.
Pros
6 animal protein sources
Highest quality
Raw food recipe
Choosing a puppy food
Having a vet you trust is a great way to get good dog food recommendations, and before you decide on any particular brand, there are some things you need to understand. Choosing the right puppy food will depend on the characteristic your new puppy possesses. You should choose their food based on
Breed
Activity level
Size
Health
Quality
Price
It might seem weird we would put "price" as one of the conditions, but realistically, most of us have a specific budget, and picking a brand that is too expensive can end up badly. That means you will have to change your dog's diet after they are already used to it, and most dogs have a terrible reaction when switching foods.
Breed
Certain dog breeds are prone to allergies, and nothing describes that better than small dog breeds being allergic to chicken. No one knows why that is precisely, but we just know it happens. Some breeds have different requirements, and you can imagine that a Great Dane puppy has different needs than a Pomeranian.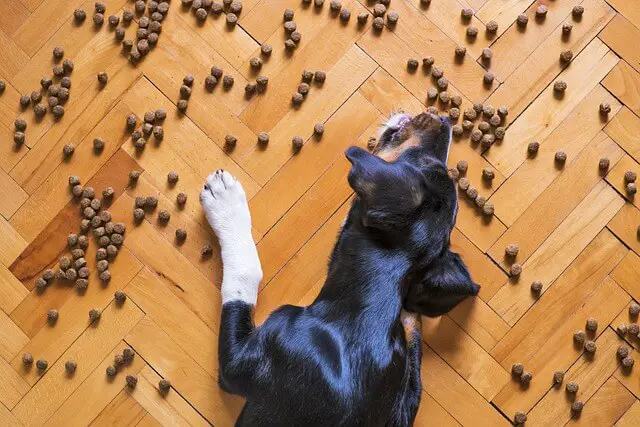 Activity level
Some dog breeds are more active than others, and they need their dog food to support their lifestyle. If a breed that is as active as the Border Collie eats the same diet as an inactive like a Pug, they will most likely not get everything they need from their food.
Size
Small dog breeds don't require the same nutrition as giant dog breeds. They have different needs, activity levels, and they are less likely to develop hip dysplasia, joint problems, or skin allergies. Every dog is unique, and diet should be tailored after each specific puppy's needs.
Health
Some health problems require special diets. Obese dogs might need low-fat diets, and dogs with kidney problems need specialized ingredients. This can clearly tell you that healthy dogs have different diets and needs than those with specific health problems. That is why some brands have specialized lines like gastrointestinal foods.
Quality and price
It is expected that dog owners want what is best for their dogs, and sometimes, they are limited by their budgets. Like with any other financial decision in life, dog owners need to find the perfect balance between quality and price. We mentioned a few brands ideal for different budgets, and we would certainly like everyone gets the most for their money.
What to look for in puppy food
Most brands are not too honest when marketing their products, which is understandable since they have to sell their food. The problem is that most buyers get somewhat confused when it comes to picking food for their puppies. Here is what you should look for in puppy food.
Protein
Protein is the base of puppy food, and it should be at least 22% of their whole meal. Your puppy's body requires protein because they are the building blocks their development lays upon. Amino acids are an organic compound that builds protein. Only about 50% of them can be created by the puppy's body. The rest should come from the things they eat. The best protein sources are other animals like chicken, buffalo, duck, fish, lamb, etc.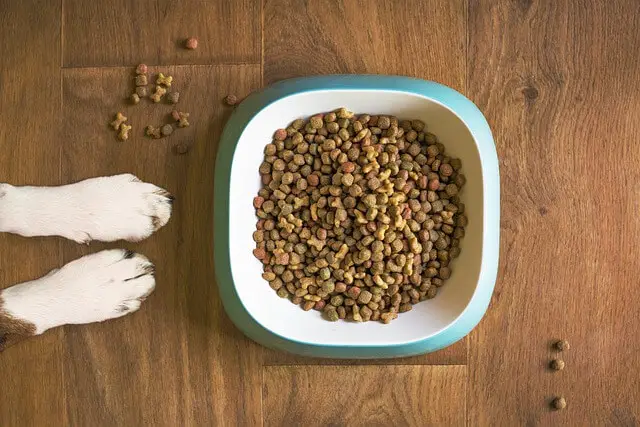 Healthy fats
Well-balanced puppy food should contain at least 8% healthy fats. Proteins will turn into tissue, hormones, muscles, and cells, but they will require healthy fats to work properly. The thing to look for on puppy food package is DHA, a beneficial omega-3 fatty acid.
Carbohydrates
Carbohydrates are an energy source your puppy will need for all its adventures. Protein and fats serve more like energy reserves, and carbohydrates are quickly transformed into energy. The body uses them immediately. There are several carbohydrates sources, and the most common ones are potatoes, rice, soy, corn, and wheat. Potatoes and rice are the safest options because some puppies can be allergic to other sources.
Other nutrients
A healthy, well-balanced diet contains a lot of nutrients necessary for healthy development. Puppy food should contain vitamins, minerals, probiotics, and other micronutrients. All of them play a vital role in your puppy's body. Vitamins boost their immune system, help with proper organ function, sight, digestion, etc. Some natural elements like calcium help build a puppy's bones, and iron is vital for red blood cell production.
In short
There are many food manufacturers on the market, and finding your way amongst them might not be the most straightforward task. We mentioned foods that are trusted and tested by our users and other dog owners. Getting a vet-recommended puppy food is incredibly beneficial, so make sure you have a great relationship with your vet.
World Dog Finder team