Best Rope Leashes for Dogs
25.04.2021.
Every product and service on World Dog Finder is independently selected by our editors, contributors, and experts. If you purchase something through our links, we may earn a referral fee. Learn more
---
One of the first choices you will have to make as a dog owner is - What type of leash should I choose for my dog? Many dog owners are against using retractable dog leashes since there are some risks involved. Instead, think about getting a secure rope leash for your dog. Rope leashes are a lot tougher, safer, and secure. Here at the World Dog Finder, we generally advise dog owners to use rope leashes instead of retractable ones.
Why should you pick a rope leash?
Rope leashes have significant advantages over other types of leashes. They are durable, safe, and can easily withstand even the most challenging conditions. They are ideal for dog training and long walks. Plus, if you have a strong dog that loves pulling on their leash, a rope leash will prevent them from slipping and getting loose.
All puppies need to get used to leash walking. Check out this article for more information - Puppy leash training.
What to look for in a rope leash?
Picking the ideal rope dog leash might not be easy. Still, if you consider some of the most critical things in rope leashes, you can get a clear answer to the question, "What type of rope leashes are the best for my dog?" There are things all owners should think about when getting a rope leash, and here are some of the crucial things;
Material
The first thing you need to think about is the material the rope leash is made of. The three most common materials in dog leashes are nylon, cotton, and polypropylene. All of them offer unique advantages, and you should choose them based on your lifestyle. Cotton is soft but will absorb water. Polypropylene and nylon will not absorb water but might chafe your dog. Think about your lifestyle and make the best possible choice for your dog.
Length
We prefer somewhat shorter rope leashes. The length of a rope leash is significant for dogs and dog owners that live in urban environments. If there is heavy traffic on the street, you don't want to get a too-long leash for your dog. A shorter leash will keep your dog safer.
Strength
The strength of a leash is essential, especially if you have a powerful dog like a Dogo Argentino. Your powerful dog might notice something that interests them, and they decide to run. You must have a rope leash that will not break if your dog suddenly decides to run away.
Type
There are two main types of rope leashes - clasp and slip. One comes with a clasp that needs to be attached to a collar, and the slip rope leash goes around the dog's neck. Both have certain advantages. Slip rope leashes are easier to put on your dog, but if used incorrectly, they might choke your dog.
Want to know more about retractable dog leashes? Check out this article - Should you use retractable dog leashes?
Now that you know what to look for in rope leashes, here are our favorite rope leashes.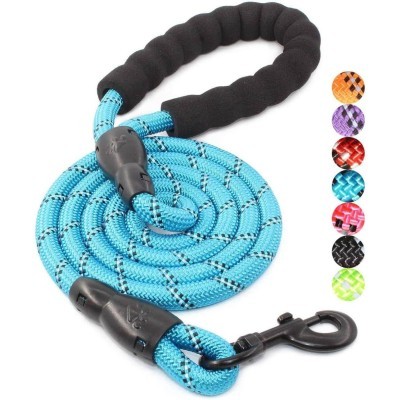 There is an excellent reason why the BAAPET Strong rope leash has more than 40.000 great Amazon reviews. When it comes to rope leashes, this is the best choice. You can choose different leash lengths, and the leash is actually made from mountain climbing ropes. If there was any doubt about its durability and strength, the fact that people use this type of rope to hang from cliffs should clear that doubt. This is an ideal choice for all powerful dogs that pull on the leash.
Pros
Padded handle
Metal clasp
Rope climbing rope
Money-back guarantee
Cons
Some owners don't like the stretching ability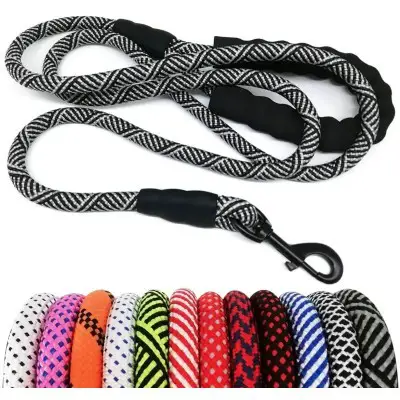 The MayPaw Heavy Duty Rope Dog Leash is a 6 ft rope leash that comes in a variety of colors. If you want a rope leash with an interesting design but still keeps the safety aspects, this is the right choice. It has a ½ inch diameter, which is more than enough to control even the strongest dogs. The clasp is moveable, so no matter where and how your dog turns, the leash will remain safely in your hand.
Pros
Durable
Design
Competitive price
Padded handle
Cons
Might be too long for small dogs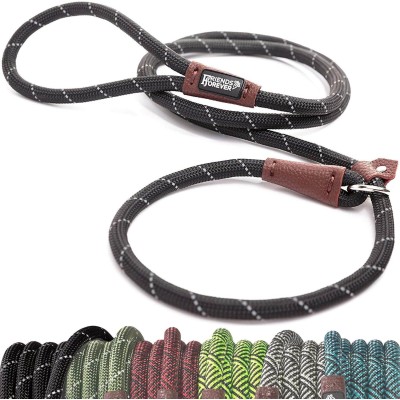 Our third pick is the Friends Forever Dog Slip Rope Leash. Unlike our previous two picks, this is a slip-type leash. Some owners prefer this type of leash, and it eliminates the potential clasp problems. Some of our favorite things about this leash are that it is made of climbing rope, including reflective threading. These features offer unique safety features we love for our dogs. This is a top recommendation that you will surely love.
Pros
Reflective threading
Durable
Great training leash
Cons
Not for small dogs
The leash is not actually 6 ft because of the loop around the dog's neck
World Dog Finder team