Should You Use Retractable Dog Leash?
06.02.2021.
Every product and service on World Dog Finder is independently selected by our editors, contributors, and experts. If you purchase something through our links, we may earn a referral fee. Learn more
---
A retractable dog leash is a thin cord wrapped around a spring-loaded device placed in a plastic handle. The length of a cord varies; the button on a plastic handle (placed in a human's hand during walkies) controls how far the cord will extend - how far from you will your dog be able to go.
Inventor
German inventor Manfred Bogdan invented the first retractable dog leash. He wanted to find an easier way to walk his best buddy without having to stop every few seconds while his dog sniffs around. His innovation changed the game, and today retractable dog leashes are wildly popular and can be bought almost everywhere. 
What Makes Rectractable Dog Leashes Popular?
Retractable leashes are great because they give your dog more wonderful freedom than a classic leash. The dog is under the continual control of a human. Some retractable leash cords are up to 30 feet long.
When walking your dog using a retractable leash, your dog will surely get more exercise. A retractable leash allows them to walk faster than you or even run around while still on leash. Your dog is not obligated to walk at your pace. They can have their own. 
Are Retractable Dog Leashes Dangerous?
Although it is evident that retractable leashes have many advantages, there are also a few problems that can occur while using this type of leash. Some will even say retractable leashes are dangerous and deadly! But, let's not dramatize.
The truth is that there is more chance for a retractable leash to break and to hurt the dog or its owner, but that scenario does not happen so often. If a retractable cord or plastic handle breaks, injuries may occur. Most often, when a plastic handle breaks, people instinctively grab the cord to stop their dog from running away, attacking, etc. In cases like this one, people often suffer from burns or cuts. Humans and dogs can get twisted and end up with deep cuts from the cords.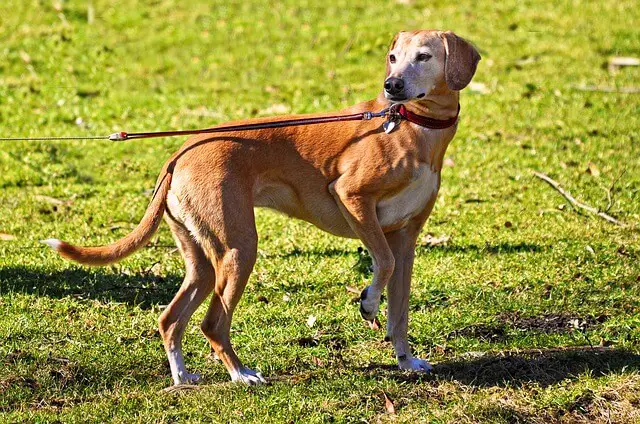 Accidents usually happen because a powerful dog pulls, and the cord snaps. It is hard to discipline the dog not to pull when being walked on a retractable leash because they learned that pulling extends the lead. This is why your dog needs to be well-behaved and well-trained. If the dog is well-trained and polite, both the dog and the owner will enjoy their walks using a retractable leash. 
There is another controversial but effective method of teaching your dog not to pull on a leash. This article will tell you all about it: Prong collar: Yes or No?
While using a retractable leash, dogs have more freedom, but sometimes that is not an advantage. For example, dogs could get scared and jump on a busy street and get hurt.
When and Where Should Rectractable Dog Leashes be Used?
If you decide to get your dog a retractable leash, always keep in mind that your dog's situation is far away from you, and only one thin cord is keeping him under your control, which can quickly turn dangerous. It is more difficult to control your dog. They can get tangled up with other dogs or bicycles before you even get a chance to react.
If you can, get a retractable leash for special walks. For example, when you take your dog to wide open and empty spaces such as parks or beaches. These places are great for dogs to run around.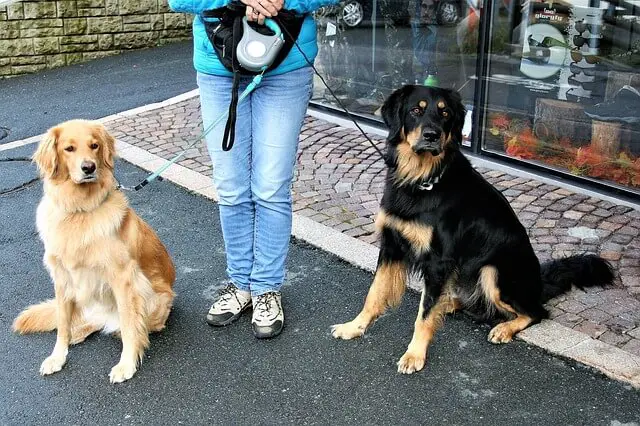 Use the leash correctly and make sure your dog is well-behaved enough even when they are "free," and there shouldn't be any problems.
There is a significant number of different retractable dog leashes, and sometimes it is hard to choose the best one. The leash cord can be made of nylon, leather or rope, and can vary in size and length. A standard retractable leash is between 4 and 6 feet long and up to 1 inch wide. This leash is the most common type. It is hard to say which kind is the best retractable dog leash.
Because choosing the best retractable dog leash is hard, we have prepared some suggestions to make it easier for you to decide.
Choose leash size and material based on the size, weight, and behavior of your dog.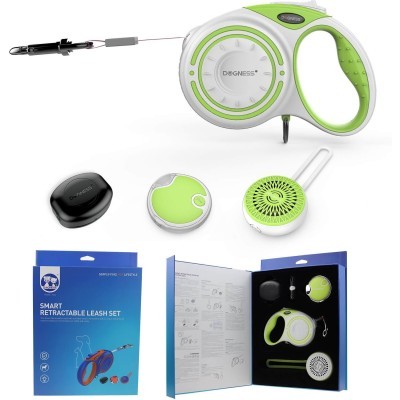 Dogness Smart Retractable Dog Leash Kit contains everything you need in one place. A retractable leash, LED light, Bluetooth speaker, and a convenience box filled with poop bags and doggy snacks are a part of this Kit. The leash has a switch made out of stainless steel and is excellent even for the biggest and strongest dogs.
Pros
The Kit contains everything you need for a careless walk with your furry best friend.
Metal switch on a leash made out of durable stainless steel
Can withstand pulling of great strength (even up to five times your dog's weight)
Comfortable and easy to use
Comes in a variety of different sizes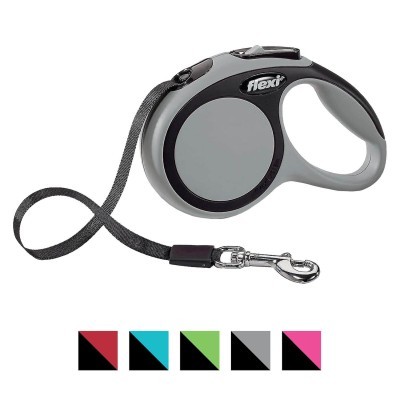 Flexi Comfort Nylon Tape Retractable Dog Leash is an excellent choice for your dog and you. The leash runs smoothly and is super easy to use. The leash also has an ergonomic soft-grip for your comfort.
Pros
Affordable
The cord runs smoothly and is easy to use
The braking system is reliable
Has an ergonomic soft-grip
Beautifully designed
A lot of colors available
Cons
Not recommended for dogs weighing over 26 pounds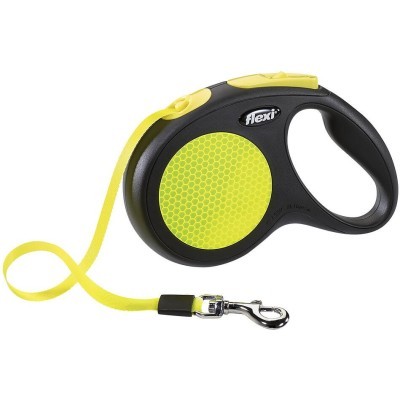 Flexy Neon Nylon Tape Retractable Dog Leash is a perfectly designed two-color leash. It has a reliable braking system and a color-coordinated brake button. The neon tape adds better visibility and is excellent for night walks and walks in bad weather conditions.
Pros
Neon colored tape for better visibility
Reflective sticker component
Ergonomic grip
Beautiful design
Comes in lots of different colors
Affordable
Cons
Not recommended for dogs weighing over 33 pounds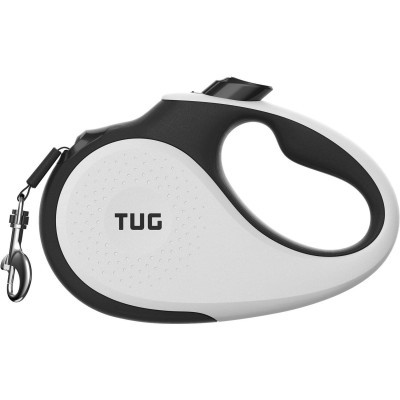 Tug Nylon Tape Retractable Dog Leash is a modern leash that secures strength and durability. Except for being beautifully designed, the leash is super comfortable. It has a non-slip surface to ensure you have a firm grasp and always in control of your dog. The nylon leash moves 360 degrees and provides effortless control. The nylon leash moves 360 degrees and offers effortless control.
Pros
Affordable
Easy to use lock and brake system
Ergonomic handle for your comfort
The nylon leash moves 360 degrees
The chrome-plated hook is weather resistant
Durable and strong
Available in different sizes and colors
Cons
Not recommended for dogs weighing over 33 pounds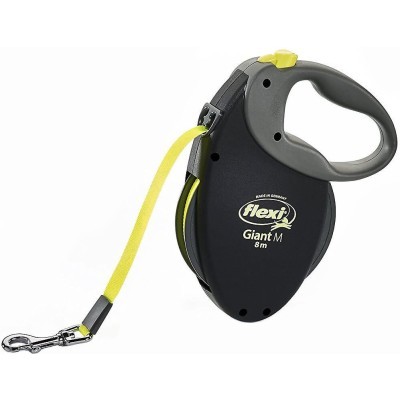 Flexy Giant Nylon Tape Retractable Dog Leash is explicitly created for strong and large dog breeds. The leash runs smoothly, and the braking and recoil system is easy to use. The ergonomic handgrip with a braking button and constant lock lever provides you comfort and better control of your dog.
Pros
Adjustable
Runs smoothly
Padded handle
Easy to use braking and recoil system
26 feet in length
Cons
A bit pricey
Comes only in two different sizes for dogs of different
World Dog Finder team