How to Choose Elk Antlers for Your Dog
16.03.2021.
Every product and service on World Dog Finder is independently selected by our editors, contributors, and experts. If you purchase something through our links, we may earn a referral fee. Learn more
---
Getting our dogs to sit through teeth brushing is sometimes impossible. Dental hygiene is essential, but it is often one of the most overlooked aspects of dog care. Luckily, you can get elk antlers for dogs that will help them keep their teeth clean and their gums healthy.
Elk antlers for dogs make amazing chew toys and treats. They are entirely natural. You can be sure there are no preservatives, GMO treatment, or any other things dog treat manufacturers love putting in their products. Elk antlers for dogs are completely free of artificial colors, so there is no reason to worry about your dog accidentally ingesting a toxic substance. Here is what you should know about elk antlers for dogs.
What to look for in elk antlers for dogs?
Not elk antlers are the same. If you are considering giving your dog a nice antler to chew on, there are a few things you should look for. Check the product's source, size, quality, and hardness. You don't want to end up giving your small dogs huge elk antlers they can't chew on. If your dog has strong jaws, you might consider getting them elk antlers that are harder. Otherwise, the dog will destroy them in seconds. Here are the most important things to look for;
Size
This is pretty straightforward advice - make sure the antlers you order are appropriate. If your dog gets too small antlers to chew on, they can accidentally swallow them and choke.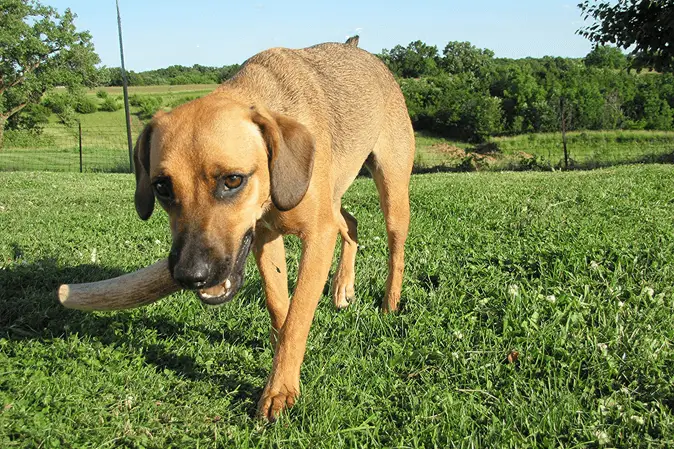 Source
The source is vital. No respectable dog owner would want antlers that were collected from farmed animals. Some manufacturers collect antlers elks "shedded." Each year elk shed their antlers, and some companies know where that happens. They go into the wild and collect these antlers.
Quality
It doesn't matter what type of product you are buying for your dog; quality should be on the top of your priority list. Look for grade-A elk antlers. This is a product your dog will ingest, so low-quality products should be out of the question. The price might be slightly higher, but you shouldn't risk your dog's health for a few dollars.
Firmness
Picking the right elk antlers for dogs means choosing the right firmness. If your dog never chewed on elk antlers before, getting them a softer one might be a good idea. If they tear it down quickly, get them firmer antlers.
Now that you are all caught up on elk antlers for dogs and what to look for in one check out our list of recommendations.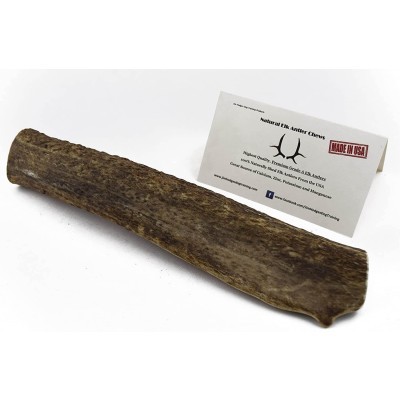 Our top pick for elk antlers for dogs is JimHodgesDogTraining - Grade A Antler Dog Chews. These elk antlers are enormous. Each piece measures 7 - 14 inches, so it is an ideal product for larger dogs. They are sourced in the US, and they come from wild elk. Each of these individual pieces is grade-A quality, and they are a great source of calcium which is beneficial for bones and teeth. This is a top recommendation, and dog owners seem to agree with us on this.
Pros
Grade-A quality
Long-lasting
Sourced from wild elk
Cons
Some owners reported their dogs tore antlers in less than a week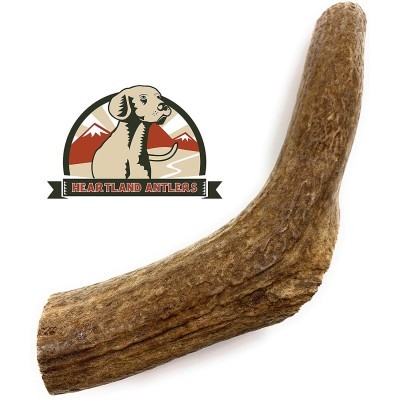 When it comes to owner recommendations for elk antlers, then Heartland Antlers come highly recommended. These high-quality antlers are ideal for larger dogs; they are between 7 - 9 inches long and rather tough to chew. You can easily recognize a Heartland antler by its coloration. They are darker, which indicates they haven't been treated with artificial colorings. They were expertly trimmed, so you can be sure your dog won't splinter them. These elk antlers are sourced from American elk and are a great way to keep your dog's dental health peachy.
Pros
Grade-A quality
Long-lasting
Premium
Cons
Some owners reported quality issues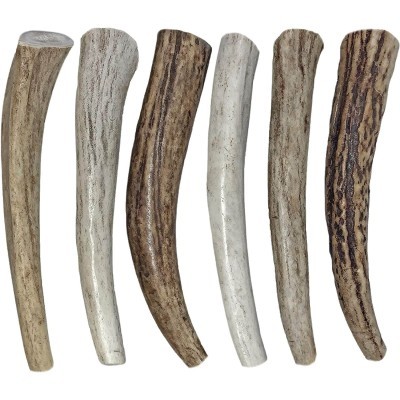 If you are looking for the best value for money, then White Tail Naturals are a clear choice. These elk antlers come in 6-packs and have a budget-friendly price. Each individual piece is hand-picked and trimmed for maximum safety. These elk antlers won't splinter easily but will provide hours upon hours of chewing fun for your dog. Plus, they are great for the dog's teeth.
Pros
Sourced from American wild elk
Long-lasting
High-quality
Cons
Some owners with smaller dogs reported issues with firmness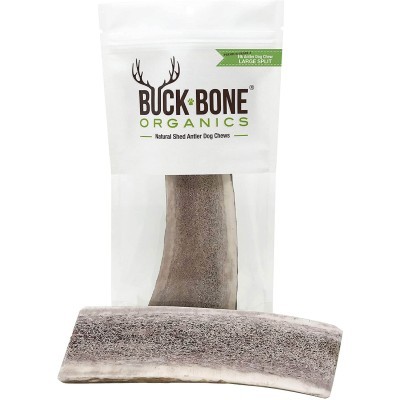 Another highly recommended elk antler for dogs comes from the Buck Bone Organics factory. These elk antlers for dogs are humanly sourced and gathered in the wild from American elk. There are different options available, but the biggest ones are for large dogs. If you have a giant breed, even the largest Buck Bone Organics Elk Antlers might be a bit too small. However, owners seem to be pleased with these antlers, and their dogs seem to enjoy chewing them.
Pros
High-quality
Different sizes available
Different densities available
Long-lasting
Cons
Some owners reported these antlers being too tough for their dogs
Owners with dogs that are tough chewers said their dogs broke then rather fast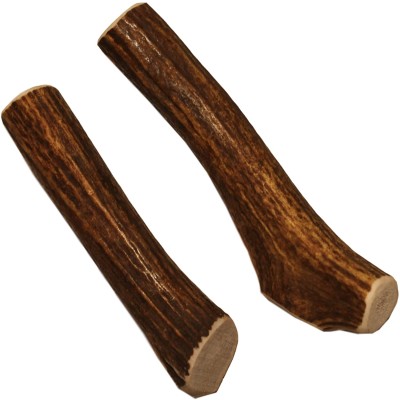 Medium-sized dogs are most common in the US, so these elk antlers are an excellent choice for smaller and medium-sized dogs. Elkhorn Premium Chews are a great choice because they are grade-A quality, and medium-sized dogs seem to get enough entertainment from them. They are not the easiest to chew through, so you can be relatively sure your dog won't accidentally ingest a large splinter that will hurt their gastrointestinal tract. These elk antlers for dogs are between 7 - 9 inches long, and they are naturally sourced in the USA.
Pros
USA-sourced
From wild elk
Great firmness
Cons
Some owners reported quality issues
World Dog Finder team