How to Pick the Best Dog Collar?
16.02.2021.
Every product and service on World Dog Finder is independently selected by our editors, contributors, and experts. If you purchase something through our links, we may earn a referral fee. Learn more
---
One of the first things you will have to get for your new family member is a collar. Dog collars come in different shapes, sizes and are made from a variety of materials. Some have colorful, fun designs, and some are strictly focused on functionality. Doesn't matter what type you choose; there are some rules you should follow when picking the right collar for your dog.
What to look for in a dog collar?
Picking a dog collar just because of its design is not enough. Sure, we all want something that will highlight our dog's personality, but we need to get something practical as well. There are four main things you should focus on when getting a collar for your dog, and those are: size, material, design, and functionality.
Size
Getting the right size is the most important thing. The point of a collar is to keep your dog safe and prevent them from running away or getting in trouble. That would be impossible to do if your dog has a collar that slips from their neck any time they move. Make sure you know how big your dog's neck is, and you choose a collar that will fit.
Material
Dog collars are made from a variety of materials; nylon, leather, metal, etc. Nobody wants to buy a collar that will break the first time your dog pulls on a leash. When deciding on the right choice for your dog, make sure you account for their size and strength. Thin collars made from breakable materials might not be the right choice if you have a large, powerful dog.
If you want to go in a different way, check out this article - Best dog harnesses.
Design
When getting a dog collar, the design should play a part in your decision-making process. It is not the most important thing, but you should consider it. This collar is something your dog will be wearing every day, and something dull and lifeless will easily bore you. Get a collar that highlights your dog's personality and something that will make them stand out in the crowd.
Functionality
Dog collars come with different purposes. There are training, show, martingale, prong, e-collars, and tracking collars, so you should pick one that will suit your dog's lifestyle. If your dog runs away, you must get a collar that stores your information. The other option is to get them a GPS tracking collar. Also, if your dog pulls on the leash, there are different no-pull collars and harnesses. Keep that in mind when picking the best dog collar for your dog.
If you are interested in learning more about GPS dog collars, check out this article - GPS dog collars for dogs.
We prepared a list of our favorite dog collars.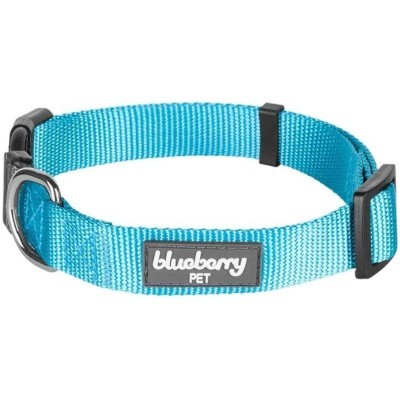 Our Top Pick for dog collars is the Blueberry Pet Essentials adjustable collar. This is the only collar your puppy will ever need. It makes an ideal choice for anyone who adopted a puppy and is unsure how big the puppy will get. Even pureblooded puppies grow, and their Blueberry collar can follow their development. There are different size options and more than 20 colors to pick from. It is made of durable nylon, and the price is very budget-friendly. One of the best possible picks for any dog owner.
Pros
Durable
Different options
Affordable
Cons
Most negative reviews are based on receiving a faulty product, but that can happen to anything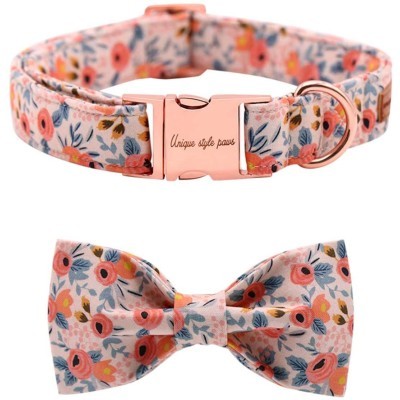 If you want your dog to have a unique style and a collar that will set them apart from everyone in the dog park, then Unique style paws Bow tie Dog Collar is the obvious choice. This collar is made from cotton fabric, and it is effortless to maintain. Just throw it in your washer on gentle, and let it dry. There are six different colors available, and it comes in six sizes, so no matter how big your dog is, they can still look their very best.
Pros
Design
Durable
Cotton fabric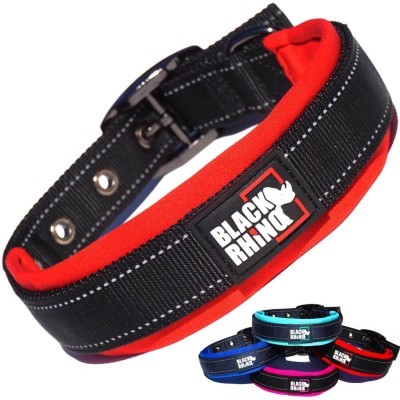 Big dogs need collars too. They are large and powerful, so you have to pick a collar that will match them. The Black Rhino is an excellent option for all dog owners that have a strong, large dog. The material is strong and durable, so there is no reason why the collar would break any time soon. One of the best features is the reflective stitching. You can safely go for early morning or late evening walks and jogs. Plus, this collar doesn't have a traditional clip; it has a buckle that will remain safely on your dog as long as you want to.
Pros
Durable
Heavy-duty
Padding for comfort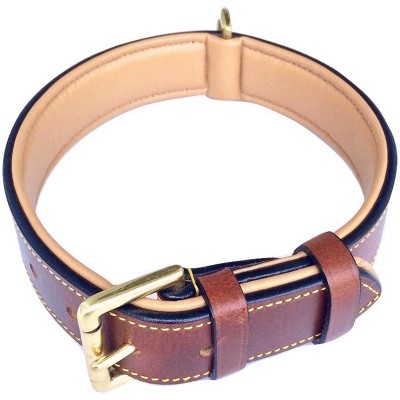 If you prefer getting a leather collar for your dog, then Soft Touch leather collars are a great choice. They have more than 3.500 5-star reviews, and dog owners are delighted with the quality of this product. This is a handmade product made from soft sheepskin leather that provides maximum comfort. This product is an ideal choice for all dog owners that have dogs with short hair and sensitive skin. It is durable and will keep its good looks for a long time if you take care of it.
Pros
Genuine leather
Durable
Great design
Cons
Confusing sizing
Some owners reported ring problems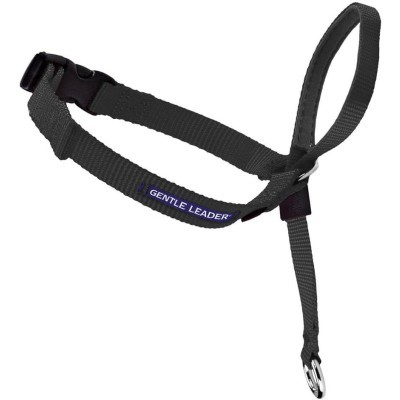 Some dogs need a bit of extra incentive to behave. Training can be problematic, and a traditional collar might put too much pressure on your dog's throat. The PetSafe Gentle Leader Headcollar takes that out of the equation and allows you to safely train your dog. This dog collar goes around your dog's neck and muzzle to prevent them from pulling and lunging. This is a product designed by dog trainers and approved and recommended by vets.
Pros
Training
Eliminates pressure
Durable
Cons
Most negative reviews are about damaged products, but Amazon and Chewy offer refunds, so that shouldn't be a problem
World Dog Finder team