Best Motorcycle Dog Carriers [2023 Review]
04.05.2021.
Every product and service on World Dog Finder is independently selected by our editors, contributors, and experts. If you purchase something through our links, we may earn a referral fee. Learn more
---
As warm weather approaches, many motorcycle-riding dog owners will take their rides out of the garage and onto the road. There is nothing better than taking your dog with you wherever you go, and sometimes, that means taking them with you for a motorcycle ride. Like with many other things, safety should come first, and there is nothing safer for your motorcycle-riding dog than a great motorcycle dog carrier.
What to look for in motorcycle dog carriers?
Because you are a responsible dog owner, you will not take the first motorcycle dog carrier you come across. Not all products are the same, and you should take your time to find the best possible product for you and your dog. Here are some of the most important things you should look for in motorcycle dog carriers;
Style
The most important thing to look for is style. We don't mean the design part, but rather the type of carrier you'd want. There are two basic types - wearable and crate-type motorcycle dog carriers.
Wearable carriers
Wearable motorcycle carriers allow direct contact between dogs and their owners carrying them. This might be a better choice for dogs that are not too comfortable with loud noises, winds, and riding.
Crate-type carrier
The crate-type motorcycle carrier will keep your dog out of the direct wind, bugs, and debris. Still, it will limit your interaction with your dog. These are considered safer options.
Safety
Needless to say, safety should be on top of your priorities. You need to make sure your dog is adequately contained and should be pretty comfortable in the carrier. Wearable carriers should limit the dog's movement, so they don't throw you off balance. You should pick up a pair of dog goggles that will protect your dog's eyes during rides.
Fit
Another important thing you should think about is the fit. You need to ensure there is a good fit between the carrier and your motorbike. If the carrier doesn't fit, it won't be safe, and our dog will never be comfortable. Also, make sure it is actually big enough to fit your dog.
Law regulations
Different states have different laws and regulations. Make sure you get a motorcycle dog carrier that is compliant with all safety regulations required by law. There is probably a good reason why those regulations are in place, and they should ensure your dog's safety.
Check out these fantastic motorcycle dog carriers you can use to take your dog with you on the road.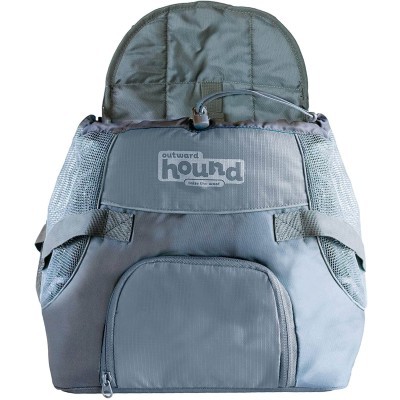 We love Outward Hounds products, so you shouldn't be too surprised they are our top pick. The Outward Hound PoochPouch Carriers is a stylish and practical motorcycle dog carrier that will be ideal for your dog. Unfortunately, larger dogs will require a different means of transportation, but dogs up to 20 pounds will fit in this product perfectly. You need to make sure the dog is seated when in this carrier, and you are ready to go. This carrier is made of nylon fabric, so your dog is protected from wind and water. Not only is this product ideal for riding, but you can easily use it for traveling by other means of transportation.
Pros
Nylon fabric
Safe
Comfortable for dogs and owners
Affordable
Cons
Only for dogs up to 20 pounds
Straps could use more padding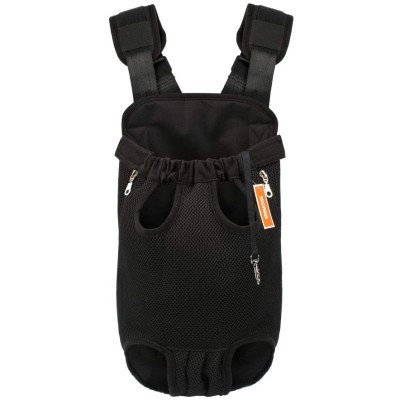 Our second pick for wearable motorcycle dog carriers is the NICREW Legs Out Front Dog Carrier. This product allows your dog to see the road ahead. It provides plenty of comfort and security by limiting the dog's wiggling ability. This model has better padding and allows your dog to extend their legs. Your dog won't like sitting for so long, so offering them an option where they can stretch their legs is probably a good thing.
Pros
Comfortable
Extra shoulder padding
Dogs can have extended legs
Cons
Straps have padding but are not the comfiest out there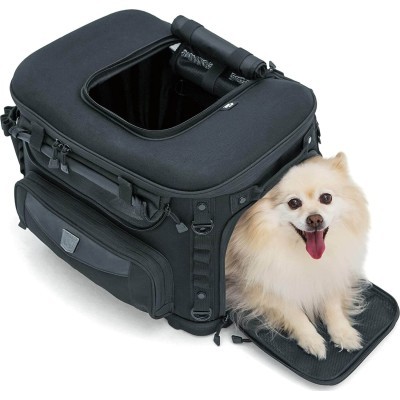 Our top pick for crate-type motorcycle dog carriers is the Kuryakyn 5288 Grand Pet Palace. It is entirely weather-resistant, and you can be absolutely sure your dog is safe and comfortable riding behind you. This model has a rigid internal frame and UV-resistant material. This is one of the most expensive motorcycle dog carriers, but it is also considered one of the safest. It was crash-tested, and it passed with flying colors. However, it will only fit pups up to 20 pounds, which is expected from smaller carriers.
Pros
Safe
UV-resistant
Durable
High-quality materials
Cons
For smaller dogs only
Pricey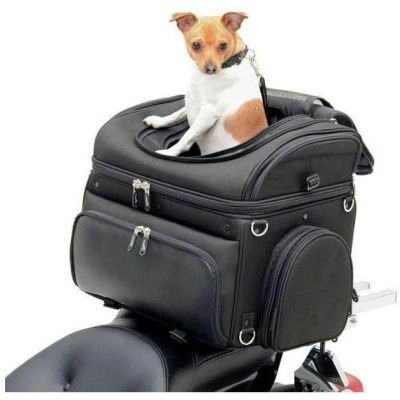 Our second pick for the crate-type motorcycle dog carriers is the Saddlemen Pet Voyager. This product will mount on the back of your bike, and it will provide your dog with plenty of comfort and safety. One of the best things about this product is the amount of storage it offers. It has pockets and pouches where you can safely store all the things your dog might need for your motorcycle adventure. The Saddlemen is easy to place and secure, which is convenient and will save you a lot of stress when preparing for your ride. This is another excellent choice, and it comes with a slightly smaller price.
Pros
Plenty of vents
Safe
Easy to secure in place
Storage space
Cons
Not compatible with all bikes
World Dog Finder team