Best Dog Bike Baskets in 2023
21.04.2021.
Every product and service on World Dog Finder is independently selected by our editors, contributors, and experts. If you purchase something through our links, we may earn a referral fee. Learn more
---
If you are an active person that loves riding bikes but hates leaving your dog behind, you might want to consider getting a dog bike basket. Dog bike baskets will allow you to take your dog with you wherever you go. Some models are very comfy, and they offer enough safety to feel comfortable enough to take your dog on all sorts of terrains. Of course, dog bike baskets are not really suitable for mountain biking, but if you love even roads without any bumps, this is an ideal way to take your small dog with you.
What type of dogs should be transported in dog bike baskets?
As you can imagine, stuffing a Great Dane in a dog bike basket wouldn't be in the realm of possibilities. However, smaller dogs under 20 pounds make ideal candidates for the basket-based bike fun. If you have a bigger breed at home you'd like to take with you on bike rides, think about other options like dog strollers that can be fixed to the back of your bike.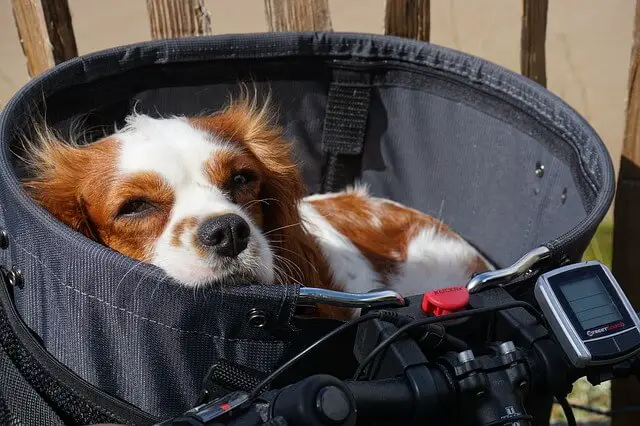 What to look for in a dog bike basket?
Like with any other product you are buying, there are certain things you should look for. It is never a good idea to buy the first model you see. Make sure you take your time and really consider which dog bike basket would suit you and your dog. The design might be important, but be on the lookout for safety features and other vital characteristics. Here are some of the most important features of a dog bike basket;
Security
One of the most important features your new dog bike basket has to include is harness or collar hook-ups. That will prevent your dog from jumping out of the basket and injure themselves and/or you.
Open or closed
Some models offer the possibility of transporting your dog in a closed basket. They don't need harness hook-ups because they have mash tops or domes to prevent your dog from jumping out.
Bike placement
You'd want to consider where on your bike you'd like your dog bike basket placed. Some models should be placed on the handlebar, and others can be hooked behind you, above the rear wheel.
Storage
If you love going on all-day adventures, you'd probably want to have extra storage space for all the things you need to take with you. Leashes, collars, water, and food are just some of the things your dog might need, and it is a good idea to get a dog bike basket that has additional storage space.
Other uses
Some dog baskets can be used as different things. If you'd like to get an all-in-one dog bike basket, make sure you pick a model that can be used as a travel bag, dog carrier, or car carrier.
Now that you know what to look for in a dog bike basket, here are our favorite models;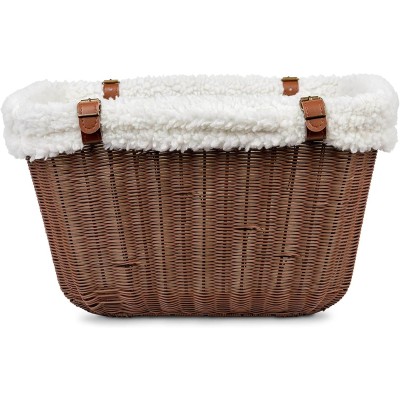 Our top recommendation is the PetSafe Happy Ride dog bike basket. It is a classic model that will never go out of style. The wicker design and comfortable sheepskin will provide all the safety and comfort your dog needs to safely ride with you on your bike. It even comes with a detachable sunshade, and the lining is machine washable.
Pros
Machine washable
Safety harness clips
Stylish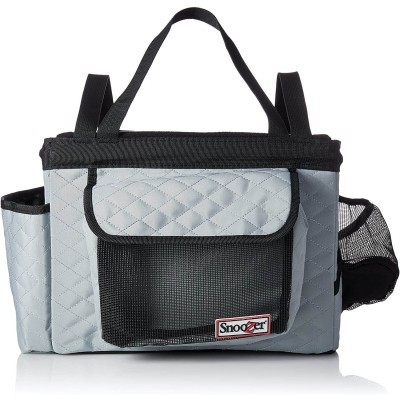 Our recommendation for the best-designed dog bike basket is the Snoozer Buddy Bike Basket. We love the gray-black color combination and the additional storage space this model comes with. The lining is easy to maintain since it is completely machine washable. It even comes with a rain cover to keep your dog dry during unexpected weather changes.
Pros
Easy to install
Great design
Machine washable
Extra storage
Cons
Only for dogs up to 14 pounds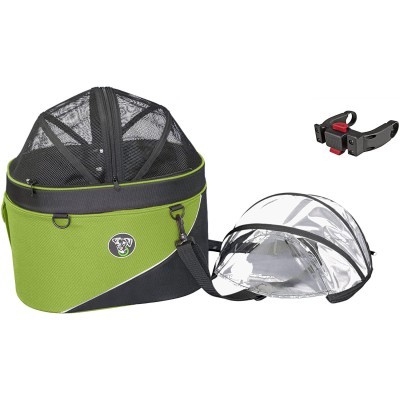 When it comes to owner-recommended dog bike baskets, the DoggyRide Cocoon is the model to choose. This basket comes highly recommended by dog owners that wanted a dog bike basket with a closed top. The rain cover and the mesh top will keep your dog safely inside the basket. Our favorite thing about this basket is its practicality. It can be easily converted to a dog bed or a car seat.
Pros
Mesh top
Extra rain cover
Safe
Multi-use
Cons
The support could be better
For dogs up to 15 pounds
World Dog Finder team