Best Dog Strollers in 2023
20.02.2021.
Every product and service on World Dog Finder is independently selected by our editors, contributors, and experts. If you purchase something through our links, we may earn a referral fee. Learn more
---
There are plenty of reasons for using a dog stroller. Some dogs might have problems dealing with weather, or maybe they can't walk like they used to. In any case, you shouldn't be deprived of going out, hiking, or having long walks just because your dog can't handle it. Luckily, there is a wide range of available strollers that can help you with that problem.
Which dogs need dog strollers?
You might be wondering which dogs would have to use strollers, but there is probably a good reason for that if you are searching for one. Many dogs might need it, and here are some of the situations where having a great dog stroller can be a life-saver;
Puppies - Puppies can quickly get tired on long walks, and some might even recommend against taking puppies for too long walks.
Senior dogs - Older dogs might have the will to walk, but their bodies can't handle it anymore.
Brachycephalic breeds - Breeds with short muzzles can't handle hot weather. They shouldn't be left behind because of that.
Small breeds - If you are going to crowded places with your small dog, they can quickly become trampled or crowded.
Illness - Dogs that have health problems might require a bit of help with their daily walks.
Recovering dogs - Dogs that are recuperating from surgery or disease will probably need some time to regain their strength.
These are just some situations where having a dog stroller can help your dog be included and safe. Plus, with the modern designs and prices, dog strollers are more available than ever.
Here is a list of our five favorite dog strollers for dogs.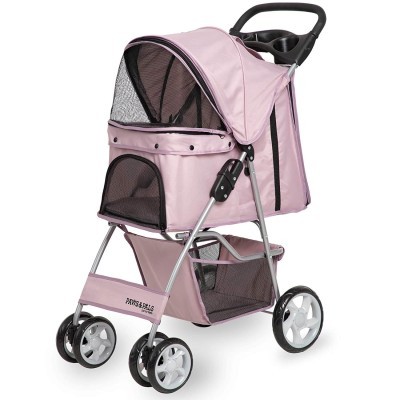 If you are looking for a dog stroller with plenty of cool features and options, then this is what you are looking for. The Paws & Pals Dog Stroller is a reasonably new product carefully designed for maximum dog comfort. It is suitable for dogs and cats up to 30 pounds. It has a waterproof cover as well as undercarriage. The two entry points are specially made for the owner's convenience. They can choose from many different colors. It is a pretty smooth dog stroller that is easy on your wallet.
Pros
Design
Options
Features
Cup holders
Affordable
Cons
Not the smoothest ride
Can't go on all surfaces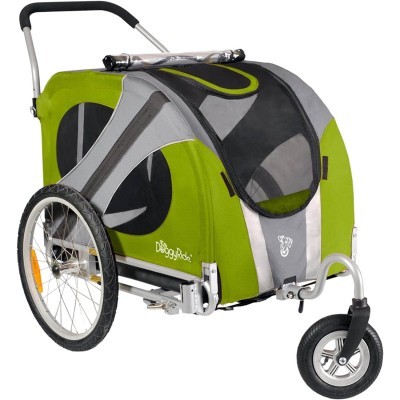 Your large furry friend might need a little bit of help, and that's where DoggyRide comes in. It is definitely not a cheap option, but it is the best large dogs can get. It has a headrest and aluminum alloy frame, which makes it strong, durable, and lightweight. This dog stroller can hold up to 110 pounds and help you take your large dog with you on walks. This is an ideal product for larger dogs recovering from surgery or older dogs with arthritis pains. If you can afford your dog the DoggyRide, you can be sure they will be very thankful.
Pros
Strong
Durable
Smooth ride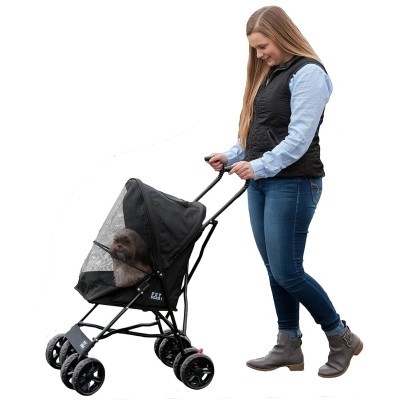 Some owners have small dogs, and there is no need to buy large, bulky strollers. If you are looking for a smaller dog stroller for traveling or just don't see the point in getting the large and expensive one, this is the product for you. Your small dog will love the ultra-lightweight Pet Gear stroller. It only weighs 9 pounds and can hold dogs up to 15 pounds. When closed, it is effortless to carry or pack in your car. Plus, you practically can't afford to not have one at such an affordable price, especially if you travel often.
Pros
Affordable
Light
Great for small dogs
Cons
Some have bad front wheels
Not for all terrains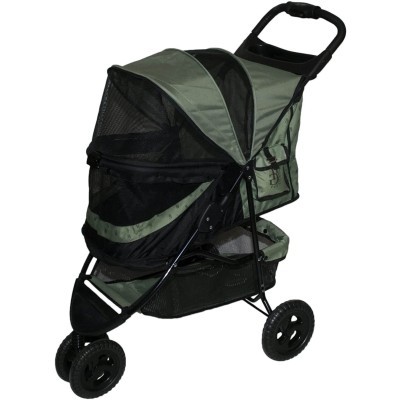 The Pet Gear No-Zip Stroller For Dogs has a special no-zip system that makes putting your dog in it as easy as it gets. Plus, it is nearly impossible for your dog to get out on their own and run away. This dog stroller is 40 inches tall and can carry dogs up to 45 pounds. It has a special air-ride system that allows it to go over different terrains, so if you are looking to go to different places, this is the dog stroller for you and your dog. Plus, it has a superior design, which is why so many owners opted for this dog stroller.
Pros
Design
Air-ride system
No-zip system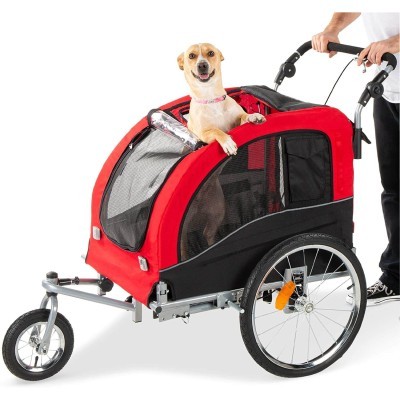 If you are looking to get something that can have different uses, the 2-in-1 Pet Stroller and Trailer should interest you. This dog stroller is ideal for different terrains and can even be driven behind a bicycle. It has a reflecting material that is completely waterproof, so you can be sure that even if it rains, your dog will stay dry. Unlike other dog strollers, the 2-in-1 Pet Stroller has a braking system making it a lot safer and easier to use. It is a great option for all dog owners that love the active life and would love to take their dog with them on different adventures.
Pros
Stainless steel frame
Large wheels
Attachable to bicycle
Has brakes
World Dog Finder team