5 Best Dog Goggles [2023 Review]
15.02.2021.
Every product and service on World Dog Finder is independently selected by our editors, contributors, and experts. If you purchase something through our links, we may earn a referral fee. Learn more
---
Protecting our eyes is often very important, and making sure your dog's eyes are covered can be pretty important too. Not only will dog goggles be a great safety feature, but they will also make your dog look cool as hell. There are different options and models available in the market, and picking the right one could be tricky. Here is what you should know about dog goggles.
Things to consider
There are different options available, and not all models will fit every dog or purpose. Some are better for protection from sand, and others are better for debris and sun. When picking the right goggles for your dog, there are some things you should consider, and the most important ones are;
Style
Dog goggles come in different styles, and you can get single-lens (like ski goggles) or individual lenses. Each type offers certain benefits, like individual lenses will offer a bigger field of view.
Strength
One of the crucial things to consider is lens strength. Cheaper models are fine if your dog doesn't need heavy-duty protection. Heavy-duty lenses are great for dogs that love running in the woods or are at risk of their eyes getting hurt from things like debris or branches. If you are looking for sun or wind protection, then lens strength is not so important.
Clarity
It is essential to get tainted dog goggles if you want to provide your dog with some sort of UV and sun protection. If the goggles are used as wind or sand protection, they can be transparent.
Ideal dog goggles situations
Some owners think that getting dog goggles is ridiculous, but they are not the types of owners that love going on adventures with their dogs. If you take your dog hiking, cycling, boating, or on an active beach day, getting them a pair of goggles is an excellent idea. They could use the protection from things that can be found in their way, and those things might be:
Sun
Sand
Branches
Wind
Debris
Glare
Saltwater
Plus, getting dog goggles after eye surgery your dog is recovering from can be a great idea. They will keep the wound clean and make sure your dog has enough time to properly heal. Here is the list of our favorite dog goggles.
The QUMY Dog Goggles is the best pick for a good reason. They will fit your dog perfectly because they are fully adjustable and have a strap that goes around the back of your dog's head and one that goes beneath their muzzle. These goggles offer excellent UV, sand, and wind protection. Plus, they are really affordable and budget-friendly. QUMY Dog Goggles are definitely a great choice.
Pros
Affordable
Triple protection
Adjustable
Different colors
Cons
Some owners reported fitting problems
Not for dogs under 15 lbs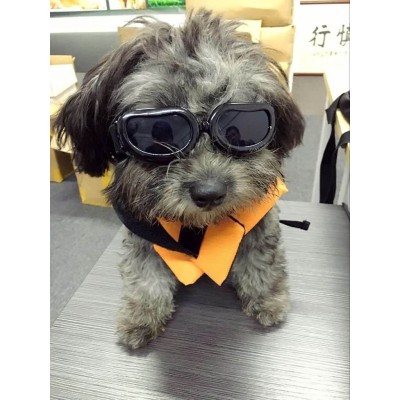 We had to put Enjoying Dog Goggles on this list because they are quite similar to our top pick goggles, but they seem to fit smaller dogs better. They are adjustable, affordable, offer plenty of protection, and have a dual-lens design. It has the same dual strap system, and the goggles are padded, so your dog doesn't feel any discomfort. The only problem is that the manufacturer hasn't specified which UV rays these goggles protect from.
Pros
Affordable
Adjustable
Sand and wind protection
Cons
No specific UV protection
Not the most durable
When it comes to single-lens dog goggles, then HelloPet Dog Goggles is the way to go. These goggles are the best option, and plenty of dog owners recommend them. You could conclude that the single-lens design these dog goggles have would be a problem, but in fact, they fit most dogs without a problem. This model offers plenty of UV protection and has different cool features like no-fog and no-frost design. It is an excellent choice for all dogs and dog owners that love snow-related activities.
Pros
Large field of view
UV protection
Great fit
Durable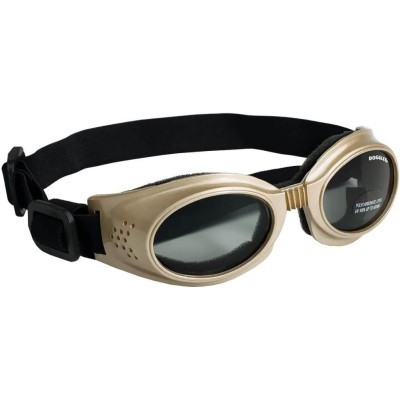 If you are looking for dog goggles, why not get one from a company dedicated to producing dog eyewear? This model will fit your dog nicely, and besides, it has a pretty great design, so your dog will look cool. Doggles are dual-lens, anti-fog, and durable goggles with specially tinted lenses that will block 100% of UV rays. They are fully adjustable and even have small holes on both sides that allow airflow and drain water.
Pros
Design
Adjustable
100% UV protection
Great eye protection
Cons
Some owners reported fitting problems
Longhaired dogs can get their hair tangled with straps
If you are looking for stylish dog eyewear, the Namsan Dog Goggles might be something you would be interested in. They have great design and will offer plenty of protection from wind or debris your dog might encounter on a motorcycle ride. These dog goggles will fit most dogs, and the manufacturer says they offer UV protection, but they haven't specified which rays. Nevertheless, this model is an excellent choice for all dog owners with a sense of style and fashionable dogs. Plus, it comes in a variety of colors you can choose from.
Pros
Different color options
Anti-fog
Durable
Cons
Not for larger dogs
Not for dogs with bulging eyes
World Dog Finder team