Merrick Dog Food Review - Is it Worth Giving it to Your Dog?
12.11.2021.
Every product and service on World Dog Finder is independently selected by our editors, contributors, and experts. If you purchase something through our links, we may earn a referral fee. Learn more
---
One of the first decisions you will have to make as a dog owner is which dog food to pick. There are different brands available, and all of them have something to offer. One of the biggest dog food manufacturers in the world is Merrick. If you're considering putting your dog on a Merrick diet, you should take a deeper look at the brand, their recall history, ingredients, and their overall image. All of those things can be a good indicator of whether a food is worthy of your dog.
We prepared a helpful Merrick dog food review, where we will go through the most important things we mentioned earlier. We will also take a closer look at their products. Out of those products, we will pick the best Merrick has to offer. We will get advice from vets, trainers, and dog nutritionists. We hope this Merrick dog food review will help you make an informed decision.
Merrick dog food
Merrick has been a part of Nestle Purina PetCare since 2015. The company was founded by Garth Merrick in 1988. The official story goes that Garth started to cook the food for his dog at home. He wasn't too satisfied with what the industry had to offer and decided he wanted to produce wholesome and nutritious dog food for Gracie (his dog).

Since those early days, the company has grown quite a bit, and you can be sure Nestle wouldn't be interested in acquiring a company that produces sub-par dog food. As the company grew, they bought other brands like Castor and Pollux Natural Petworks, and they produce Whole Earth Farms pet foods.
Ingredients in Merrick dog food
The most important thing to look for in any dog food is ingredients. It doesn't matter how good or famous a brand might be; if it doesn't include high-quality ingredients, the food will not be that good. Here are the most essential ingredients that can influence Merrick's dog food quality.
Proteins
The most crucial nutrient in any dog food is protein. Dogs are omnivores, but the most significant part of their diet should be animal protein. Merrick uses all sorts of different meats in their recipes, like beef, chicken, or salmon. However, they also use a lot of meat meals. Meat meals are not necessarily a bad thing since they contain significantly more protein than fresh meat. Unfortunately, it is impossible to know precisely how good or bad the meat meal is without the manufacturer's help.
Carbohydrates
Carbohydrates have somewhat of a negative reputation in the general public. That is based on what carbs do to us. If you consume a lot of carbs, you will gain weight. However, dogs need carbs because they are a great energy source and are not necessarily bad for their bodies. Merrick uses mostly potatoes, sweet potatoes, and rice. Those are great and high-quality carbohydrate sources.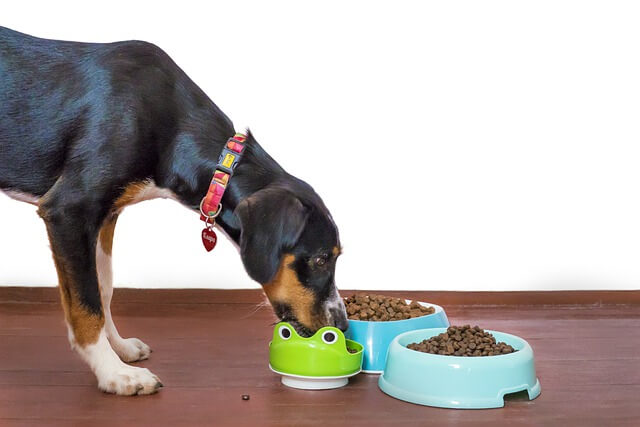 Fats, vitamins, and minerals
Other than protein and carbs, your dog will need other ingredients and nutrients as well. Things like healthy fats, fatty acids, vitamins, minerals, probiotics, and antioxidants are something you want to see in the dog food analysis. Merrick includes things like flaxseed oil, peas, apples, quinoa, and many other high-quality ingredients that make this dog food worthy of our dogs.
Merrick recall history
Another thing that can play a part in your decision-making process is the company's recall history. Nobody wants to give their dog foods that have been recalled many times. Many recalls can be a sign the manufacturer's production process is not optimal or entirely safe. Plus, if they often have severe food contamination, you might end up risking your dog's life and health. Here's Merrick's recall history;
Merrick Recalls Multiple Dog Treats 5/23/2018
Merrick Recalls Dog Treats 8/9/2011
Merrick Pet Treats Recall 1/30/2011
Merrick Expands Dog Treats Recall 8/16/2010
Merrick Expands Recall of Dog Treats 8/4/2010
Merrick Dog Treats Recall 7/6/2010
Merrick Dog Treats Recall 2010 1/15/2010
6 out of these 7 recalls were caused by Salmonella contamination, which you would not want your dog to get infected with. The good news is that each time a contamination issue happened, the company had a prompt response. We can also clearly see that the production process has become a lot safer since 2011, when the company updated and modernized its production process.
Best Merrick dog foods to choose
If you're thinking about putting your dog on Merrick dog food, you should know that Merrick makes 5 dry dog foods, which is what we will focus on here. After careful consideration and review from our nutritional experts and vets, we selected these three choices;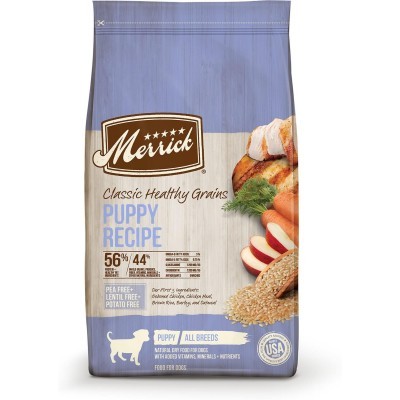 Merrick Classic Puppy Recipe is an excellent choice for all puppies that don't have a gluten allergy. It uses high-quality ingredients and gets its protein from chicken. It includes everything your puppy needs, including quinoa for digestion, minerals, vitamins, and omega fatty acids.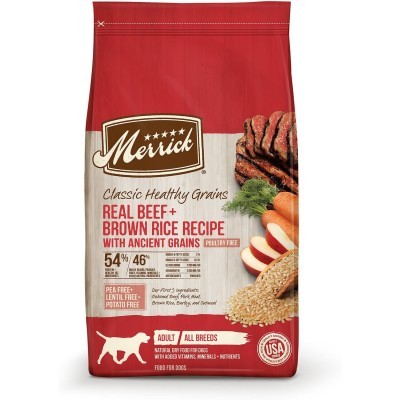 Merrick Classic Real Beef + Brown Rice is a great choice for active adult dogs. Beef is an excellent protein source, and brown rice is a great source of carbs and fiber. If you pick this food, your dog will have a shiny coat, healthy digestion, and plenty of energy to support their active lifestyle.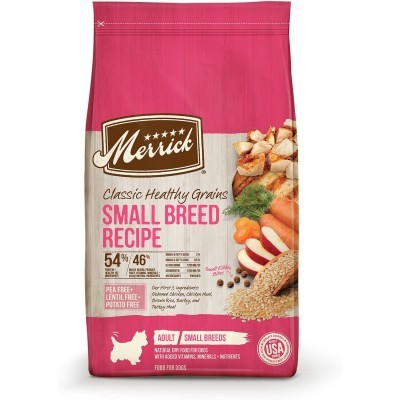 Merrick makes one of the best dog foods for small breeds. If you have a Havanese, French Bulldog, or any other small breed, Merrick Classic Small Breed Recipe is an excellent choice for them. The main ingredient is chicken, and it is combined with all essential vitamins, minerals, omega fatty acids, glucosamine, and chondroitin. A great choice for adult and senior dogs.
World Dog Finder team