Taste of the Wild Dog Food Review [2023 Update]
15.09.2021.
Every product and service on World Dog Finder is independently selected by our editors, contributors, and experts. If you purchase something through our links, we may earn a referral fee. Learn more
---
Choosing the right food for your dog can be tricky. There are different brands available, and knowing what to pick can cause some headaches. That is why we decided to bring you this Taste of the Wild dog food review to make your decision slightly easier. Here's the most important information you should know about this dog food brand.
Taste of the Wild manufacturer
The first thing we like to look at when considering a specific dog food brand is the manufacturer. Taste of the Wild is a brand owned by Diamond Pet Foods. The parent company owns several brands, and they are;
Diamond
Nutra-Gold
Nutra Nuggets
Premium Edge
Professional
Taste of the Wild
Where is it produced?
Diamond Pet Foods produces its dog food in the US. The company is based in Meta, Missouri, but the processing plants are located in Arkansas, South Carolina, Missouri, and California. However, these are dry dog food plants. Their wet food production is outsourced to different canning companies. The good news is that those companies are also located in the US. We prefer dog foods made in countries with strict production laws, like the US, Canada, Australia, New Zealand, and Western Europe.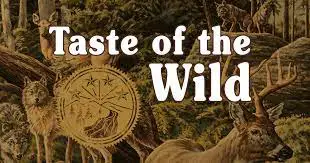 Ingredients in Taste of the Wild
The most important thing to look for in dog food are ingredients the manufacturer included in the recipe. If the ingredients are low-quality, the food will simply not be good enough for your dog, no matter how the marketing is good. The Taste of the Wild dog food is specific because it uses unconventional protein sources. Here are some of the ingredients commonly found in this dog food brand;
Protein - Bison, lamb meal, chicken meal, boar, venison, beef, and fish meal
Carbohydrates - Sweet potatoes are their main carbohydrate source, peas, garbanzo beans, etc.
Fiber - This brand uses different fiber sources. Some of the most common are flaxseed, dried chicory roots, peas, sweet potatoes, pumpkin, blueberries, etc.
Antioxidants - Taste of the Wild includes different antioxidant sources in its recipes
Supplements - Things like fish or salmon oil, glucosamine, vitamins, minerals, and folic acid are just some of the things found in this dog food.
The complete list of ingredients is quite long, but the recipes overall do not look bad. In fact, it seems like the company really tried hard to produce well-balanced dog food for different tastes. They focused on protein sources that wild dogs might get, like venison, bison, or boar. Some owners prefer this type of diet for their dogs, and based on their reviews, Taste of the Wild food is pretty good.
Taste of the Wild recall history
One of the things we do when looking at a dog food brand is look in their recall history. Recalls can happen; producing food on a large scale and dealing with raw meat and other ingredients is not the easiest thing in the world. However, the way the manufacturer reacts when a recall happens can tell you a lot about them.
Taste of the Wild was recalled at the beginning of 2012 along with other Diamond Pet Foods brands. There was Salmonella contamination, and unfortunately, some animals got sick and even died. Their reaction might not be the best, and it even led to a class-action lawsuit that ended up with the company paying large settlements to owners whose animals got hurt.
Since then, the company hasn't had any more incidents. They switched their business practices and are now one of the most careful dog food manufacturers in the US.
Our favorite Taste of the Wild recipes
Taste of the Wild is overall a great dog food brand, and we believe it is an excellent choice for your dog. If your dog loves the taste, you can be pretty sure you will make a good choice with this brand. If you are considering switching your dog to Taste of the Wild, here are some of our favorite recipes;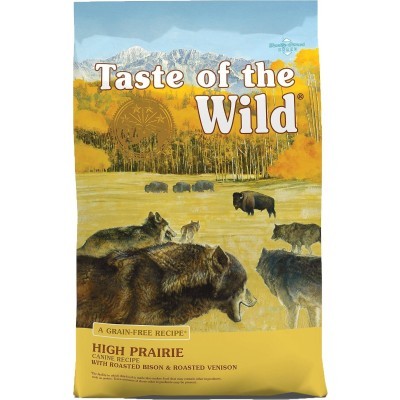 The Taste of the Wild High Prairie Grain-Free received many 5-star reviews, and it is one of the company's best sellers. This recipe includes buffalo and bison as its main protein source. It aims to provide the same nutrition wild canids might have. This recipe also contains vitamins, minerals, probiotics, and basically everything your dog might need in a well-balanced diet. Personally, this is our favorite Taste of the Wild recipe.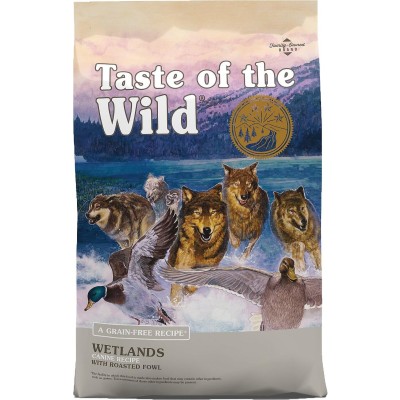 The Taste of the Wild Wetlands Grain-Free is the second recipe we would like to point out. The primary protein source in this recipe is roasted and smoked fowl, which most dogs absolutely adore. This is another recipe that includes meat sources dogs might get in the wild. It is also packed with healthy nutrients and offers a complete, well-balanced diet. This type of diet is the basis for your dog's overall health.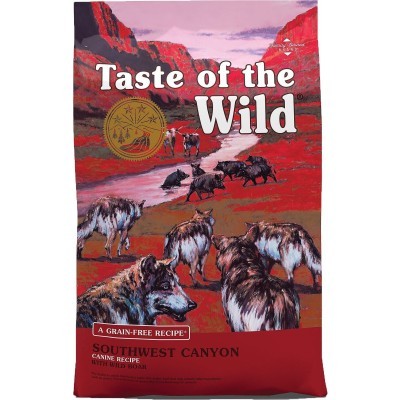 The third recipe we included on the list is the Taste of the Wild Southwest Canyon. This is another grain-free recipe,  but it uses wild boar as its primary protein source. It is packed with carbs, which can be a great thing if you have an active dog that has plenty of exercise daily. This recipe also includes fruits and veggies, and they make terrific sources of vitamins, minerals, antioxidants, and fiber. You can be sure this is an excellent choice for your dog.
World Dog Finder team