Natural Balance Dog Food Review [2023 Update]
29.06.2021.
Every product and service on World Dog Finder is independently selected by our editors, contributors, and experts. If you purchase something through our links, we may earn a referral fee. Learn more
---
Natural Balance dog food is one of the best-known brands in the category of dog foods. That happened for a good reason - since the company's beginnings, they were focused on manufacturing dog food that contains no fillers, additives, or artificial ingredients. If you want a high-quality dog food that won't break your budget, you might want to give Natural Balance some thought. Hopefully, this Natural Balance dog food review will help you make a decision.
Company history
Natural Balance company was started in 1989 when the actor Dick Van Patten established it in Burbank, California. His idea was to produce the best possible dog food owners can buy for their pets. It might seem weird that a Hollywood actor started a dog food company, but no one can deny the company's success.
We can confidently say that this is high-quality food based on the profile of people and agencies that use it. Natural Balance is the official dog food of San Diego Zoo, Seaworld, and ATF's Arson Investigation and Explosives Detection Unit. Of course, the company produces dog food and zoological formulations.

Why choose Natural Balance?
There are good reasons why you should give Natural Balance a serious thought. They remain true to their original production ideas, and their dog food doesn't contain gluten or any artificial fillers. This is excellent dog food for dogs with gluten allergies. This manufacturer uses natural ingredients, and a great thing about it is that it comes with a reasonable price tag.
Recall history
When talking about dog food companies, we should mention their recall history. Producing dog food on a large scale is not a small task, and mistakes can happen. Food can get contaminated, or there can be something wrong with the production line. We never judge a company by their recalls, but rather on their action and reaction when something like that happens. Here are the two major Natural Balance dog food recalls;
June 2010 - The Natural Balance Sweet Potato & Chicken Dry Dog Food was recalled due to the possibility of Salmonella contamination. The company issued a voluntary recall. The company president issued a letter that is, unfortunately, no longer available on their website. Salmonella is a dangerous bacteria that can be found in raw meat. It is dangerous for humans and dogs. The company's reaction can be rated very good.
May 2012 - In 2012, the company issued a voluntary recall of 13 of its products. However, no animal illnesses were reported, and the company stated the recall was a cautionary measure. The FDA tested the food, and this time there was no evidence of Salmonella contamination. The company's response was excellent, and the reaction was very satisfying.
Natural Balance products
Natural Balance has 25 different dog foods you can choose from. Like any other brand, not all of their products are equally good or suitable for your dog. Before choosing any dog food from this Natural Balance dog food review, you should talk to your vet and ask them for their advice and guidance. They know your dog's medical history, energy levels, and overall needs. Getting advice from your vet is priceless. However, we prepared three of our favorite Natural Balance dog foods, and we highly recommend them.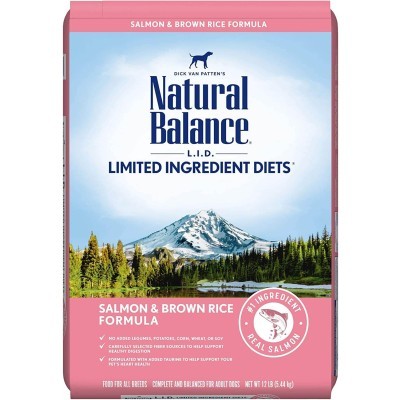 Our top pick from this company's portfolio is the Natural Balance Salmon and Brown Rice. Salmon makes an excellent protein source, and it is packed with healthy nutrients like omega fatty acids. This dog food is ideal for all dog breeds, regardless of their size. Brown rice is the second main ingredient, and it is one of the healthiest fiber sources which will support your dog's digestion. Dietary fiber is a very important nutrient that often gets overlooked. You can read more about it here - The best fiber sources for dogs. This is great dog food, and if you decide to try it, you can be sure you will not make a mistake.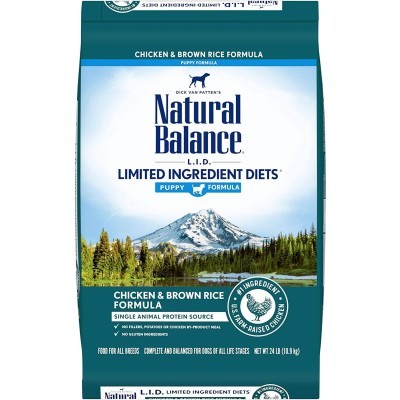 Our second choice from this company's portfolio is Natural Balance Chicken and Brown Rice for Puppies. This dog food provides balanced nutrition to puppies; it includes excellent ingredients that puppies love. Chicken is one of the most common meats used in dog food, and it provides dogs with high-quality protein. We already mentioned the quality of brown rice in our top pick, and this dog food recipe includes it as well. This is an excellent choice for puppies, and it is very palatable.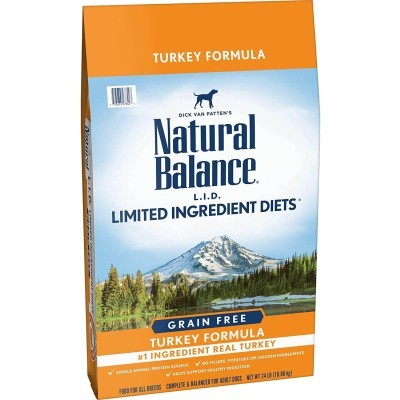 If you have an energetic dog breed that needs a lot of protein in their diet, Natural Balance has you covered. The Natural Balance Limited Ingredient Diets High Protein Dry Dog Food is grain-free and has an above-average protein content. The main issue with dog foods with a high protein count is that they usually cost a bit more. That is true for this dog food as well. However, the turkey formula will give your dog plenty of energy and support for their active lifestyle.
World Dog Finder team