Best Matching Dog & Owner Pajamas
03.05.2021.
Every product and service on World Dog Finder is independently selected by our editors, contributors, and experts. If you purchase something through our links, we may earn a referral fee. Learn more
---
Matching family pajamas are often associated with Christmas mornings, milk and cookies, and snow, but we say, "Why not make every morning special?" Why shouldn't we get matching pajamas we can use every day of the week? Honestly, we cannot see the reason against that. Since dogs are a part of our family, we decided to get them a pair of pajamas as well.
Things to look for in matching dog and owner pajamas
There is nothing cuter than having matching dog and owner pajamas, so we have decided to make a list of our favorites. However, there are some things to look for, and we didn't want to end up having a matching dog and owner pajamas that are uncomfortable for our dogs or us. When browsing for the best pairs, keep an eye on these things;
Size
You should combine several sizes, especially if you have several members of the family. Parents need their sizes, kids need theirs, and the dog will need their unique pajamas. Make sure you measure all the sizes correctly, so everyone in the family has the best possible fit.
Material
Matching dog and owner pajamas come in all sorts of materials. However, your dog might not be the biggest fan of silk pajamas. That type of material won't offer much warmth or comfort, so go for something breathable and warm at the same time. We prefer cotton over other materials.
Design
One of the most important things you need to look for is design. It makes no sense to buy something you won't find appealing or lovely. Get matching pajamas that will fit your family's characteristics and something that will look good on your family pictures.
Some dog owners are not into matching pajamas, but their dogs might still need something to keep them warm and cozy at night. There is always the option of getting your dog a pair of dog pajamas. Check out this article for some suggestions - Best dog pajamas.
Now you know what to look for in dog pajamas. Here are some of our favorite picks in matching dog and owner pajamas.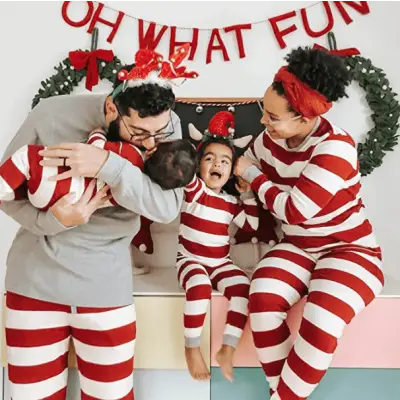 Our top pick for matching dog and owner pajamas is the Burt's Bees Family Jammies. This set is made from 100% organic cotton, so there are no worries about the level of comfort these pajamas offer the whole family. Burt's Bees offer us different designs and easy maintenance. This is the best option for families whose dogs don't need additional comfort or warmth, and the main goal is to get a matching bandana for your dog. If your dog needs extra warmth during the night, you should look into dog pajamas or warming dog beds.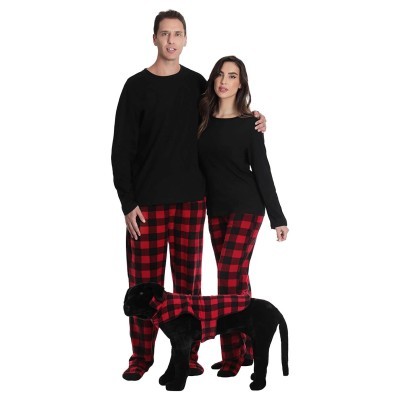 We are huge fans of these plaid matching pajamas, and you can see how good they actually look. Not only are they very stylish, but they are also really warm and comfy. One of our favorite things about them is that they come with dog "pajamas" that you can use for walking them as well. It is a great set that is ideal for lazy lounging during colder months. Plus, they come with budget-friendly price tags.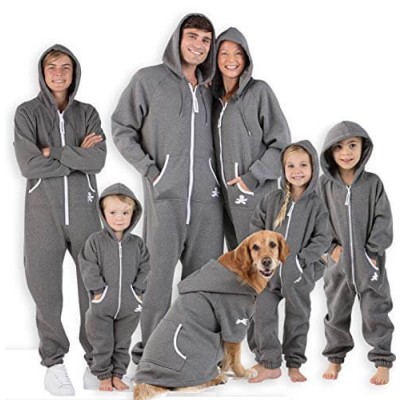 Check out this amazing set! These Joggies - Family Matching Hoodie Onesies are ideal for spending time inside with a cup of cocoa next to a fireplace watching a movie. Luckily, the whole family can be in sync, and they will all enjoy their matching hoodie onesies. Plus, the dog's hoodie will quickly turn into a sweater they can wear during winter walks. This set is comfy, stylish, and warm, and we cannot believe we haven't ordered it already.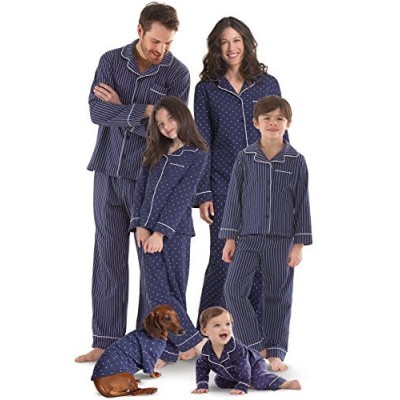 PajamaGram says they test their pajamas to make sure you are as happy as they are. This set has polka dots and stripes in the same set, so you don't have to choose one or the other. Not only are these jammies stylish, but the kid's pajamas are made of flame-resistant material. All pajamas in this set are machine washable, and the dog's pajamas are made from cotton. Your dog will be comfy and warm; this is a top recommendation.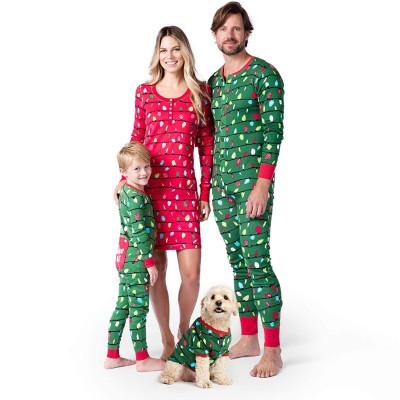 If you are looking for a Christmas set of matching dog and owner pajamas, look no further than Little Blue House by Hatley Holiday Lights. These 100% cotton jammies for the whole family are ideal for the slow Christmas morning and opening presents. You will love them, and your dog will even be happy with the additional warmth and comfort their jammies will offer them. Make sure you know the exact sizes you'll need before ordering because you don't want to end up with too small or too large jammies for one family member.
World Dog Finder team