Best Dog Socks [2023 Review]
24.04.2021.
Every product and service on World Dog Finder is independently selected by our editors, contributors, and experts. If you purchase something through our links, we may earn a referral fee. Learn more
---
When it comes to dog socks, there are different things dog owners might refer to. Some owners think about socks for humans with a dog motive, and others think about socks dogs can wear. This article is about socks that dogs can wear and what benefits they might get from wearing socks for dogs.
Why dog socks?
If you are looking for socks for dogs, you probably have a good enough reason. You probably noticed your dog sliding across your hardwood floors. That is not very comfortable for them, nor is it nice to see your dog endangering themselves. Dog socks might be a great way of making sure your dog gets enough grip. Dog socks will help them stop sliding and feel a lot more confident on their legs.
Another good reason to get your dog socks is to protect your hardwood floors. Hardwood floors are expensive and beautiful, and having scratch marks all over them is not really an option. That is when dog socks come into play. They will protect your floors from your dog's nails. If you have hardwood floors, think about getting your dog some dog socks.
What to look for in socks for dogs?
Dog socks won't do your dog much good if they are not the best fit for them. Like with any other dog product, there are things to consider before deciding on any specific model. Here are the most important things you should consider;
Size
The first thing you need to make sure you get right is the size of dog socks. If you get too small dog socks, they will not fit your dog, and the slipping problem will remain. If the socks are too big, they will slip off of their legs and paws. Make sure you measure the size well before you buy dog socks.
Material
The material socks are made of is important. You don't want dog socks that don't have textured or anti-slip bottoms. Get your dog socks that will prevent them from slipping, not a model that will make the problem worse.
Maintenance
Your dog's socks will get dirty, and you should get pairs that will be easy to wash and keep clean. Make sure dog socks you want are machine washable and easy to maintain. You don't want to end up with socks for dogs that will get worn out after a few washing circles. 
Helpful features
Dog socks might come with helpful security straps. Dogs love running, and they are not too careful when it comes to keeping their socks on. Helpful features like straps might help keep socks in place.
Now that you know what to look for in dog socks, check out our favorite pairs of dog socks.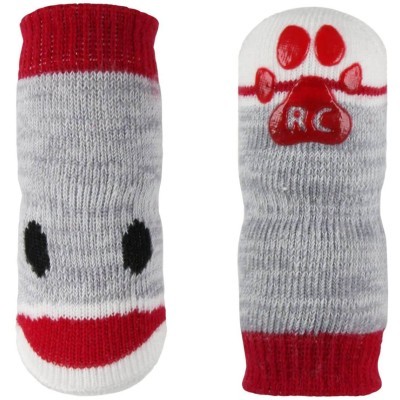 The RC Pet Products Pawks Dog Socks come in 14 different designs, and you can find a pair that will fit your dog perfectly. The manufacturer offers 6 different size options, so you can be sure there is something that will fit your dog perfectly. These dog socks are machine washable and have a non-slip texture that provides additional grip.
Pros
Machine washable
Design options
Size options
Non-slip texture
Cons
Some owners reported a bad fit, so make sure you measure your dog's paws carefully before ordering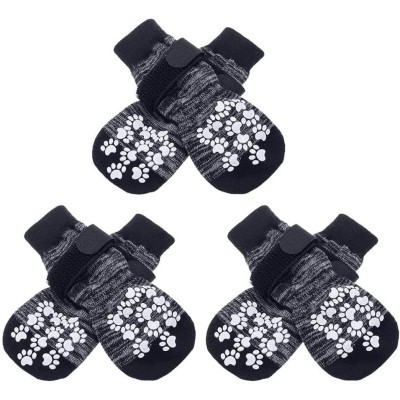 If you have a dog that will hate wearing socks, you should pick the EXPAWLORER Double Side Anti-Slip Dog Socks. Not only do these dog socks provide grip on slippery surfaces, but they also have security straps that will ensure socks stay in place longer. Your dog will get used to them, and the slipping problem will be gone.
Pros
Machine washable
Non-slip bottom
Great design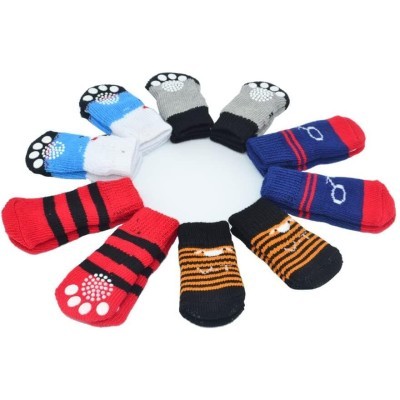 If you are looking for comfy dog socks, the CONXKI Traction Control Cotton Socks is an option you should consider. Not only do they have a non-slip texture at the bottom that will provide your dog stability and grip, but they also look absolutely adorable. These socks for dogs are machine washable, so maintaining them is easy and effortless. Plus, they come in different designs, so you can be sure there is something that will fit your dog's personality perfectly.
Pros
Cotton
Very comfy and soft
Non-slip
Machine washable
World Dog Finder team