Best Dog Boots in 2023
06.03.2021.
Every product and service on World Dog Finder is independently selected by our editors, contributors, and experts. If you purchase something through our links, we may earn a referral fee. Learn more
---
Dog boots are an item many dog owners consider unnecessary, but the truth is, some dogs might need them. Dogs have rugged paws; there is no denying that. Sometimes, they can use additional protection, especially in case of weather extremes. Hot pavement, ice, salts, or broken glass can hurt your dog's paws, and in those cases, having a pair of dog boots could get pretty handy.
Dogs that can benefit from dog boots
Most dogs and their owners could benefit from their dogs wearing dog shoes. There are some examples, like walking the dog in the winter when the dog's paws can get really cold and their pads can get damaged by salts used for melting ice. There are a few particular groups of dogs that could benefit from dog shoes, and they are;
Dog adventurers - All dogs that are accompanying their owners in hiking. There are many obstacles, sharp sticks, stones, or shards of glass that could hurt the dog. Dog shoes can prevent that.
Older dogs - Older dogs might need additional help with traction. Hardwood floors or tiles can be slippery, and older dogs could really benefit from a nice pair of dog boots. It will prevent them from getting injured.
Dirty dogs - This one is more for owners than dogs. Dogs that love running around and don't mind getting their paws dirty can quickly make a mess inside the house as well. Dog boots can prevent that from happening.
Floor protection - Dog booties are a great way to protect floors inside the house. Dogs love to dig and scratch, and if you have good-looking floors at home (and you would love them to stay that way), getting your dog a pair of dog booties is a good idea.
If you are thinking about getting your dog boots, maybe getting them a harness would be a good idea. Check out this article for some ideas - Best dog harnesses.
What to look for in dog boots?
Getting dog shoes or dog boots for your dog is a great idea. However, just going to the store or ordering the first pair you see online won't do. There are things to consider which will make all the difference.
Dogs don't love the idea of wearing dog boots. It is not natural to them, and if you get the wrong dog booties, the whole project can get shut down before your dog even goes for the first walk. Here are some of the most important things to look for when getting dog boots;
Size
You wouldn't get yourself a pair of shoes that are too small or too big. The same goes for your dog; you should get them a pair that will fit them nicely. Most manufacturers have a clear guide on measuring the dog's paw correctly, so getting the right fit shouldn't be a problem.
Material
This is a pretty straightforward thing to look at. Make sure the material dog booties are made of is durable, strong, and won't break after a few walkies. Plus, some higher-quality dog boots are comfortable, so make sure you get the ones your dog will be comfortable in.
Strap quality
The straps on dog boots are responsible for keeping them on your dog's paws. Make sure the straps you choose are good and durable. Your dog will try to remove the shoes, so getting reliable straps is a necessity. Some models use velcro, while others rely on different buckles and snap locks.
Waterproofing
Your dog will run and explore in their new dog boots, and sooner or later, they will encounter puddles. Make sure the dog shoes you ordered are waterproof and can keep your dog's paws nice and dry.
If you love going on adventures with your dog, getting them a dog backpack might be a good idea. Check out this article for some ideas - How to choose a dog backpack?
Safety features
Safety features might not be a necessity, but it is sure nice to have them. Most dog boots are worn in bad weather; snow, fog, or rain can influence visibility. Having something highly reflective on your dog can potentially save their life. Try to go for reflective dog boots.
Now that you know what to look for, here is a list of the best dog boots available.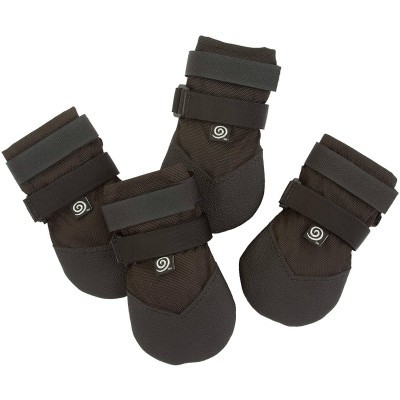 Our top pick for dog botties is the Ultra Paws Dog Boots. These are great for quick walks around the block as well as for giving traction around the house. They are very easy to put on your dog, and these are arguably the best dog boots out there. These shoes for dogs come in a wide range of sizes. They can fit on a Great Dane and on a Pomeranian.
Pros
Waterproof
Great traction
Easy to put on
Cons
Might be a bit too thin
Not the best choice for snow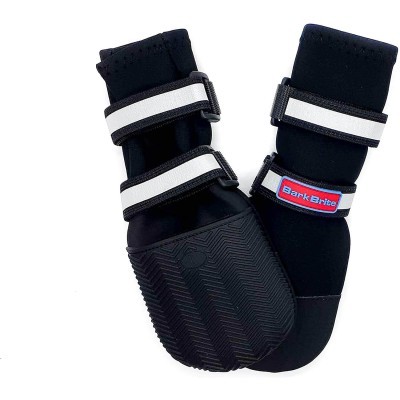 The second best choice, in our opinion, is the Neoprene Paw Protector Dog Boots with Reflective Straps by Bark Brite. These dog snow boots are the best possible choice for dogs that love spending time in the snow and need a bit of extra protection for their paws. These dog snow boots are made of flexible waterproof neoprene, and they have rubber soles. These shoes for dogs will adapt to the shape of the dog's paw.
Pros
Adjustable
Easy to put on
Reflective
Great for snow
Cons
They won't keep the paws warm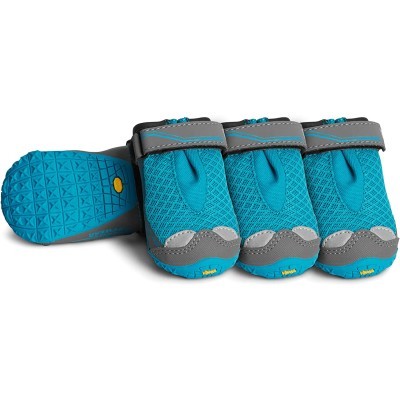 If you want to get your dog the highest-quality dog boots, then Grip Trex Outdoor Dog Boots by RUFFWEAR is a clear choice. If the price tag was slightly lower, this would have been our top pick. They are reflective, come in several colors, and have rubber soles that will provide traction in different terrains. These are the best dog boots out there and are ideal for dogs and dog owners that love going into the wild.
Pros
High quality
Reflective
Easy to put on
Cons
Make sure to pick the right size because too small will give dogs blisters
Pricey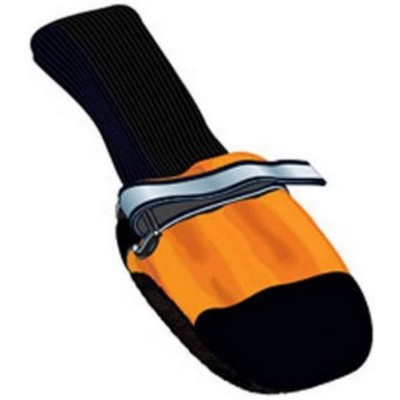 If you are looking to get dog boots that will make your dog stand out in the crowd, then Muttluks Dog Boots are a clear choice. Plus, these are the best dog boots for keeping your dog's paws warm. They have a fleece lining that makes them pretty comfy and warm. These dog boots are stretchy, so you can be sure they will fit your dog nicely. One of our favorite things about these dog booties is that they are made of genuine leather soles. They provide excellent traction and stability.
Pros
Keep paws warm
Stretchy
Different size and color options
Cons
Problematic for dogs with dewclaws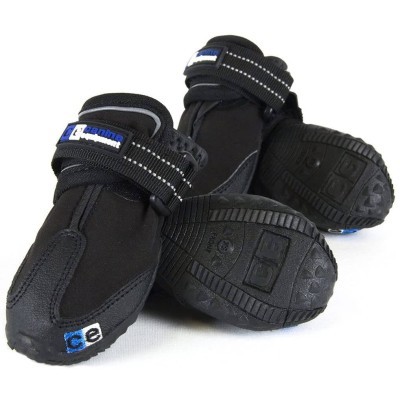 An excellent choice for dog booties is the Ultimate Trail Dog Boots by Canine Equipment. These dog boots are comfy, good-looking, and durable. They will keep your dog's paws clean, dry, and safe from anything they come across. These are some of the best dog boots for dogs that follow their owners in the wild. They are waterproof and have rubber soles for traction. These are also some of the best-looking shoes for dogs, in our opinion.
Pros
Great design
Effective
Keep paws safe
Cons
Pricey
Some owners had problems putting them on their dogs
World Dog Finder team