Dog Sweater - Pros & Cons
27.01.2021.
Every product and service on World Dog Finder is independently selected by our editors, contributors, and experts. If you purchase something through our links, we may earn a referral fee. Learn more
---
Every year with the arrival of colder days and a drop in temperature among many dog ​​owners, the same question arises - should my dog ​​wear a sweater?
A dog sweater is not just a fashion accessory but a necessity. You see, puppies, senior dogs, sick dogs, or ones recovering from an injury have multiple benefits from wearing a dog sweater. Puppies are, just as older dogs, prone to get cold quickly. For them, it is harder to keep their body temperature stable.
Why are Dog Sweaters Important?
are not well adapted to cold weather. These breeds are short-coated and thin-coated, and the outside cold gets to their skin more easily, causing them to shiver.
Another significant con when talking about small dogs wearing jackets and sweaters is that most of them have short legs, and if you put a coat on them, their belly won't come in direct contact with snow or cold rain.
The Size is Important
Small dogs, in general, are not doing great in cold weather. Small dogs have smaller body surfaces and are not so successful in generating and maintaining body heat, for small dogs that have a thin coat, small dog sweaters are essential. This is why, for owners of small dog breeds is easier to find the right sweater. There are small dog sweaters almost everywhere to buy.
Dog sweaters don't give dogs total protection from the cold.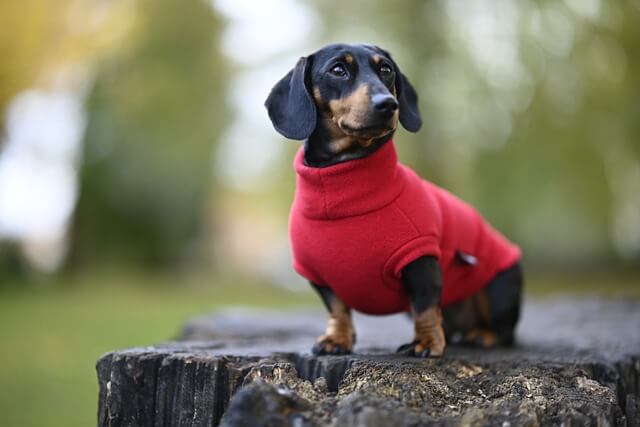 Dog owners still need to keep in mind that a dog might, even with a dog sweater on, get frostbite.
While walking the dog during cold months, pay attention to the dog's behavior, and look for hypothermia signs. If you notice these signs:
shivering
rapid breathing
increase in urination
cold ears and feet
hair standing on ends
you need to warm up your dog immediately. A smart thing to do is to get them to the vet. Just in case.
Many dog owners often time debate about the weather and when is too cold for dogs. To understand this make sure to check this article - Do You Know How Cold Is Too Cold For Dogs?
Consider the Material
If you decide to get your dog a sweater, you need to pay special attention to a few things. First, you want to choose the right material. You want your dog to be warm, comfortable, and not itchy!
This is why warm wool may not be the best choice. Washing wool clothes often can make the sweater uncomfortable for your dog. Luckily, there are plenty of wool-blend dog sweaters that are still very warm but not itchy for your buddy. Cotton or fleece is also an excellent way to go.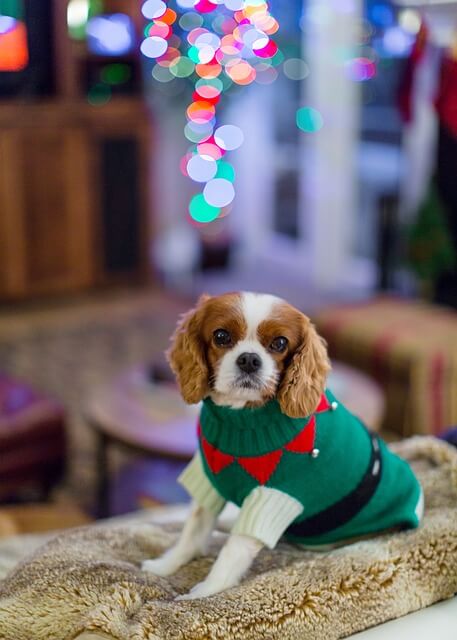 Measure Your Dog
Measure your dog's body. After deciding on a material, measure your dog's neck, the largest part of the chest, and the distance from the neck to the waist and waist to make sure the sweater will fit them.
Giving your dog a sweater will help them in the cold, but do you know what you need to do to keep them safe in warm conditions, especially if they are stuck in a hot car? Check out this article that can help you with that: Dogs In Hot Cars: How To Save Them?
Dog's sweater should fit perfectly. Choosing the right size for your dog will make them comfortable wearing the sweater. Dog's sweater should be easy to put on and take off. Make sure that the sweater is big enough so it won't tighten your dog. Choosing the right size is crucial because the sweater might get caught on branches or anything else during the dog's movement is too big.
Watch Out For Any Additional Parts
Buttons might create a problem for you if your dog chews them off and swallows them. Also, while taking the sweater on and zipping it, your dog's hair might get stuck in the zipper. This is why the best dog sweater to buy is the one without any additional parts.
There is an enormous number of dog sweater manufacturers and brands, so you shouldn't have a problem finding the right dog sweater for your dog.
While deciding whether you should dress your dog in a dog sweater, always consider your dog's feelings about sweaters and clothing in general. If your dog rejects clothing, try to slowly get them to wear a sweater if they really need one. If your dog isn't a breed that needs a sweater to keep cold, don't make them wear one.
Besides the sweater, you can also pick a dog hoodie for your pooch. This is also one way of keeping your dog warm while also providing cool looks. Here you can check what you should consider before buying a dog hoodie for your dog - Should You Buy Dog Hoodie For Your Dog?
Who Can Also Benefit From Wearing a Dog Sweater?
Older dogs usually have weaker immune systems. These dogs should also have a sweater during cold months because they can catch a cold or pneumonia more easily. Dogs with arthritis are also recommended to wear a sweater. Their joints feel better if they are kept warm.
Some other breeds are historically adapted to low temperatures and have a coat that can endure even the most severe conditions usually don't need to wear dog sweaters or dog coats. Breeds that don't need clothes to keep them warm are, for example
These breeds don't need any extra insulation, and dressing them in dog sweaters could cause them to overheat.
However, some large dog breeds may also benefit from wearing a large dog sweater. Great Danes or Greyhounds have short coats that do not provide insulation, so these dogs can get cold quickly.
Always remember to take of dogs' clothes while you are indoors to prevent overheating.
Signs of overheating are:
scratching at the sweater, trying to get it off
If you notice any of these signs, take the sweater of your dog immediately.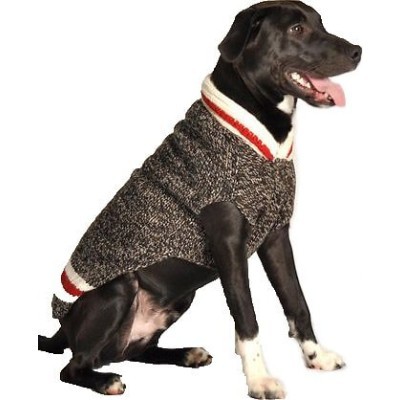 Chilly Dog Boyfriend Dog Sweater is a hand-knit sweater that provides warmth and comfort to your dog. It is made of 100% natural and non-allergic wool that ensures that your dog is well protected from cold weather and harsh conditions. This sweater is made using organic plant dyes and does not contain any artificial colors. Wearing a Chilly Dog Boyfriend dog sweater will make your dog safe, comfortable, and stylish, all at the same time.
Pros
Hand-knit sweater
Made of 100% natural and non-allergic wool entirely
It does not contain any chemicals or plastics
Made using organic plant dyes
Environment friendly
Machine washable
Ultra-breathable and allergy-free.
Durable and completely renewable
It comes in different sizes
Will keep your dog warm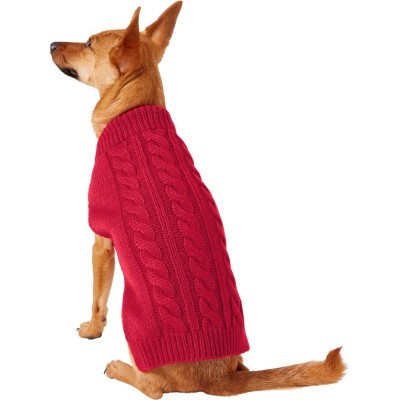 Frisco Dog & Cat Cable Knitted Sweater is a high-quality, comfy sweater that will make your pet look fabulous. The sweater is extra-soft and warm. Perfect for chilly nights out. Except for the warmth that sweater provides, it makes your pet look trendy and stylish.
Pros
Cable-knitted sweater
Very soft and warm
Easy to put on and take off
Available in different sizes and colors
Very stylish
Affordable
Cons
May contain small parts
Not suitable for children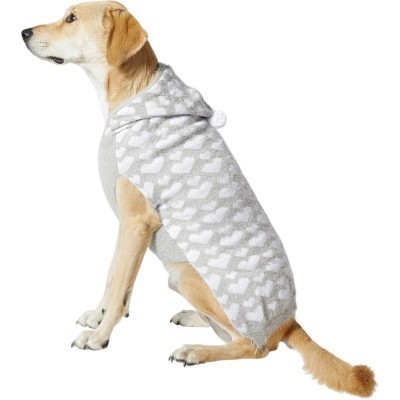 Frisco Fuzzy Heart Hooded Dog & Cat Sweater is a super-cute sweater that slips easily over your pet's head. The sweater has a hood that will make your pet look extra cool. Also, the material is super soft and cozy.
Pros
Affordable
Soft and cozy
Easy to put on
Cool hooded design
Leash Opening
Machine Washable
Cons
May contain small parts
Not suitable for children
Doesn't protect from rain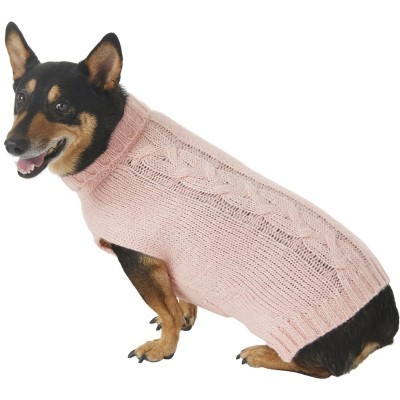 Frisco Ultra-Soft Marled Dog Sweater is a soft knit sweater that will provide your dog comfort and warmth. The sweater is thick knitted, and the turtleneck gives extra protection from cold and windy weather.
Pros
Provides comfort and warmth
Easy to put on and take off
Available in different sizes
Comes in lots of different colors
Cons
Doesn't protect from rain
May contain small parts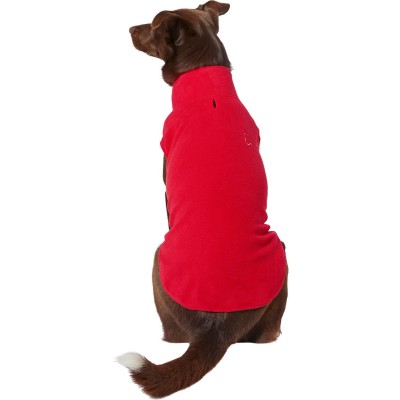 A Polyester Fleece Vest is ideal as an additional layer for dogs that like to wander outside. The vest is easy to put on, thanks to the fastener at the belly. Although this fleece vest will make your dog comfortable and warmer, the vest contains small parts, so your dog should always be supervised while wearing the vest.
Pros
The material will allow your dogs' skin to breathe more under it
Easy to put on
Machine washable
Includes a leash hole
Comes in a variety of colors and sizes
Cons
Contains small parts
Not suitable for children
Ideal for wearing in shorter periods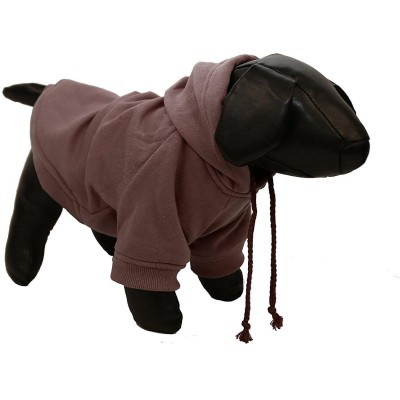 The Pet Life Fashion Plush Cotton Hooded Dog Sweater is made from stonewashed cotton. This hooded sweater can be adjusted by pulling on the strings near the neck. It has a small opening that secures you to attach a leash easily.
Pros
Very soft and warm
Made from 100% stonewashed cotton
Can be adjusted easily
Machine washable
Small opening for a leash
Comes in different colors and sizes
Cons
The hood can get caught in branches
World Dog Finder team