Best Insulated Dog Houses [2023 Review]
22.05.2021.
Every product and service on World Dog Finder is independently selected by our editors, contributors, and experts. If you purchase something through our links, we may earn a referral fee. Learn more
---
Most dog owners these days prefer having their dogs with them inside the house. However, when that is not possible, and the dog has to stay outside, you want to provide them with the best possible shelter - an insulated or heated dog house. This is extremely important for dogs that live outdoors in cold environments where warmth and shelter are a necessity.
What to look for in insulated dog houses?
Heated, insulated, or outdoor dog houses come with many different features, and not all models are good enough for your dog. You don't want your dog battling the elements every day, so there are a few things you should look for in insulated dog houses. Here are some of the most important things;
Size
The most important thing in an insulated dog house is that it is adequately sized. You have to make sure your dog fits comfortably inside their house, and no part of them will remain exposed when they look for shelter. However, the house should not be too large because it will lose heat, and the dog won't stay as warm as they should.
Wind-blocking
The worst thing for your dog is a wind chill inside the dog house. The outside dog house you get for your dog shouldn't have large gaps, windows, or cracks that will allow wind to enter your dog's house. Make sure your dog is properly sheltered from the cold wind, and the lack of these cracks will allow the warm air to remain in the house.
Waterproof
A wet dog in freezing weather can get dangerously cold. The dog can suffer hypothermia, and by the time the owners wake up, the dog can be in grave danger. Make sure you get an insulated dog house that will keep your dog adequately dry. The dog house mustn't leak or allow water to drip in the house.
Proper entrance
Your dog will not use a dog house they cannot comfortably enter or exit. They will feel uncomfortable and will be very reluctant to use the house you got for them. Make sure the house you order has a decent-sized entrance that your dog can comfortably pass through.
Off ground
The best insulated dog houses are lifted off the ground. Not only are they avoiding direct contact with the frozen ground, but they will also last longer. Dog houses that are directly on the ground rot faster than those that are lifted from the ground.
Sturdiness
The most important thing to look for in an outdoor dog house is sturdiness. You don't want to end up with a flimsy dog house that could collapse at any moment. It is not safe for the dog, and you don't want to become an irresponsible dog owner. The material should be smooth with no rough edges your dog could injure themselves on. It is better to go for high-quality houses because they are ultimately a better and longer-lasting investment.
Here are some of our favorite insulated and heated dog houses;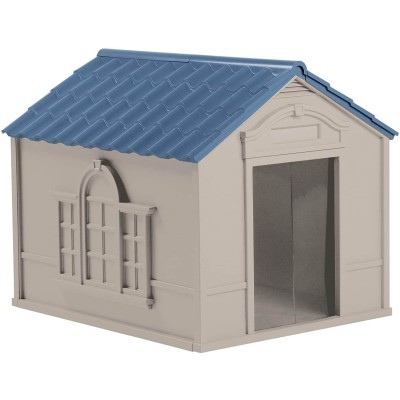 Our TOP PICK in the category of outdoor dog houses is the Suncast Outdoor Dog House with Door. This model comes in various sizes for small, medium, and large dogs, and it provides excellent insulation for dogs. It is excellent for dogs that live outside in a cold climate because this outdoor dog house will keep the warm air in and block the cold air from coming in. The vinyl doors are an excellent air blocker, and the air mixing during entering or exiting is minimal. However, this dog house doesn't include heated floors, so you might think about getting your dog a heated dog bed or a heating pad. This insulated dog house is completely waterproof, and your dog will love it.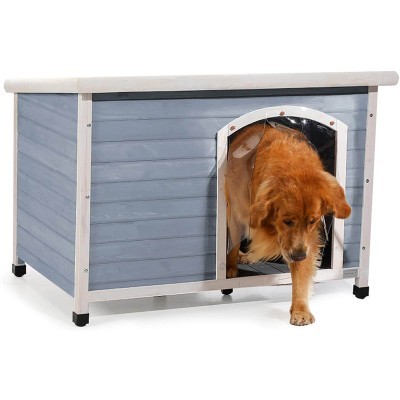 If you are looking for a subtle but effective and compact dog house, the Petsfit Wooden Dog House is the right choice. Not only is it good-looking, but it is also very practical. This insulated dog house provides plenty of warmth to your dog, and they will love their snuggly den. It is waterproof, and the heavy-duty asphalt roof will block water from leaking into the house. This dog house has plenty of useful features, like a movable roof, vinyl doors, and it is lifted off the ground. This is an excellent choice for all dog owners whose dogs have to stay outside for most of the year.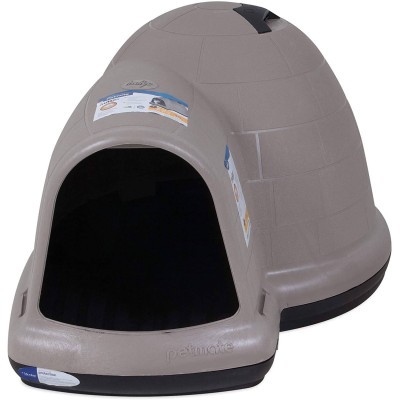 There is an excellent reason the Petmate Indigo Dog House is on many lists of best dog houses - it is very effective. Dogs seem to love this snuggly dog house, and the manufacturer guarantees the dog will remain dry and well-insulated. This igloo-styled dog house is raised off the ground, and the side moats will drain all the water from the house. It has a small air vent on the top that will provide plenty of fresh air to your dog. One of our favorite things about this dog house is that it was built with Microban technology, which prevents bacteria from developing on the sides of the dog house. This is another excellent choice for dogs that live in colder climates.
IMPORTANT NOTICE - Regardless of the insulated dog house, it would be best if you took your dog inside the house during extreme weather conditions. Dogs might have thick coats, but they can still get cold and scared.
World Dog Finder team