Best Dry Shampoo for Dogs [2023 Review]
01.03.2021.
Every product and service on World Dog Finder is independently selected by our editors, contributors, and experts. If you purchase something through our links, we may earn a referral fee. Learn more
---
Some dogs love water and everything related to it. Others hate it and will do anything to get out of bathing. Luckily, there are different dry shampoos for dogs that can help you fix that problem. You will avoid dragging your dog to the bathroom or a dog bath, but you will still manage to clean them. Plus, constantly bathing your dog with traditional shampoo can be counterproductive.
What to look for in dry dog shampoo?
There are three different forms of waterless dog shampoos: gels, powders, and sprays. They all work on the same principle; you get the dry dog shampoo and massage it into your dog's coat all the way to their skin. You wait a few moments (depending on what the manufacturer recommends) and brush or rub-down the residue. Some waterless dog shampoos just stay in your dog's coat and remain there.
Here are the most important things you should look for in a dry shampoo for dogs;
Mind the meds
If your dog has issues with ticks, mites, or fleas, you should be careful which dry dog shampoo you choose. You probably put some sort of topical flea medicine on your dog's coat, and you don't want to end up getting a dry shampoo for dogs that will interfere in the medicine's effect. Plus, there are plenty of dry shampoos with a lavender scent, and lavender is a natural flea repellent.
If you want to pick the best shampoo for regular bath time, check out this article - Best dog shampoos.
Scent
One of the key things when choosing a dry dog shampoo is the scent. It is vital you and your dog enjoy the scent of the dry dog shampoo. Otherwise, your dog can end up rolling in mud or any other stinky thing they can find.
Sensitive skin
Some dogs can have sensitive skin, and they need to use mild shampoos that won't upset and cause skin irritations. Luckily, many dry shampoos for dogs use natural ingredients and soothing things like aloe vera. Make sure you read the ingredient list, so you can be sure nothing will cause issues to your dog.
Here is a list of our favorite dry shampoos for dogs.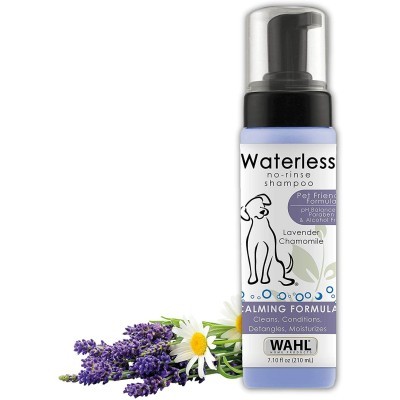 When it comes to the best choice of dry shampoo for dogs, the Wahl Waterless Shampoo for Dogs is the best there is. This US-made product comes in two possible scents - chamomile and lavender, and lime verbena and coconut. Its foamy formula is super effective in blocking unpleasant doggy odors. It is an ideal dry dog shampoo to use in between regular baths. This shampoo contains a special conditioner that will ensure your dog's coat is moist and shiny. Wahl is a top recommendation that dog owners seem to love.
Pros
Smells great
Natural ingredients
Cons
Some owners reported this dry shampoo didn't clear the unpleasant doggy odor.
Some dog owners seemed to have issues with the Nr.1 on our list - it just didn't work for their dogs. Those owners went for the second-best choice, which is Paw Choice Dry Dog Shampoo. This dry dog shampoo has an incredibly mild formula that comes from coconuts, so you can be sure it will not cause any skin issues or inflammations. The unique Paw Choice formula kills the bacteria causing bad dog odor and replaces it with a pleasant pomegranate mango scent.
Pros
Effective
Deodorizes cleanses, and conditions the fur
Kills bacteria
Cons
Some owners reported too intense pomegranate smell.
Here are some other tools you can use for grooming your dog - Shedding season must-haves.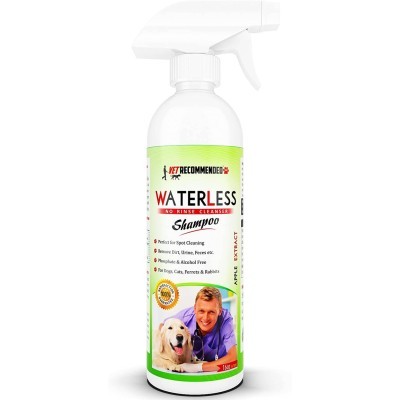 Vet recommended is the brand's name, don't mistake it for an actual veterinarian endorsement. However, when it comes to waterless dog shampoos, Vet Recommended Waterless Dog Shampoo is actually a pretty good choice, and it is actually recommended by a number of veterinarians. One of the most significant advantages of this product is that it can be used alongside topical flea medication. It will not diminish the medication's effectiveness and is entirely safe to use. Plus, they offer a lifetime satisfaction guarantee.
Pros
Can be used with flea medication
Recommended by vets
Apple-scented
Cons
Most issues are related to the scent
Some owners reported receiving damaged pumps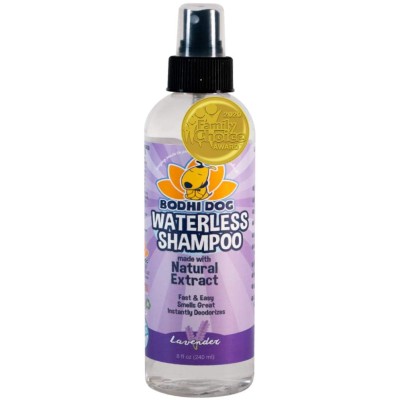 For households with multiple pets, the Bodhi Dog Waterless Dog Shampoo is an excellent choice. This dry shampoo for dogs and cats is mild. Unlike other products, it has vegan-friendly ingredients that are ethically sourced. This dry dog shampoo formula doesn't contain alcohol but manages to neutralize bacteria responsible for bad smell. The Bodhi Dog dry shampoo comes in lemongrass and lavender scent. Not only does it smell nice, but it also repels parasites like ticks and fleas.
Pros
Smells nice
Natural ingredients
Easy to use
Cons
Owners of white dogs reported that it didn't really make their dogs look cleaner.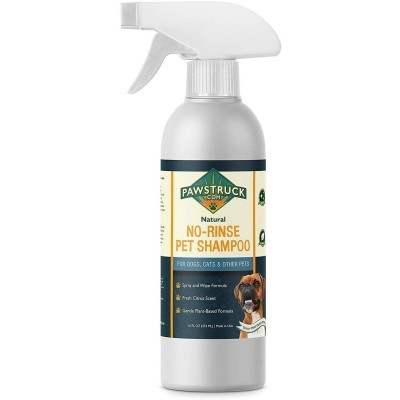 The Pawstruck Dry Shampoo for Dogs is our favorite dry shampoo in a spray form. It has a refreshing citrus scent and is safe to use on dogs and cats. It is a fantastic spray-on dry dog shampoo compatible with different coats, furs, and skins. Like all other products on this list, Pawstruck has a formula that kills bacteria responsible for the bad odor. However, this dry shampoo for dogs has soothing properties, and it will help promote skin health.
Pros
For dogs and cats
Smells nice
Anti-inflammation properties
Vegan-friendly
Cons
Most problems are related to delivery issues
Some owners reported a too weak scent
World Dog Finder team