What is the Best Dog Shampoo?
28.01.2021.
Every product and service on World Dog Finder is independently selected by our editors, contributors, and experts. If you purchase something through our links, we may earn a referral fee. Learn more
---
Picking the best dog shampoo is not unlike picking the best shampoo for yourself. You need to see what works best for your pup. It is not uncommon that some dog shampoos promise effectiveness and the best possible results, and in reality, they are just not that good or effective.
The pet cosmetics market is barely regulated, which means that cheap and low-quality products easily find their way into pet stores' shelves and online shops' virtual shelves. We can't always trust the manufacturer's description; let's face it, nobody will tell us if their product isn't top quality.
Picking the best shampoo might be difficult, but we have tested and found what can be easily ordered and bought in online shops. We took the best available products that will help you treat and clean different problems with your dog. Whether you are fighting fleas or soothing sensitive skin, you can find something for your dog.
Check out this list of the seven best dog shampoos.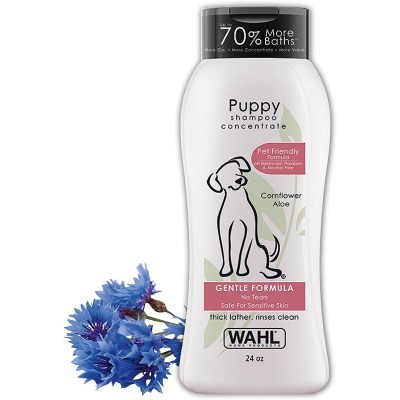 Puppies should start proper grooming and bathing while they are still young. They will most likely have sensitive skin, and their shampoo should be mild and gentle. WAHL is precisely like that. It has a special paraben and alcohol-free formula that will help your puppy smell great but won't irritate their skin. This product contains cornflower and aloe vera, so you can be sure it is natural. This is our pick for the best puppy shampoo.
Pros
Gentle
Sensitive
Aloe Vera
No-tear formula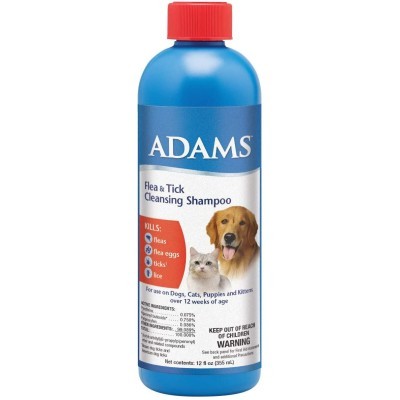 Fleas and ticks are an irritating reality of living with dogs. You might be as careful as possible, and your dog might still end up infected with these nasty parasites. When this shampoo is used in combination with flea or tick medicine, it will make the battle against these nasty parasites easier. Not only does this shampoo kill the flea eggs on contact, but it will also protect your dog and repel these pests for the next 30 days.
Pros
Effective
Vet recommended
For cats and dogs
Cons
Strong, so dogs might have a reaction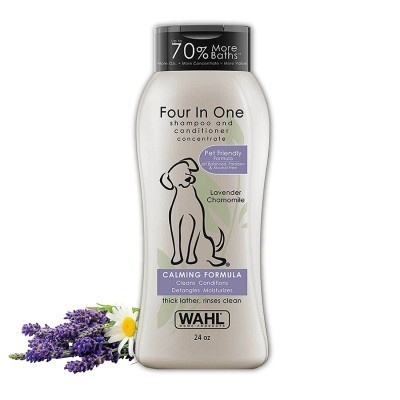 WAHL is a great manufacturer of dog cosmetics. Their 4-in-1 shampoo is our top pick. It is sensitive, and it soothes the dog's skin with every wash. It deeply cleans and leaves the dog's coat soft and shiny. WAHL made a unique formula with more coconut sodding, which means you have to use a lot less shampoo. It produces a thick lather that is fairly easy to rinse. This dog shampoo is great for short and long coats.
Pros
Sensitive
Lavender smell
Coconut sodding
If you are trying to control your dog's shedding, you might want to get a good pet hair vacuum cleaner. Here is an article that could help you with that - What Is The Best Vacuum For Pet Hair?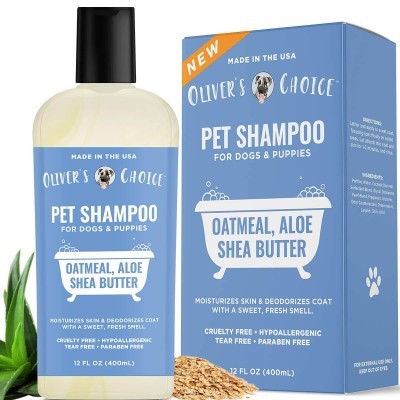 Just like humans, dogs can have dry skin that can easily be irritated by strong shampoos. This dog shampoo made by Oliver's Choice company is mild, sensitive, and moisturizes your dog's dry and sensitive skin. It has a carefully blended formula with oatmeal, Aloe Vera, and Shea Butter, so you can be sure your dog will feel pretty good after their bath. Not only is it useful, but it also smells lovely.
Pros
For dry skin
Shea butter
Aloe Vera
Smells great
Cons
Some dogs might have a bad reaction (less than 0,5%)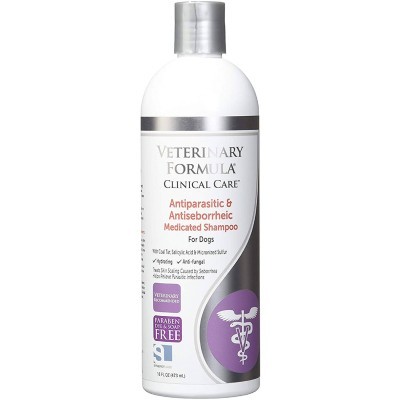 The sad truth is - dogs can have severe skin issues. If that is the case with your dog and you are looking to get a shampoo that can help with that, then the Veterinary Formula Clinical Care dog shampoo for dogs with skin issues is the way to go. This is the shampoo even vets will recommend for dogs with problems like flaky skin, redness, seborrhea, and dermatitis. It has a strong, carefully blended formula that can take on the most challenging skin problems.
Pros
Special for skin issues
Effective
Great reviews
Cons
Can irritate dog's eyes
Some dogs get a reaction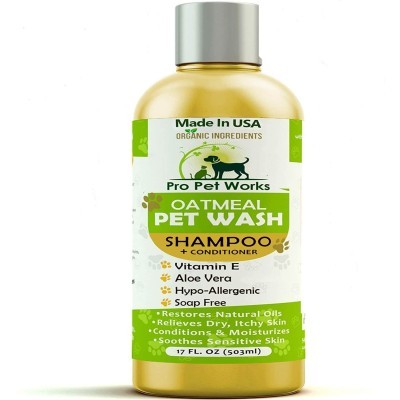 Pro Pet Works dog shampoo is great for dogs with normal or sensitive skin. It is entirely natural, and its natural formula with oatmeal and alone vera will leave your dog happy and smelling good. It doesn't contain anything artificial; no alcohol, parabens, colors, or scents. It is completely natural and sensitive. This dog shampoo is soap-free, so you can safely use it any time you wash your dog without causing any irritation.
Pros
Natural
Soap-free
Natural smell
Cons
Hard to open cap
Looks "cheap"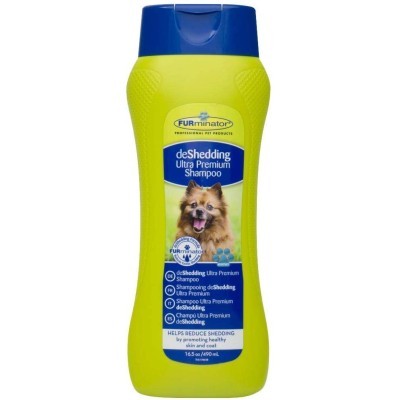 FURminator is a company we love and trust for many years now, and their de-shedding shampoo is one of the many reasons why. If you have a breed that is a heavy shedder, like a Siberian Husky, helping them shed their coat is a good idea. Furminator dog shampoo will help your dog shed their undercoat and promote the fur's health. It has a unique formula rich in omega-3 and omega-6 fatty acids and a papaya leaf extract that will promote skin health. This is the best de-shedding dog shampoo out there.
Pros
Helps with shedding
Papaya extract
Omega fatty acids
World Dog Finder team