Shedding Season Must-Haves (2023 Update)
23.05.2020.
Every product and service on World Dog Finder is independently selected by our editors, contributors, and experts. If you purchase something through our links, we may earn a referral fee. Learn more
---
One of the most problematic things about living with our four-legged best friend is the shedding problem. Dogs' ability to make a mess is immense and it is a good idea to know how to deal with the aftermath of the problem. There are some dog breeds that don't shed so much or even have no hair. But most dog breeds shed quite heavily.
Dogs that need most grooming and have the biggest shedding problem are the double-coated breeds such as the Golden Retriever, Newfoundland, Border Collie, or Huskies. They usually have a longer, protective outer coat and shorter, thicker, and denser undercoat.
They blow their undercoat twice a year during the shedding season (spring and fall). At that time, they completely blow their undercoat and the sheer amount is incredible. In order to effectively help your pet you will need to brush them on a daily basis.
When brushing a double-coated dog it is important that you reach their outer and undercoat. If you do not brush them during the shedding season, their coat will most likely become heavily tangled and matted. That becomes a real problem cause getting rid of tangles and mats can be a painful process and sometimes the only way to take care of it is cutting the dog's hair.
You should also have the proper tools for these types of coats and here is a list of products we would recommend that are going to help you survive the shedding season.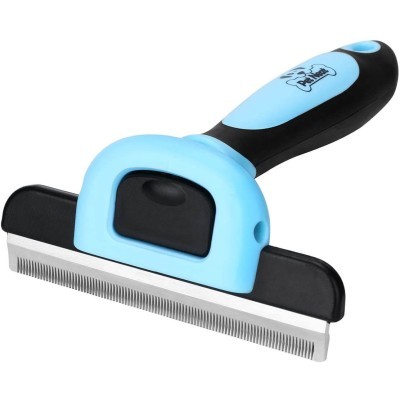 This Pet Neat has the highest overall score on Amazon and can boost with over 3,000 reviews. Their overall rating is 4,7 and we certainly agree with it. In a 10-minute grooming session, it can reduce loose hair by 95% and one of the best things about it is, it comes with a lifetime guarantee. If you encounter any problems with this 4-inch stainless steel brush, you will be compensated fully.
This brush works with all types of coats- the short and long double or single coated.
One of Amazon's users said this:
"I received this product today and it works like a charm. I have a Shiba Inu that blows it's coat twice a year and this helped out tremendously already. This has been the most effective comb I've purchased and it's a great price. "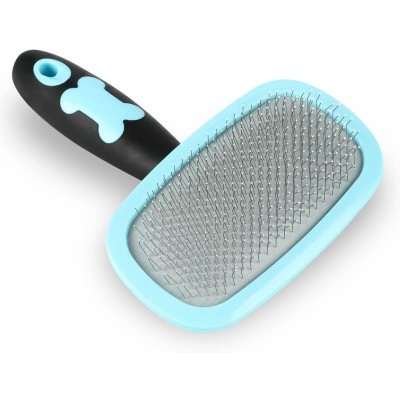 Most of the brushes out there have a higher price but this Glendan Slicker Grooming Brush shows that quality brushes don't have to have such a high price. You can order it in two sizes and it has stainless steel bristles. It also comes with a 90-day guarantee and has an overall rating of 4.6 on Amazon.
Amazon user by the name of KLM said this:
"This is absolutely the best brush I have found for my Yorkies!! They love it and come running to me when they see it in my hand. It's a perfect size, very good quality, gets any tangles out, doesn't hurt at all and is very cute! I bought at least 2 pink and 2 blue and a few of the rectangular-shaped ones as well. These are mine and the Yorkies favorite brushes!"
Some dogs just don't like traditional brushes. If you would like to go for a different approach, try using these deshedding DELOMO gloves. It has silicone tips and they are much softer than traditional steel ones. You can be sure that you will not accidentally hurt your pup. After you are done using them, they are machine-washable so you can just throw them there.
This is a review of these gloves:
"These grooming gloves are the perfect solution! My puppy would sit and let you scratch her all day if you had the time! I can sit and wipe her down and 'scratch/pet' her with the gloves on and she can't get enough of it! It is a win-win scenario."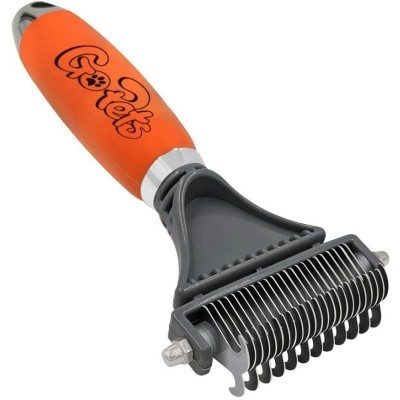 If your dog's coat does get tangled or matted, one of the best tools to help your dog with is this GoPets Dematting Comb with 2 Sided Professional Grooming Rake. It is really easy to use and you will be happy with your purchase. It will easily cut through tangles and reach the undercoat so your dog can finally get rid of those nasty tangles and mats.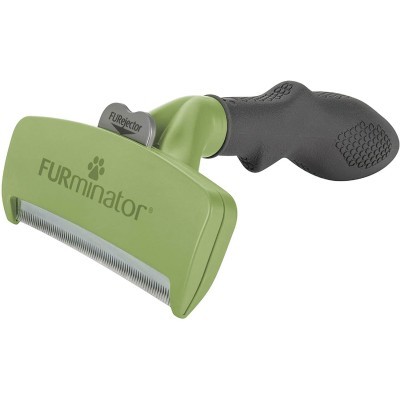 This is one of the most famous and trusted pet care companies in the world. The company that makes this product claim that it can decrease shedding by a staggering 90%. It has over 10,000 5-star reviews and we certainly agree. We have a short single-coated dog that has a dense harsh coat. It was nearly impossible to control shedding during the shedding season until we discovered the Furminator. It works great on long double-coated dogs and reaches the undercoat without damaging the outer, longer hair. It has a practical button for cleaning and by pushing the button it releases the collected fur. The FURminators handle is ergonomic so there is no tension in the hand while you are using this brush.
Here is what a happy customer says about the FURminator:
"Are usually wait at least a month before I post a review. However, I received this product today and used it on my husky and my mind is blown. I have never been able to properly groom my husky and do a good job, every product I have bought has fall short Except this one. I highly recommend buying it! It will change the way you groom your dog. My husky who hates grooming actually sat and let me groom him."
Sometimes we just don't have enough time for regular grooming or we accidentally forget and when that happens our dogs can have big problems. If you do not want to shave the tangled or matted hair and would like to try and save what can be saved, bathing your dog with dog conditioners can ease your job. We personally tried these products on our dogs and would recommend them.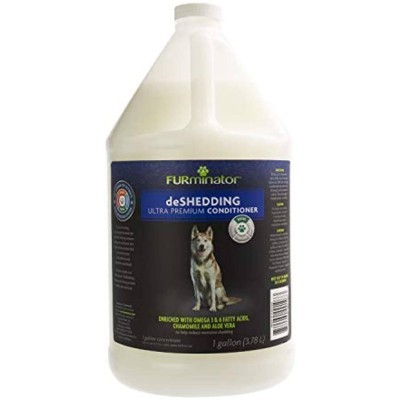 This is another product from the famous FURminator company and we can't stress enough how satisfied we are with their products. This conditioner is made from chamomile extract, aloe vera, with added supplements rich in Omega 3 and 6 acids. Not only does this conditioner help reduce shedding by releasing undercoat, but it also helps with existing tangles or mats.
If your dog's hair does get tangled, the easiest way to untangle the hair is by using your brush and brushing the wet, conditioned hair. It is used by many professional groomers around the world and here is a review of this product:
"The best conditioner (and shampoo) ever! I have two GSD, a Rottweiler, a mix breed, and a cat. I use this on ALL of them (the cat one for cat) and it works amazing! My German Shepards 100% don't shed as bad as they used to. I don't have to de-shed them every day. They shed as much as my short-haired breeds do (very little to none) in this summer heat. I am truly amazed at how awesome the furminator products work. My cat is a short-haired tabby and she used to just leave little cats wherever she laid, but not anymore. I have to make clear that I use the shampoo and conditioner exactly as directed thought. I leave it on them for a few minutes each. No complaint. It also smells reaaaally good."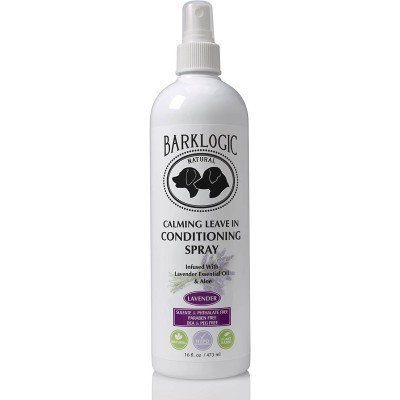 This is a product that is great for untangling your pet's hair. It is really easy to use and you just spray it on your dog's coat and brush it. It can also be used while bathing your dog. Leave it for 5 minutes and let it do its magic. The second great thing it does is it gets rid of bad smell. It has essential oils that can easily get rid of the smell and leave your dog's coat smelling great and feeling soft. It also has a soothing effect on the skin.
A happy BarkLogic customer left a review:
"We have a senior corgi mix with extremely sensitive skin and over the years have spent a great deal of money on meds and products to ease his incessant itching discomfort. We live in Florida where fleas thrive through the year outside. An associate of his vet suggested I spray his legs with lavender before walks. Since I've started using BarkLogic Lavender I haven't had to give him an itch pill (which are very expensive)! So, this product is also a gem for flea control (as they don't jump on him to bite him before the expensive flea medication works). We're on our second bottle now. Thank you so very much!"
The sheer amount of hair that falls of your dog during the shedding season can be too much to brush out using some of these products and one of the most important things to have in a dog household is a great vacuum cleaner that can clean all the dead hair.
Short and hard dead hair can get tangled in our sofas, carpets, or hardwood floors and a great vacuum cleaner can help you clean all the mess. We would recommend the following products we have a great experience with.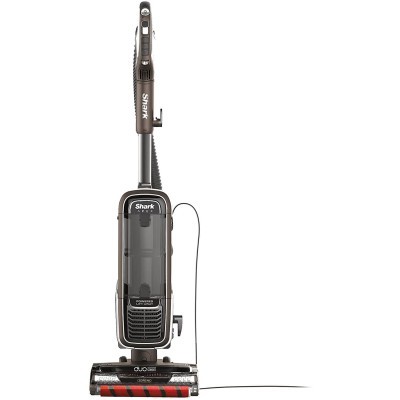 Cleaning your pet's hair from a brush is irritating but cleaning it from floors or carpets is just plain and simple - frustrating. This is where the Shark engineers showed their new system and its brilliance. The special system called Zero-M removes unwanted hair (both animal and human) by using a built-in brush roll and it's just that easy.
The Shark APEX has a "Complete Seal" system that has an anti-allergen air filtration job that it completes with no problems. It meets the highest standards and easily removes allergens from the air as well as from the surfaces.
A happy Amazon customer said this about the Shark Apex vacuum:
"The 'AZ1002' is the best vacuum I've ever owned. I have two Malamutes that have long hair and shed enough to stuff a king-size pillow almost daily when they shed their winter/summer coats. I have mostly hardwood floors that are black wood on which dirt tends to show, this vacuum really does a great job on the hardwood and the low area rugs I have. It handles the fur without issue and picks up sand-size particles from the hard floor without throwing it back at your feet. It is pretty quiet and came with some nice attachments including a powered pet hair tool for couches and the like, though only two can be stored on the vacuum itself at a time I don't find it to be an issue."  As that wouldn't be good enough, the user returned and edited his comment and added: "EDIT: Almost 10 months later and the vacuum is still working perfectly."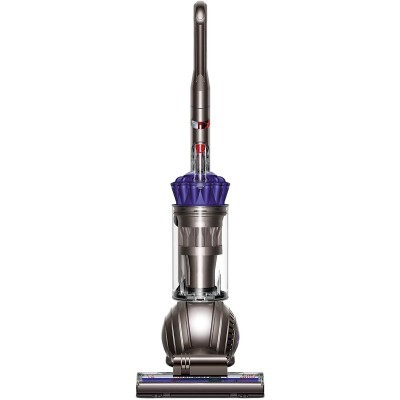 This upright Dyson vacuum cleaner will easily solve all of your pet hair problems. It is a bit pricier but looks at it as a long-term investment and its effectiveness is well-worth the invested money.
Dyson has the best reviews for suction and filtration and this product is specially designed for households with pets that shed heavily. Instead of having filters that need to be changed, this vacuum cleaner has a whole HEPA filtration system. It is great for people with asthma as well as people with allergies. Its turbine is tangle-free and removes hair from the system. It also adapts automatically when you are switching surfaces so there is no need to adjust any kind of settings or push any buttons.
A buyer of the Dyson Ball Animal vacuum cleaner left this review:
"This is my second Dyson. It is lightweight, easy to maneuver and empty. I love that the carpet actually it looks like you vacuumed. It easily transitions from carpet to floors. If you have pets I highly recommend this model."
If there are any products you have used and would recommend, feel free to give us a recommendation. We would love to hear it.
World Dog Finder team