Best Dog Sleeping Bags
02.05.2021.
Every product and service on World Dog Finder is independently selected by our editors, contributors, and experts. If you purchase something through our links, we may earn a referral fee. Learn more
---
Some of us love taking our dogs on outdoor adventures. The most important things you have to take with you on a camping trip are a positive attitude and high-quality equipment. Of course, you can survive without it, but it makes the adventure a lot more enjoyable and safe. One of the crucial parts of that equipment is a great sleeping bag.
Some owners think their dogs don't need a sleeping bag for dogs because they have thick furs that can keep them warm enough. That might be true for some breeds, like the Siberian Husky, but even those with a thick double coat will appreciate having a warm spot just for them. If you want to take your dog camping with you, here are some things you should know about dog sleeping bags.
What to look for in dog sleeping bags?
Picking the right dog sleeping bag can be challenging, especially since there are so many of them. Manufacturers often advertise their products pretty well, and it might be impossible to know how well they are actually made. Here are some of the crucial things you should look for in dog sleeping bags;
Insulation
The insulation will be necessary, but you need to make sure you pick the right type of insulation based on your trip and destination. If you plan on going to the mountains, you should get them a thick sleeping bag, but if you are sleeping next to the ocean during warmer parts of the year, a light sleeping bag is more than enough.
Portability
This is another crucial thing to think about because you don't want to haul a heavy and impractical dog sleeping bag, especially if there is hiking involved. It is a good idea to look for doggy backpacks and let your little adventurer carry their sleeping bag on their own.
Water-resistant
There is nothing worse than waking up in a wet sleeping bag. When choosing the right sleeping bag for your dog, make sure you pick one that is waterproof. A wet sleeping bag can be extremely dangerous if the weather is cold outside, so make sure your four-legged friend has a dry and warm place to sleep.
Flexibility
You never know when your dog might be too hot to sleep in a sleeping bag, but they will never be too hot for proper insulation between them and the ground. If you can, you should pick a sleeping bag that can open all the way up and serve as a sleeping mat. Luckily, many dog sleeping bags have that possibility.
Now you know what to look got in the best dog sleeping bags. Here are our top recommendations that will make your dog feel comfy even in the harshest conditions.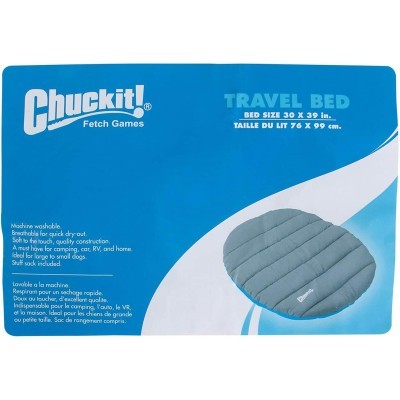 Most dog owners agree that the best dog sleeping bag is the Chuckit! Travel Bed. However, the main issue with this dog sleeping bag (if that is an issue for you) is that it accommodates dogs up to 35 pounds. The material is water-resistant, and the bag is very soft. It offers excellent insulation, and dogs are very protected in it. When the weather is warmer, your dog can simply lie on top of it and use it as a mat. Another great thing about this sleeping bag is that it is machine washable, so maintenance is pretty straightforward. Not only is this dog sleeping bag comfy, but it also comes with a budget-friendly price tag.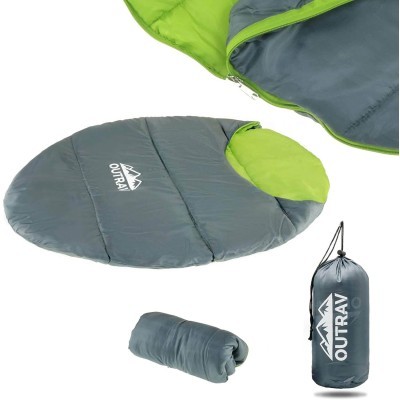 If you have a small or medium-sized dog that goes camping with you, the Outrav Dog Sleeping Bag is a great choice. It was developed with small dogs in mind, but owners mentioned that it can fit 45-pound dogs comfortably. This sleeping bag offers everything you'd want from it; it is waterproof, warm, and easy to carry. This is the thing you want to have for your dog if you plan on going camping in the mountains. This sleeping bag offers amazing insulation and warmth. Plus, it comes in different colors, so you can match it to your other gear; a great choice and a top recommendation.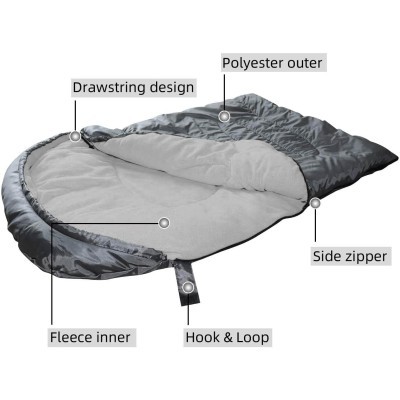 If you have a large camping companion, you will need a sleeping bag that can easily fit them. Luckily, KUDES Dog Sleeping Bag has you (or your dog) covered. This product is great for large dogs, and it comes with an affordable price tag. However, this is a "lightweight" sleeping bag. It will keep your dog warm, but it is not the best choice if you are taking a dog like the Greyhound in the mountains. Dogs that have a thin coat will need something a bit warmer during extreme colds. Nevertheless, this is a great choice that will keep your dog warm and comfy enough to get a good night's sleep while you are on your wild adventure.
World Dog Finder team