Should You Use Dog Life Jacket?
27.02.2021.
Every product and service on World Dog Finder is independently selected by our editors, contributors, and experts. If you purchase something through our links, we may earn a referral fee. Learn more
---
Most dogs are pretty good swimmers, but unfortunately, some of them love water but don't have the ability needed to safely enjoy it. That's when dog life jackets come in. Senior dogs, brachycephalic breeds like the French Bulldogs, or dogs with mobility issues will need dog life jackets to safely enjoy or train in the water.
Humans love sailing, and often, dogs are accompanying them on the boats. Having a dog life jacket on board is just as important as having life jackets for humans. All doggie sailors need to be secured and have a life jacket in case of emergency.
Not only is it essential to have it on board, but also for many adventures humans love. We often take our dogs on adventures like rafting, kayaking, or paddleboarding. Dogs can be at risk of drowning just like humans are. They can quickly get tired and drown; in fact, there are many accidents where dogs end up drowning because they fell into the swimming pool and couldn't get out.
To prevent such tragic things from happening, getting your dog a life vest for any adventures involving water is a great idea. "Better safe than sorry" is a great life philosophy to have.
If you want to know how to properly prepare for a beach day with your dog, check out this article - How To Prepare For A Dog Beach Day.
Picking a dog life vest
Picking the right life jacket for your dog is essential, and there are some things you need to consider before deciding on one. There are four most important things to look for: buoyancy, handles, size, and colors.
Buoyancy
This is probably the most important thing and the whole reason why you want your dog to wear a life vest. Make sure that the dog life jacket has flotation parts under their bellies and around their necks.
Handles
Handles are pretty handy if you need to pull your dog out of the water. They are also great for older dogs that could need some help with their training or rehabilitation. Make sure the vest has strong handles.
Size
Size is a vital part of the process of picking out a dog life jacket. You don't want your dog's life vest to slip off them while they are in the water. It is also crucial that your dog is comfortable and can lay down without discomfort.
Color
Typically, you'd want to go for bright, reflective colors so you can quickly spot your dog no matter how far they swim away. It will also help others spot them and avoid collisions and accidents.
Here is a list of our five favorite dog life jackets.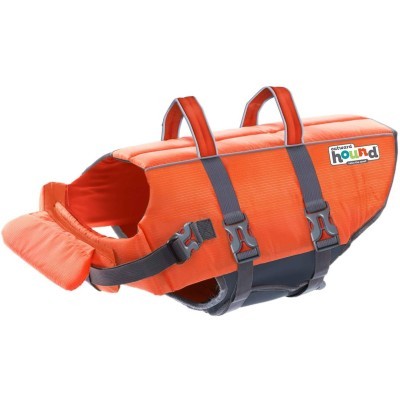 Outward Hound is a well-known pet supplies manufacturer, and we personally use plenty of their products. They make fantastic dog life vests, and the Granby Splash is one of the. Not only does it have two handles for all sizes except the extra small size, but it also has nifty flotation support underneath your dog's head to help them keep their head above the water. This model also comes in three varieties, and each has a particular function and focus.
Pros
Colorful
Durable
Very buoyant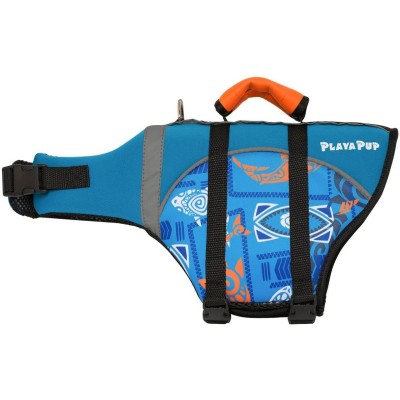 If you are interested in getting a dog life vest for beach trips and adventures, then PlayaPup Dog Life Jacket is the way to go. It is available in 10 different designs and will make your puppy stand out on a full and packed beach. It is not the most buoyant, but enough to help your dog safely play in the water and around it. This vest has a strong handle that will help you handle and pick up your dog with ease.
Pros
Design
Strong handle
7 different sizes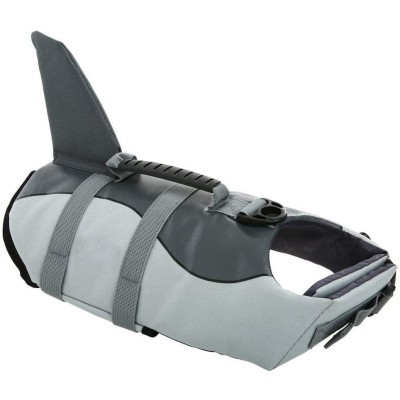 The Queenmore Dog Life Jacket is the one we knew we had to get. If you want your dog to really stand out from the crowd and maybe raise some eyebrows from unsuspecting swimmers, this shark fin dog life vest will be ideal. Other than a fun design and shape, it is relatively buoyant. The only problem might be the lack of bright color.
Pros
Design
Ergonomic handle
Buoyancy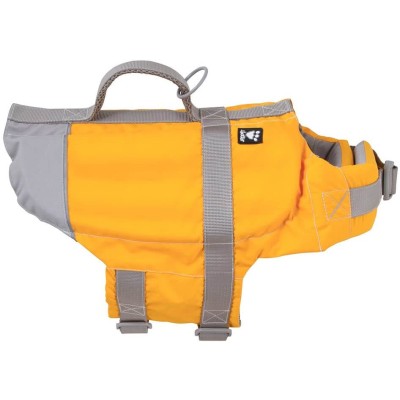 If you are looking for efficiency over everything else, this is the right choice for you. Hurtta might be a bit pricier, but there is no better dog life jacket in terms of safety. This will be ideal for all dogs whose owners are taking them rafting, sailing, kayaking, or paddleboarding. It is incredibly buoyant, bright-colored, reflective, and easily noticeable. It comes in different sizes, and the price changes accordingly. Most vets agree that this is the best option for dogs that are at risk of drowning.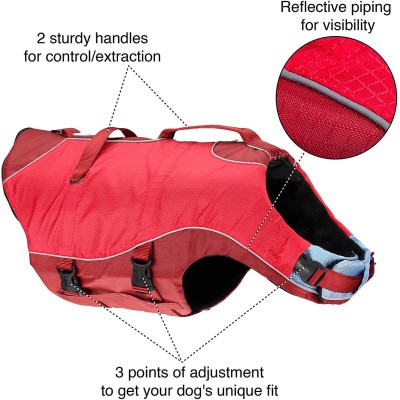 In terms of getting value for money, the Kurgo Surf n' Turf is a great choice. This inflatable dog vest doubles as a raincoat, so you don't have to buy different products. This lifejacket for dogs has a 4.6 rating with plenty of overly satisfied users. It has adjustable straps and multiple adjustment points, and a durable handle on top for easy dog handling. It is available in five different sizes.
Pros
Adjustable
Life jacket/Raincoat
Affordable
Cons
Might not fit certain breeds with broad chests
World Dog Finder team