Best Dog Seat Covers in 2023
05.05.2021.
Every product and service on World Dog Finder is independently selected by our editors, contributors, and experts. If you purchase something through our links, we may earn a referral fee. Learn more
---
Most dog owners love taking their dogs no matter where they go. is there anything better than taking a nice relaxing hike through nature with your dog? Not only is a hike a great way to entertain your dog for hours, but it is also very beneficial for your health. Hiking is a great way to spend some energy, relieve stress, and get charged up for the workweek.
Want to know more about the benefits of walking a dog? Check out this article - Dog walking benefits.
However, there is one thing experienced owners know - dogs love to get dirty while walking through nature. If you have to take the car to reach your hiking destination, you might want to consider getting a dog seat cover. A great dog car seat cover will keep the interior of your car clean and undamaged.
Dogs might love hiking, but not all of them love car rides. Dogs can get sick, muddy, or wet, and your car seat will get damaged. A dog car seat cover is a great way to keep the interior intact while traveling with your canine companion. If you think that is a good idea, check out these amazing products that can help protect your car from sharp dog nails, slobbering, and mud.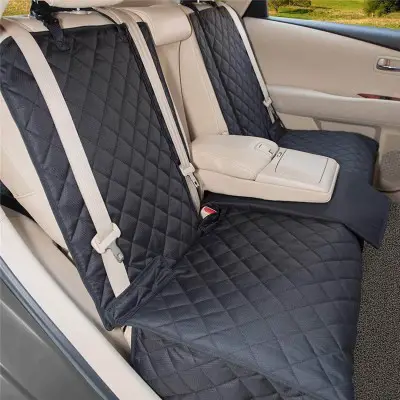 Our top pick is the YESYEES Waterproof Dog Car Seat Cover. We absolutely love this seat cover because it is very easy to install. It comes with many useful features, like the middle zipper that allows passengers to use the armrest. This dog car seat cover is waterproof and durable; both characteristics should be high on the list of priorities for dog car seat covers. This cover has impressive reviews, and there is a good reason so many dog owners chose it.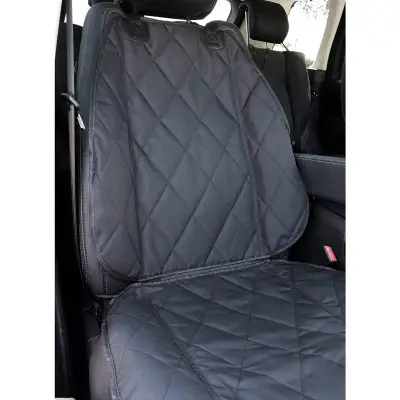 For smaller dogs that travel mainly on the front seat, the BarksBar Pet Front Seat Cover is an ideal option. This dog seat cover is compatible with different vehicles. It comes in black, and what is even more important - it is completely waterproof. Your seat will be safe if your dog gets dirty or experiences motion sickness. Not only is this dog seat cover easy to install, but it is also very easy to maintain. The cover is machine washable; just remember to set the easy cycle.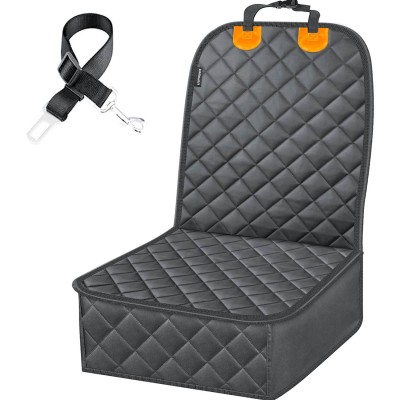 The URPOWER Pet Front Seat Cover is another product for smaller or larger dogs that prefer traveling and seeing the road ahead of them. It is made of a durable, non-slip material that will keep in place even during sudden maneuvers. This dog seat cover has 4 waterproof layers of polyurethane, so you can be sure nothing will reach your car seat. This seat cover is very easy to get in place, and like most other models, it goes around the headrest and straps around the bottom of the car seat. The different layers will protect your seat from fluids, as well as dogs that love scratching. Plus, it comes at a reasonable price.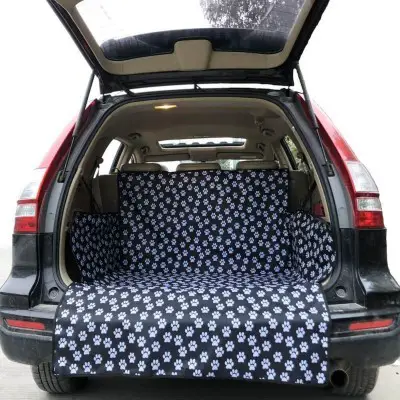 If you have a large dog that simply cannot fit into a crate or on a seat, you might want to consider dog-proofing your trunk. The Pet Dog Trunk Cargo Liner is an ideal product for you. It is made from a high-quality 600d fabric, whose main characteristics are durability and water resistance. This trunk cover is huge, and it will easily cover and protect your truck from your dog. The Cargo Liner cover is easy to put in place, and when it gets dirty, simply throw it in the washing machine. This product is ideal for shorter and longer trips since placing and removing it is not a big problem. Plus, it comes in different designs. Keep in mind to measure the product and your car trunk before you order it.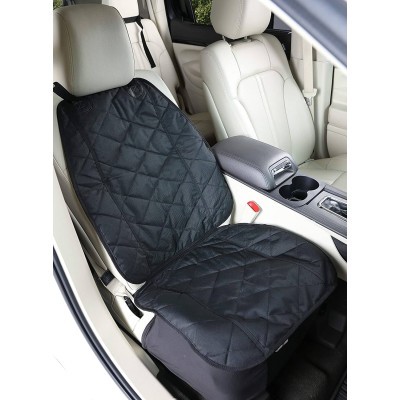 If you have bucket seats in your car, you will find they don't fit traditional dog seat covers. Luckily, 4Knines Front Seat Cover for Dogs has you and your car seat - covered. This dog car seat cover will stay in place, and you can be reasonably sure it will fit your bucket seats. It is designed to have a snuggly fit, so the specific form of the bucket seat doesn't interfere with the functionality and protective characteristics of this cover. As you'd expect, this seat cover is waterproof and durable. It includes a quilted design, and it is scratch and mudproof. This is the best possible choice for all cars with bucket seats.
World Dog Finder team