Top 3 Expert Pick - Dog Puzzle Toys
27.06.2021.
Every product and service on World Dog Finder is independently selected by our editors, contributors, and experts. If you purchase something through our links, we may earn a referral fee. Learn more
---
Having a dog is amazing, but having an intelligent, high-energy dog can be challenging and, at times, overwhelming. Luckily, dog owners have a few tricks up their sleeves. One of these tricks is dog puzzle toys. Dog puzzle toys can provide hours and hours of fun and mental challenge for the dog. There is a clear objective to solving a dog puzzle toy - the treat.
Dogs are very food-motivated, and if they can smell a treat inside a toy, they will do everything they can to reach it. Some dog puzzle toys are harder to solve, and some offer light mental stimulation. Dogs thrive on having a job to do, and they are the happiest when their physical and mental needs are satisfied.
What to look for in dog puzzle toys?
Dog puzzle toys come in various shapes and sizes. Some are more challenging, and you should know your dog's abilities and limits. If your dog gets a toy they cannot solve, they might get frustrated, and the toy will lose its purpose. Here are some of the most important things to look for in dog puzzle toys;
Material
Dog puzzle toys come in all sorts of materials, and some are simply better than others. Puzzle toys will cause your dog to scratch and bite them, so materials have to be durable. It makes no sense to get a toy that will get destroyed in seconds.
Difficulty level
Some dogs are more intelligent than others. Solving dog puzzle toys comes easier to them, and some dogs seem to have trouble getting to delicious treats inside the toy. Make sure you choose the right difficulty level for your dog. You don't want to get them a toy they won't be able to solve.
Choking hazard
Complicated dog toys might seem fun, but tiny pieces present a choking hazard. Tiny doors and storages are amusing, but dogs that get frustrated will try to break the toy. If something breaks, your dog might try to eat the tiny part.
Here are the best dog puzzle toys for your dog;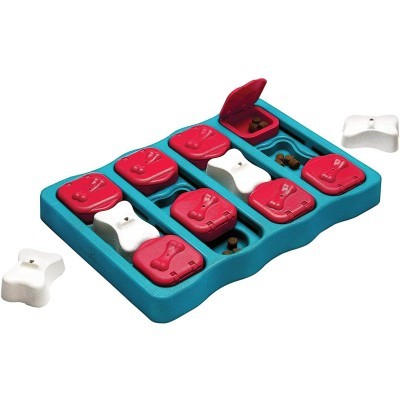 Our top pick in the dog puzzle toy category is the Interactive Puzzle Game by Nina Ottosson and Outward Hound. This is an intermediate difficulty level, so most puppies and dogs can learn to solve this toy. The goal is to remove covers of different compartments to find treats. This toy has more than 40.000 positive reviews, and dog owners absolutely love it. This dog toy is durable, and materials are completely safe for dogs. Our favorite part about it is you can simply throw it in a dishwasher. Unfortunately, many dog toys don't have that luxury, and after a while, they can get filthy and unhygienic.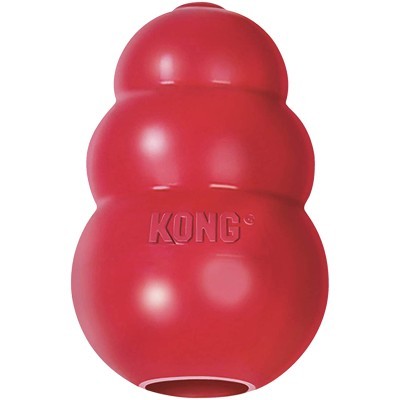 If you ask any owner with Kong experience, we are sure they will recommend this dog toy. The KONG Classic Dog Toy is durable, weirdly shaped, and can store treats. Your dog will have hours of fun trying to catch the toy that bounces in unpredictable ways, and when they catch it, there are goodies inside it. This toy is easy to solve, and dogs can learn quickly how to empty it. However, you can start filling it with things that are harder to get out, like peanut butter or soggy kibble. The durable rubber will withstand even the toughest chewers, and when you have to clean this toy, simply throw it in the dishwasher. This is an excellent toy for dogs, and we highly recommend it.
IMPORTANT NOTICE: Dogs can have a lot of fun trying to get dog treats out of puzzle toys. It would be best to use low-calorie dog treats, so your dog doesn't gain weight.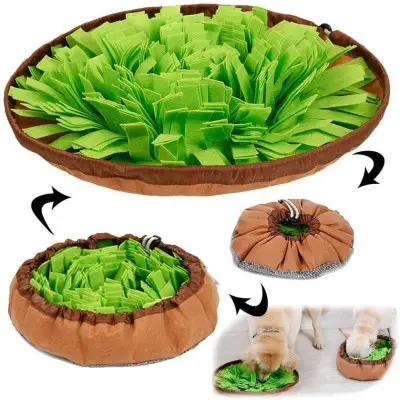 Snuffle mats are another interesting way to keep your dog entertained. The goal is to hide dog treats inside the folds and let your dog sniff and dig them out. Our favorite snuffle mat is the AWOOF Pet Snuffle Mat for Dogs. The AWOOF's model is the most durable, and it comes with a non-slip bottom to keep it in place. It can be folded and closed for easy transportation and to keep it safely away from your dog. The folds on this snuffle mat are green, and it mimics how a dog would search for things to eat in the grass outside. This product is a cool way to keep your dog entertained for at least some time.
World Dog Finder team