What to Look for in Indestructible Dog Toys?
04.06.2021.
Every product and service on World Dog Finder is independently selected by our editors, contributors, and experts. If you purchase something through our links, we may earn a referral fee. Learn more
---
Some dogs have a more aggressive chewing style, and these dogs will need indestructible dog toys. One thing that is very irritating to many dog owners is getting a dog toy that will get destroyed in seconds. That is why picking special dog toys is vital for dog owners with aggressive chewers. Here is what you should know about these toys.
What to look for in indestructible dog toys?
Not all toys are the same; even some that are marketed as indestructible are not actually indestructible. The worst thing about low-quality toys is - they can be dangerous. It is not something dog owners should pick lightly. There are two things you should know about indestructible dog toy material;
Rubber
Rubber is the first material that comes to mind when talking about indestructible dog toys. It is extremely durable and virtually indestructible. Rubber is one of the best dog toy materials you can get. Even the toughest chewers like Rottweilers or Cane Corso will have problems destroying a high-quality rubber toy. Not only is rubber excellent for aggressive chewers, but it is also great for teething puppies.
Rope
Rope toys are very popular chew toys because they are as close to indestructible as they get. Dogs can chew on them as much as they want, but chewing all the way through a thick rope is challenging, to say the least. Another great thing about rope toys is they can double as Tug-O-War toys. Plus, you can easily clean them by throwing them in the washing machine.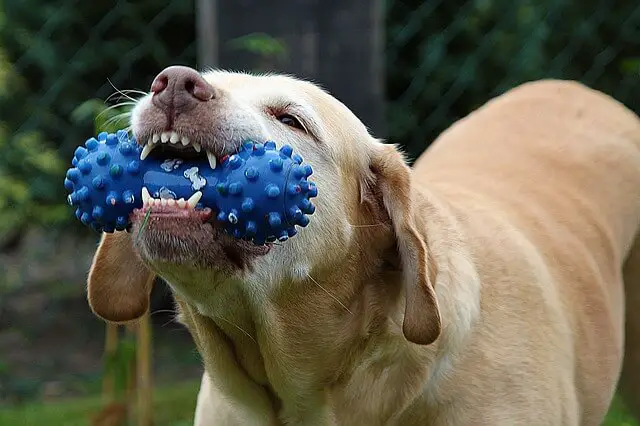 What to avoid in indestructible dog toys?
Some toys are marketed as indestructible dog toys, but the truth is they are simply not safe. When picking dog toys, there are some things and materials you should avoid. They can cause harm and are not the best option for dogs, especially aggressive chewers. These things to avoid are;
Squeaky toys
Toys with squeakers should be avoided because the dog will try to reach the source of squeaking inside the toy. If you have an aggressive chewer, they will reach the squeaker, and it will pose a choking hazard. It is best to avoid these types of toys.
Plush toys
Plush toys are cute, but the main issue is - indestructible plush dog toy simply doesn't exist. Dogs will destroy it quickly, and you should keep an eye on your dog if they get a plush toy. Most dogs will open the toy and try to eat the filling. Ingesting the plush filling can cause all sorts of health issues.
Vinyl or latex toys
Vinyl or latex can be described as weaker rubber, and your aggressive chewer will tear it in seconds. The biggest problem is that it will create sharp edges, and there were many cases where dogs got cut on their latex toys.
Now that you know what to look for, here are our recommendations for the best indestructible dog toys;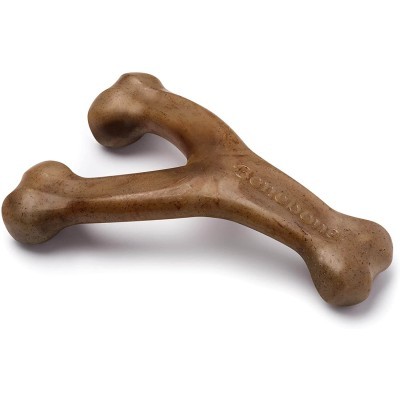 Our top pick in the category of indestructible dog toys is the Benebone Dog Chew Toy. This toy is ideal for dogs whose favorite activity is chewing, and they will be more than happy and occupied with this toy. Not only is it very durable, but it also includes bacon taste. In fact, you can choose from 3 different flavors and 4 sizes. This is a great dog toy that will be great for all dogs, not only aggressive chewers.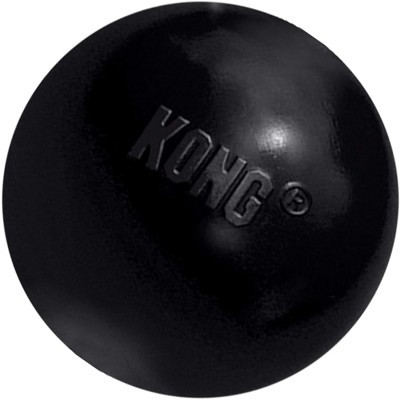 Dogs love playing with balls, and there is nothing more durable than the KONG - Extreme Ball. This is a rubber dog toy that will endure anything your dog can throw at it. We ran over it with a car, and this toy was intact, so you can be sure your dog's teeth and chewing will not destroy it. This toy comes in two sizes, so you can pick the one that suits your dog's size. This indestructible dog toy is highly recommended by dog owners.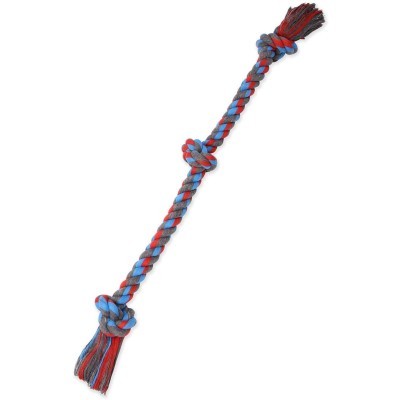 If your dog loves playing Tug-O-War, you will have to get them a durable toy they can tug and chew on. The good news is - Mammoth Flossy Chews Color Rope is nearly indestructible, and it will clean your dog's teeth while the dog is chewing on it. This toy comes in 5 sizes, so you can pick the size that best fits you and your dog. This rope toy has thick cotton-poly yarn, so even if your dog ingests a strain or two, they will be fine.
World Dog Finder team