Best Dog-Proof Trash Cans You Must Have in 2023
11.02.2021.
Every product and service on World Dog Finder is independently selected by our editors, contributors, and experts. If you purchase something through our links, we may earn a referral fee. Learn more
---
There are many reasons your dog will want to get their nose into the trash can, and it can seem like a neverending battle in preventing your dog from getting into the garbage. If you have a dog that loves getting into the trash, maybe buying a dog-proof trash can might be a great idea.
Dogs are a great source of fun and affection when they are playful, cuddly, or they just want to entertain us. Getting home and finding out that your dog flipped the trash can make anyone flip out. Imagine having a long day at work, and most of us can't wait to get home and hang out with our dogs, but when you get home, there is a huge mess, and your dog is responsible.
If you want to avoid such scenarios, getting a dog-proof trash can is not only a good idea but also an excellent investment in having a piece of mind. Before you decide on anything specific, there are things you should know.
Do you want to keep your dog food safe from getting into their dog food? Check out this article - Best Dog Food Containers.
What to look for in a dog-proof trash can?
There is an ocean of products available online, and sometimes, picking the right one is not easy. There are different things to consider, and here is what we think you should focus on when getting a dog-proof trash can; Material, lid quality, and size.
Material
The material is the first thing you should consider. Dogs have powerful bites, and when they set their minds on something, they can get pretty creative. The interesting smell of the trash will give them the extra initiative they need to break into the trash can. Make sure the lid, hinges, and body are made from durable, strong material.
Lid quality
Many so-called dog-proof trash cans have bad quality lids on them. Your dog will get frustrated if they can't get into the garbage, and they will try and knock the can over. Once the trash can is tipped over, the lid becomes useless. Make sure you get one that won't blow its lid if it's tipped over.
Ever thought about getting a dog crate for your dog's safety? Check this out - Best Dog Crates.
Size
Size is possibly the most important thing about a dog-proof trash can. The bigger the trash can, the harder it will be for your dog to tip it over. Think about where it will be placed, and get one that's the size that will fit.
Here are our five favorite dog-proof trash cans.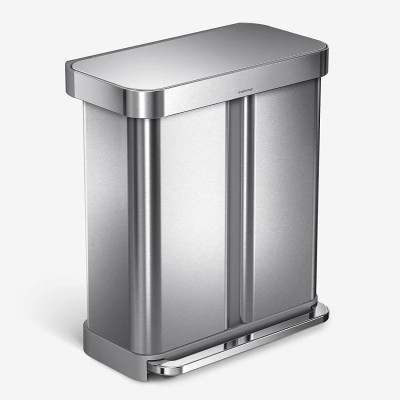 The simplehuman 58 Liter Step Trash Can is our definite top pick and the trash can we have at home. We can tell you first-hand about its effectiveness. The best thing about it is that it is entirely made of brushed stainless steel. As soon as you take it home, you can feel the quality. It has over 20 pounds and a soft close lid that makes no noise when closed. It has antibacterial properties and keeps the odor inside. You can easily divide recyclables from trash with two separate containers. It is a bit pricier, but it comes with a 10-year warranty. This is the only trash can you will ever need, and it is also impossible for dogs to get in it.
Pros
Sturdy
Stainless steel
10-year warranty
Odor block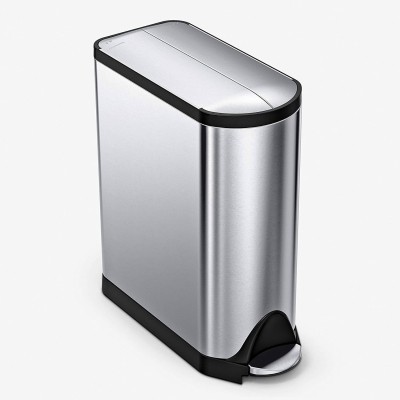 This is the second dog-proof trash can from superhuman we chose, and it is for a good reason. The Butterfly Lid Step Trash Can model is a great-looking trash can. Not only is it super effective against dogs, but it will also fit most kitchens. It is made from stainless no-fingerprint steel, and owners said it is sturdy enough so dogs can't get in. It has a bit of a smaller capacity, so it will be an excellent choice for smaller kitchens and tight spaces. Its silent lid won't let your dog know the trash can is being opened.
Pros
Design
Quality
Butterfly lid
Stainless steel
Cons
Crumbs can stick to the soft lip lid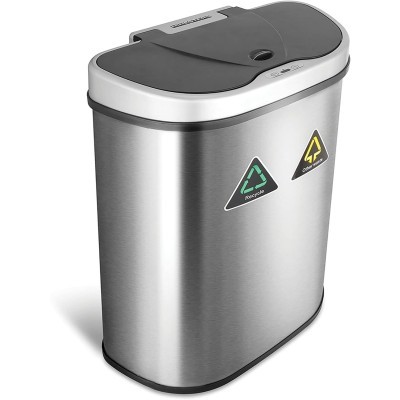 If you are looking for practical and affordable dog-proof trash cans, NINESTARS has got you covered. This trash can is automatic, so there is no reason you should touch a dirty lid with your hands. These days, hygiene seems more crucial than ever, and what better time to get an automatic trash can than now? This dog-proof trash can has infrared technology that is easy to use. Plus, it has a delayed function to stop your dog from opening it, and it has a removable ring liner that will keep it stable and in place.
Pros
Automatic
2-year warranty
Sturdy
Durable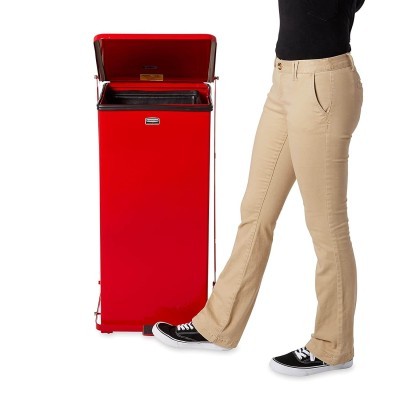 If you are looking to get an outdoor/indoor trash can that will not only prevent your dog from getting in but also an occasional bear, then Rubbermaid Step-On Trash Can is the thing for you. Its massive 24-gallon capacity will surely provide enough safe space for all your trash, and the size alone will prevent anyone from getting in it. It has an odor seal gasket that will keep your dog from smelling the trash, and the steel outer lining makes it impenetrable and durable. It has a heavy lid, and the paddle will make it impossible for smaller and medium-sized dogs to get in it.
Pros
Durable
Large
Odor seal gasket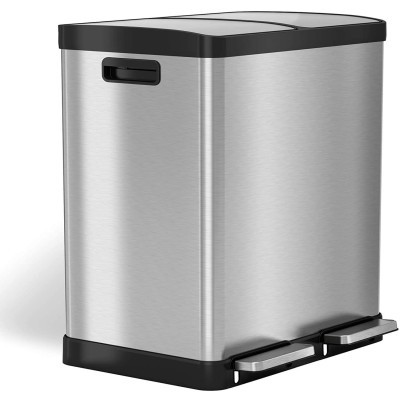 The iTouchless Dual Step Trash Can has over 2.200 5-star reviews. It has two compartments with color-coded cans for trash and recycling. It has an interesting design that will fit most interiors. This dog-proof trash can has two steps, which is usually more than enough to keep your dog out of it. Its airtight lid will block any odor coming out of it. The stainless steel has an antibacterial surface that stops dirt from sticking to the trash can. Plus, it is relatively wide, so it is almost impossible for dogs to flip it.
Pros
Sturdy
Two compartments
Quality materials
Large capacity
World Dog Finder team