Best Dog Pajamas in 2023
02.05.2021.
Every product and service on World Dog Finder is independently selected by our editors, contributors, and experts. If you purchase something through our links, we may earn a referral fee. Learn more
---
We rarely think about our dogs getting cold, but it is not uncommon for dogs to get cold if you live in a colder climate. Unfortunately, dogs cannot communicate with us and tell us they are cold. We need to look at their behavior and realize they might be cold and uncomfortable. That is why dog pajamas are such a great idea! We will bring you our favorite models and designs and let you know what to look for in dog pajamas for your cold four-legged buddy.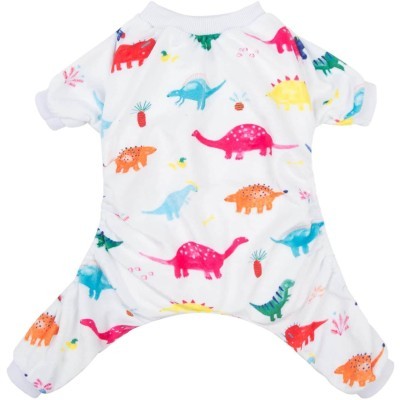 Our top recommendation for dog pajamas is the CuteBone Soft Puppy Pajamas. These pajamas come in various prints, and they all have dinosaurs and other animals on them. Your dog will look absolutely adorable in them. These pajamas are not only stylish, but they are also very practical. They are made of polyester and will stretch, so your dog will get the best possible fit. They come in sizes from XS to XXL, so you can be sure your dog will fit in them. Make sure you measure your dog carefully before you order anything, and if you are in doubt, always go for a larger size so your dog can move freely.
Pros
Stretchable
Great design
Comfy
Cons
Not machine washable
Polyester not cotton
What to look for in dog pajamas?
Just like buying any other product, you don't want to buy the first thing you see. You'd want to get your money's worth and the best possible product for your dog. There are some important things to consider when shopping for dog pajamas, and they are;
Material
The main reason behind buying dog pajamas is protection, warmth, and comfort. The main thing you should look for in dog pajamas is the material they are made of. Always go for breathable fabrics that will provide enough comfort but not make your dog feel suffocated and uneasy. Cotton would be our top pick.
Fit
Too small dog pajamas will not make your dog feel comfy or snuggly. They will feel uncomfortable and uneasy. It will be impossible for them to sleep, and that will probably affect your sleep as well. Make sure you get dog pajamas that are the right fit for your dog.
Stylish vs. functional design
We love getting our dogs stylish things. However, additional things like hooks, bows, or strikes might make your dog uncomfortable. When looking for a design, it would be best to choose colors or print designs without any accessories that might make your dog uncomfortable.
Another way to keep your dog warm in colder climates is by getting them a sweater. Check out this article for some recommendations - Best dog sweaters.
IMPORTANT NOTICE: Your dog's pajamas will need some maintenance. If you decided to get your dog some dog pajamas, make sure you pick a machine washable product. It is also a good idea to get two pairs, so your dog has something to wear while one pair is being washed.
Another great thing about dog pajamas is that they act as a comforter. This is especially good for dogs with anxiety disorders. The tight fit will make your dog feel comfortable and relaxed. This is an excellent thing for rescue dogs that might have been mistreated earlier in their life.
Now you know what to look for in dog pajamas. Check out our favorite dog pajamas.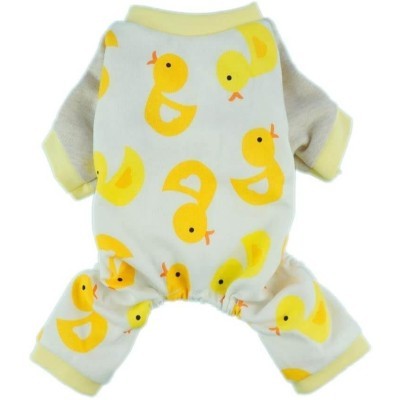 The Fitwarm Soft Cotton Dog Pajamas come highly recommended by dog owners that seem to be pleased with the job these pajamas are doing. Unlike our top pick, these pajamas are 100% cotton. They are incredibly soft and gentle on your dog's skin and will not cause any chafing or hot spots. Your dog can wear these pajamas for other occasions as well; they are not reserved for sleep time. If you live in a colder climate, dog pajamas will do an excellent job of keeping your dog warm. You might want to think about getting a few pairs, so your dog is always warm and comfy, especially if they have thin coats like a Greyhound or a Chihuahua.
Pros
Cotton
Duck print
Warm and comfy
Various sizes
Cons
Most negative reviews are about sizing issues (arrive too small)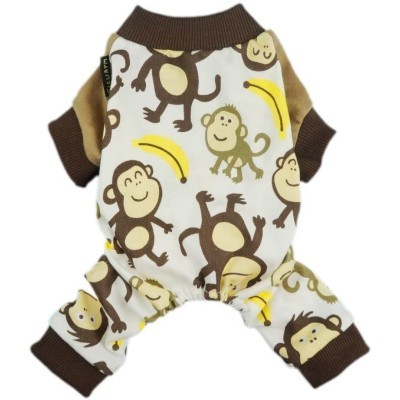 We just love the monkey design from Fitwarm Monkey Dog Pajamas. This is our third favorite option for dog pajamas. Just like the second pick, these monkey dog pajamas are 100% cotton and provide plenty of comfort and warmth. Dog pajamas have an opening on the underside of your dog that allows them to do their business without any problems. While dog owners are generally very happy with this model, some of them complained that the sizes are confusing and relatively small. Make sure you carefully measure your dog before ordering these dog pajamas online.
Cons
Confusing sizing
Owners reported smaller sizes arriving and not fitting their dog
World Dog Finder team