How to Pick the Best Dog Helmet?
30.11.2021.
Every product and service on World Dog Finder is independently selected by our editors, contributors, and experts. If you purchase something through our links, we may earn a referral fee. Learn more
---
If you enjoy riding your motorcycle and want to include your dog in your favorite activity, you'll need two things - a motorcycle carrier and a helmet for your dog. Dogs on bikes look cool, but there's nothing cool about the lack of safety. Dogs can enjoy a nice bike ride as long as their owners take all safety measures. Here are the best dog helmets for a safe motorcycle ride;
The best dog helmets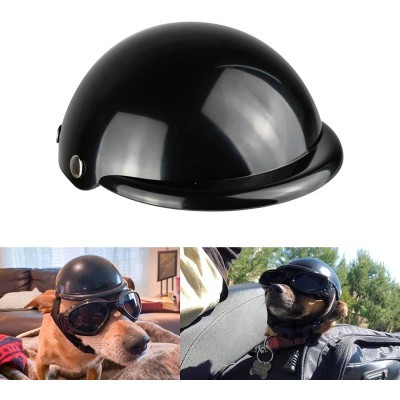 If you want your dog to be safe during your rides, the best thing you can pick is the Enjoying Pet Helmet. It comes in three sizes and offers reasonably good protection in case something happens. It comes in two sizes, so some dogs might have to choose a different product. It's made of ABS plastic, and the inside of the helmet has a soft sponge padding that will make wearing it comfortable.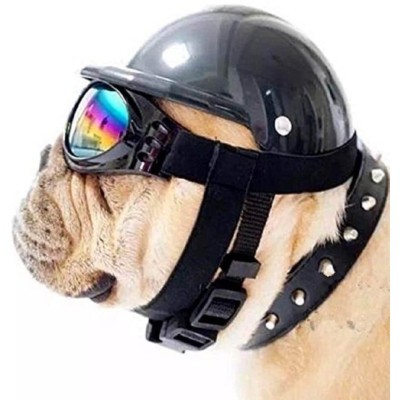 If you want to protect your dog's head and eyes, you might want to consider getting them a helmet goggle set. The ShopTrend Dog Helmet with Goggles is precisely that. It comes in three sizes and only one color, black. The helmet has an adjustable strap that will keep it in place. Keep in mind that the goggles come in one size and will fit dogs that weigh more than 12 pounds. Toy breeds will need something different. You can check more dog goggles here - Best dog goggles.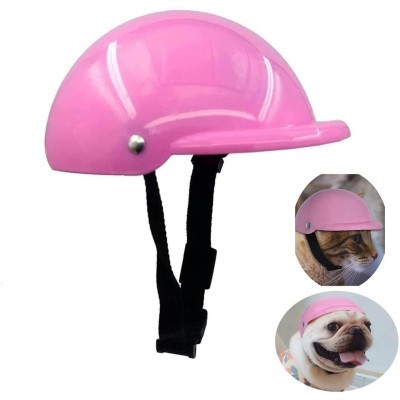 A product many dog owners recommend is the GUGELIVES Dog Helmet. This helmet will protect your dog's head from the sun, wind, and other potential irritants. It comes in a cool pink color and four sizes. This dog helmet is made of ABS material, and it has an adjustable strap to keep it in place. The good news is that this helmet can fit even the tiniest breeds like Yorkies or Chihuahuas.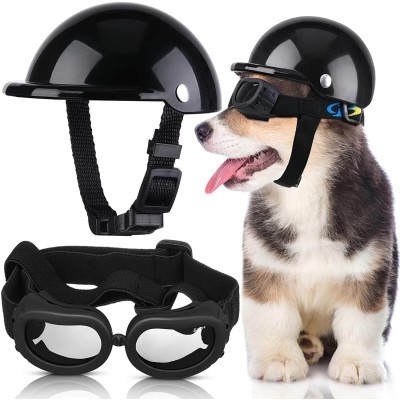 If you're looking for something safe and stylish, the Dog Helmet and Dog Goggles Set from Frienda is an ideal choice. This set will make your puppy look like the goodest member of Hells Angels. The helmet and goggles come in black and are made of high-quality materials that will offer the best possible protection. If you don't want the black option, there are four more colors available.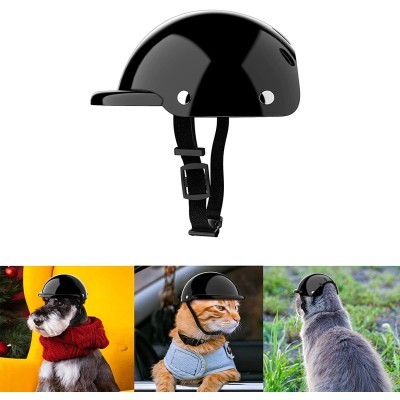 The NVTED Pet Helmet is a classic. This dog helmet will make your dog look like a hardcore biker, ready for any adventure on the open road. The helmet is made of durable ABS plastic. It has soft padding on the inside to make your furry friend as comfortable as possible. It is durable, so you can be sure it will withstand regular use and some wear and tear.
How to pick the best dog helmet?
When looking for a product your dog will use, you have to really take your time and ensure you're getting the best option for them. This is also true for dog helmets. Don't simply order the first model you come across. Make sure you do your research and look for things that will offer you the best value for your money. Luckily, World Dog Finder has done that research for you. Here are some of the things you should look for in dog helmets;
Sizing and Fitting
One of the most common issues dog owners have when buying a dog helmet is sizing and fitting. They order a product that simply won't fit on their dog's head. If you're considering ordering a dog helmet, you should measure your dog's head and compare the measurement to the manufacturer's sizing chart. It will save you a lot of trouble with returns and wrong orders.
Safety
The main reason you want to get a helmet for your dog is safety. Remember that no dog helmet is as safe as your helmet, but some are simply better than others. Look for high-quality, sturdy materials that can offer the best protection for your dog's head in case of accidents.
Design
Since dog helmets can't offer our dogs the same protection our helmets can offer us, you are free to choose something more stylish. There are various models you can choose from, and some have a very unique and exciting design.
Comfort
Another thing that can play a role in choosing the best dog helmet is comfort. Your dog will probably not be the happiest they have to wear something on its head. That's why you need to make sure the dog helmet you choose has a soft inside padding that will provide as much comfort as possible. It's the only way your dog will actually want to wear the helmet.
World Dog Finder team