Dog Halloween Costumes for 2023
21.10.2021.
Every product and service on World Dog Finder is independently selected by our editors, contributors, and experts. If you purchase something through our links, we may earn a referral fee. Learn more
---
Halloween is one of our favorite holidays. Not only do we get to play dress-up as adults, but it gives us a chance to get our dogs in silly dog costumes. If you are a dog owner and you're looking for a few dog costume ideas, we will gladly share a couple of our favorite recommendations. Here are a few spooky dog costume ideas your dog can rock this Halloween.
Picking dog costumes
When getting a costume for your dog, there are a few things you should look out for. Not all costumes are the same, and just because your dog looks cute in it doesn't mean it is entirely safe. Never risk your dog's safety for the sake of a Halloween gag. Here are the most important things you should look out for when picking a dog Halloween costume;
Material
Like with any other product you are getting for your dog, you should look at the material the costume is made of. Don't buy cheap materials that will break as soon as your dog puts them on.
Size
Yes, a dog wearing a Halloween costume is definitely the cutest thing ever, but you have to make sure you get the right size for your dog. You don't want to end up with a costume too small for your dog just a couple of days before the big party.
Comfort
There is nothing more we would like than a dog that is happy with wearing a costume, but the reality is - some dogs hate it. If your dog doesn't feel comfortable wearing something you got for them, don't force them to wear it. It is just one day, and your dog might be better off without wearing anything.
VET TIP: Halloween parties can be unsafe for dogs. There is usually alcohol and foods not safe for dogs to eat. If your dog is wearing a costume and going to a party with you, make sure they are safe at all times, and other attendees know not to feed your dog with unsafe foods and beverages.
The best dog costumes
There are various dog costumes, and you want to pick something that will fit your dog and make them feel comfortable. Here are a few of our favorite recommendations for the best dog Halloween costumes for this season;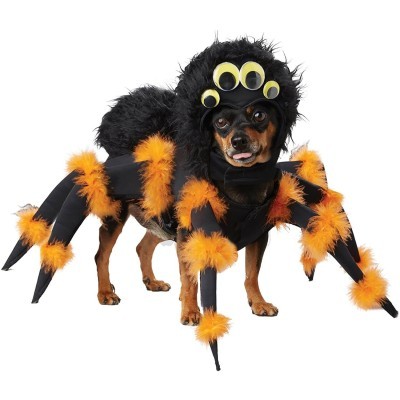 Is there anything scarier than a spider? Well, if you see a dog-sized spider approaching, you might get scared. A quick search on YouTube will show many results of dogs wearing this costume and scaring people to death. This dog costume comes in four different sizes and will fit most dogs. You can be sure you won't miss by getting this amazing California Costumes Pet Spider Pup.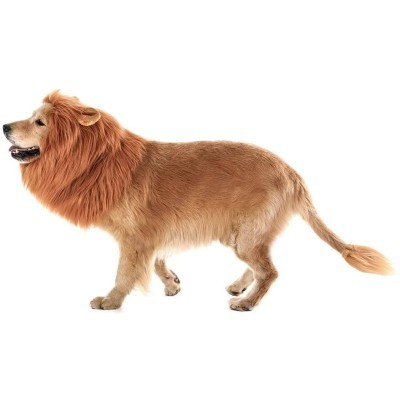 The lion might be the king of the jungle, but your dog will be the king of the party with this amazing TOMSENN Dog Lion Mane. Put this on your dog and look at all the confused faces that will have to take a couple of looks to make sure they're seeing correctly. This product is best suited for medium and large dogs, and it comes in two colors.
There's nothing we love more than a fantastic dog pun, and what better pun than a hot dog? Your dog will look like the cutest snack ever with this Rasta Imposta Hot Dog Costume. The costume comes in 7 sizes, so you can be sure one will fit your dog. It is made of polyester, so don't force your dog to wear it too long.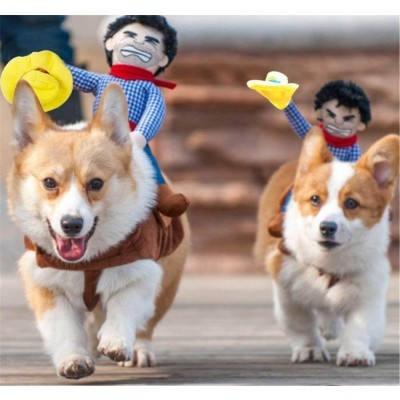 Get your dog to play the role of a horse with this adorable NACOCO Cowboy Rider Dog Costume. The tiny rider will fit perfectly on your dog's back, making him the cutest little horsey in the world. This costume comes in four sizes, so make sure you check the manufacturer's guidelines before ordering the right size for your dog.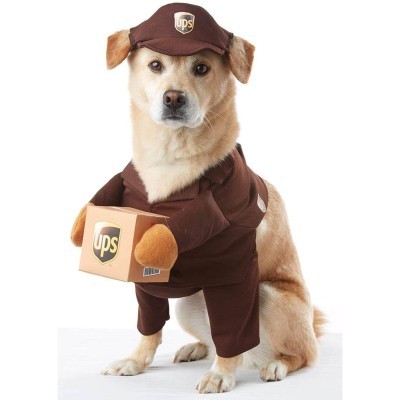 Who is the cutest delivery guy ever? That's right; it's your dog. If you decide to go for the California Costumes UPS Dog Costume, your dog will steal the show. Everybody will want to order something, and your dog will be more than happy to trade packages for treats. The UPS dog costume comes in 3 different sizes. It is made of polyester, so you should make sure your dog is comfortable with wearing it.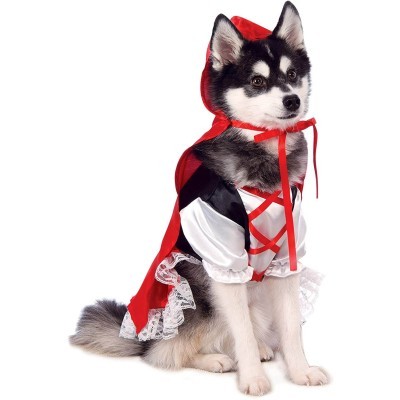 One costume we would recommend to all wolf-like dogs is Rubie's Red Riding Hood Dog Costume. This is absolutely adorable, and your dog can play the part of the big bad wolf masking as the Little Red Riding Hood. It comes in 5 different sizes, so make sure you check the manufacturer's size charts.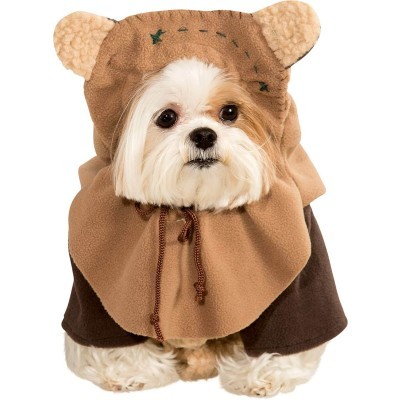 Are you a fan of Star Wars? Well, there is something your dog can wear that will make them look even cuter than they already are. The Rubie's Star Wars Ewok Pet Costume will make your dog a Rebel ally, and you can be sure they will win hearts and turn heads. The Ewok costume comes in 4 sizes and is made from polyester. Check the correct size, and don't force your dog to stay in the costume for too long.
If you're feeling pretty creative, you can do your dog's costume yourself. There are even safe ways to color your dog in crazy colors. Check out this article - Safe dog hair dyes.
World Dog Finder team