Best Dog Snowsuit for This Winter
27.06.2021.
Every product and service on World Dog Finder is independently selected by our editors, contributors, and experts. If you purchase something through our links, we may earn a referral fee. Learn more
---
Some dog breeds have an abundant coat that keeps them warm even during the coldest winter days. Breeds like the Husky or Alaskan Malamute have natural, thick, double coats that keep them warm enough to sleep comfortably in the snow. However, some breeds, like the Greyhound or Maltese, have thin coats that cannot properly provide enough warmth.
These dogs might need a bit of help with staying warm. Just like humans, dogs with short, thin coats will need something to keep them warm during their daily walks. That is when dog snowsuits come into play. Dog snowsuits are practical, warm, and can keep your dog out of the bone-chilling winter cold.
How to choose a dog snowsuit?
Like with any other product, there are significant differences between different dog snowsuits - some are simply better than others. There are a few things you should look for in dog snowsuits, and here are the most important parts;
Protection
It doesn't really make sense to get a dog snowsuit that can't insulate your dog correctly. Instead, make sure you look for dog snowsuits that offer plenty of protection and insulation from the cold. It is the crucial thing to look for in snowsuits.
Maintenance
Just like your clothes, you need to make sure your dog's clothes can be easily cleaned. You don't want your dog walking around in a smelly, muddy snowsuit. It is unhygienic, and even getting it on your dog can be gut-wrenching. If you can, look for machine-washable materials.
Helpful features
The best dog snowsuits have plenty of helpful features, but not so many they become unsafe. Look for adjustable leg straps, leash accommodation, and reflective materials that will make your dog visible in low-visibility conditions. On the other hand, too many features on a dog snowsuit, like straps, loops, pockets, or storage space, can become unsafe, and dogs cannot safely run and play.
Here are the best dog snowsuits for your dog;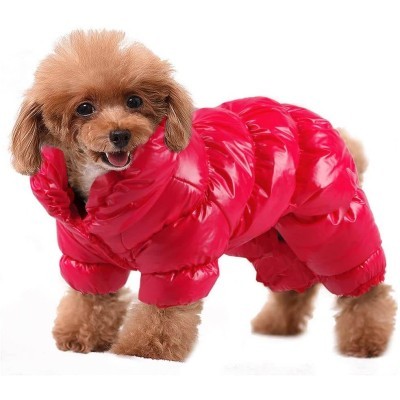 The best dog snowsuit you can get is the PET ARTIST Winter Dog Coat. This dog coat includes fleece fabric filling that will keep your dog warm in extreme temperatures. Wind chill doesn't stand a chance against this dog coat, and even water cannot damage it. The outer protective coat is water and windproof, so your dog enjoys the best possible protection. It has an elastic band on the legs and waist to secure the best possible fit. This dog snowsuit comes in 4 colors and 4 different sizes.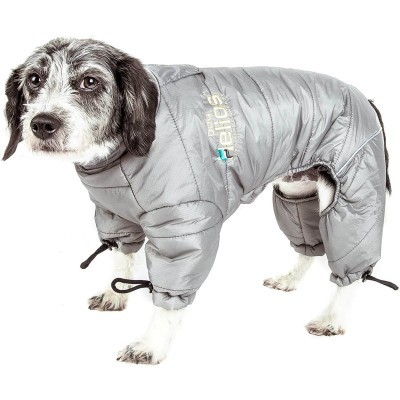 This is another specially designed product to keep the dog warm and dry, even in the worst and coldest conditions. The anti-static fleece liner will trap the dog's body heat. The outer part is made of 3M reflective material for added visibility in low-light conditions. This dog snowsuit closes with a zipper, and there is even a velcro cover over the zipper that prevents draft. DOG HELIOS Thunder-Crackle is an excellent product that will surely keep your dog warm enough.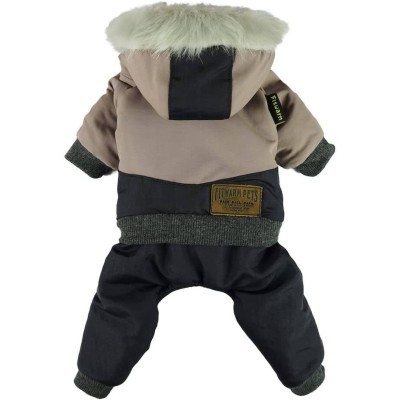 If you are looking for something stylish for your dog to wear this winter, why not give Fitwarm Waterproof Dog Windproof Jacket a try? Not only does this dog jacket look fabulous, but it also covers the dog's entire body. This snowsuit will keep your dog's legs warm even if there is a lot of snow. Like other products on this list, this dog jacket is waterproof, and the inner fleece filling provides excellent insulation and warmth. This is a great and stylish product that your dog can use every day.
World Dog Finder team