Big Dog Clothing for Your Large Pooch
07.05.2021.
Every product and service on World Dog Finder is independently selected by our editors, contributors, and experts. If you purchase something through our links, we may earn a referral fee. Learn more
---
Just because you have a larger dog doesn't mean you can't dress them up in fashionable and fun clothes. When we talk about dog clothes, most dog owners think about small dogs getting dressed up in fun costumes. However, big dog clothing can be fashionable and practical. Large dogs can also be cold, or they might need additional protection from the rain. Luckily, there are fantastic big dog clothing options available online.
The question of size
When it comes to big dog clothing, there is one thing you should be especially careful about - size. Large dogs come in all sizes and shapes, from tall and thin, to stocky and heavy. There is a vast difference between a Mastiff, a Bernese Mountain Dog, and a Greyhound. Make sure you measure your dog before you order anything. The last thing you want to do is end up with a piece of big dog clothing that cannot fit your dog. Luckily, there are different size guidelines that are in place to help you pick the perfect fit.
Check out these fantastic big dog clothing recommendations.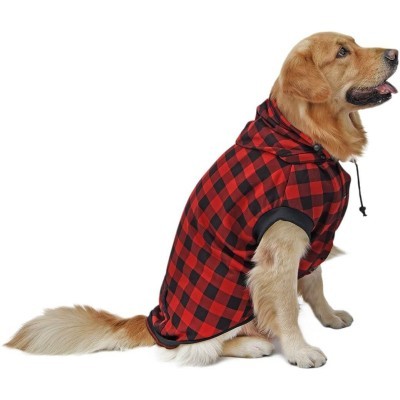 We won't say your dog absolutely needs the PAWZ Road Large Dog Plaid Shirt; we will only say that we have immediately ordered one for our dog. Most dogs with double coats won't have issues walking in the winter, but if you have a dog with a thinner coat, getting them this piece of big dog clothing is a good idea. Dogs with short single coats will get cold, especially if your walks are longer than 15 minutes. The PAWZ Road Large Dog Plaid Shirt will not only keep your dog warm during your winter walks, but it will also make your dog look insanely cool. We love the design and colors of this dog hoodie, and we are sure your dog will appreciate the additional warmth this item will provide them.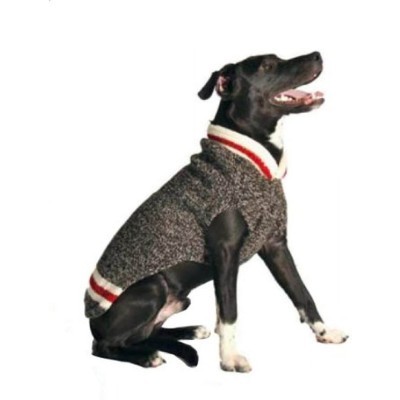 The Chilly Dog Boyfriend Dog Sweater might contain the word "boyfriend" in its name, but that doesn't mean girl pups cannot wear it. In fact, a great thing about having a boyfriend is borrowing his clothes, so why not provide your dog with this fantastic dog sweater? If you live in a colder climate, getting a dog sweater is an excellent way of providing your dog with warmth and comfort dogs with no sweater simply don't have. Plus, you have to admit it is pretty stylish. If you have multiple dogs, you will be glad to hear that this V-neck dog sweater comes in all sizes, so your Chihuahua and your Doberman can wear a matching piece of big dog clothing.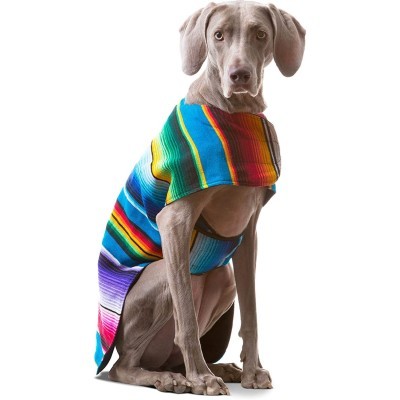 While some bog dog clothing items can be challenging to put on your dog. However, the Handmade Dog Poncho from Mexican Serape Blanket is extremely easy to place on your dog. This poncho can be secured in place with a Velcro strap that will keep it safely on your dog, even if you have an avid runner. The dog will be warm, and one of our favorite things about this dog poncho is the colors. If you take your dog to the park, you can be sure you could spot your dog even if they ran a mile away. The bright colors are easy to spot, and your dog will stick out from the crowd like a bright little ray of sunshine.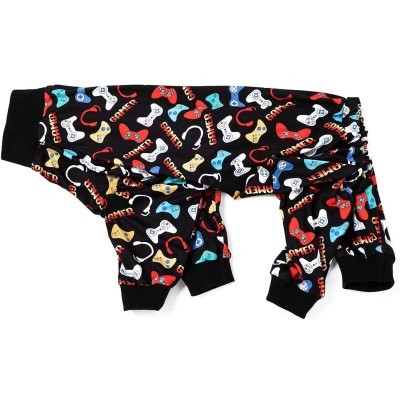 Do you have a dog that gets cold during the night? If that is the case, you might want to think about getting your large dog some doggie jammies. The LovinPet Large Dog Pajamas is an ideal piece of big dog clothing that will undoubtedly make your dog feel a lot warmer and relaxed. Plus, dogs love having things wrapped around them. It will provide extra comfort since it reminds them of cuddling with their littermates. There is a good reason why anxious dogs are advised to wear tight-fitting clothes. If you want to get your dog cozy dog jammies, you might want to give this item a look.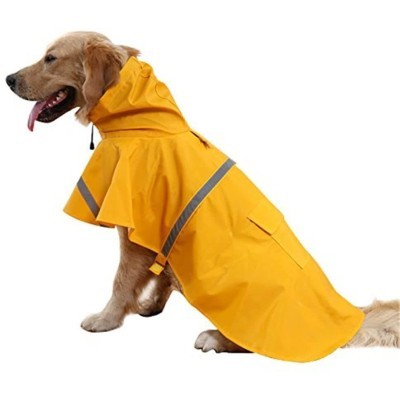 If you have a dog that hates getting wet, then Large Dog Raincoat is the ideal product for your dog. Not only will it protect most of their body against rain, but it will also prevent them from developing the "wet dog smell." Some dogs simply hate walking during rain, and if you want to give them some protection, this might be a great choice. Your large dog can feel safe and remain dry even during long rainy walks. Plus, the bright color provides additional visibility in low-light environments, which is always a good thing. More visibility means less chance of accidents happening. If you live near a busy road, that might be a benefit you didn't immediately think of.
World Dog Finder team