Best Personalized Dog Collars [2023 Review]
12.05.2021.
Every product and service on World Dog Finder is independently selected by our editors, contributors, and experts. If you purchase something through our links, we may earn a referral fee. Learn more
---
Personalized dog collars are not only stylish but are also very practical. You can easily include the dog's name and your contact information. All responsible dog owners know that safety is vital. No matter how careful you are, there is always a possibility your dog could run away. If that happens, you might want to have several different identification options. Dog collars with a name can help you highlight your dog's character and make them stand out from the dog park crowd.
What to look for in personalized dog collars?
Whenever you are looking for dog products, you don't want to end up buying the first thing you come across. Not all personalized dog collars are the same, and you should take your time to pick the best possible. Here are some of the most important things to look for in custom dog collars;
Materials
Your dog will be wearing their personalized collars every day. You want to make sure your personalized collar is durable enough to sustain the everyday wear-and-tear. Check for materials of the collar and the clip. Look for durable materials and manufacturer's statements.
Comfort
Your dog must be comfortable wearing the collar. The best personalized dog collars are comfortable and won't cause any chafing, hot spots, or hair loss. Look for buyer reviews and make sure other dogs are comfortable with their collars.
Trusted manufacturers
We won't claim manufacturers from far away countries are not trustworthy. Still, some tests made clear there are potential problems with certain manufacturers. Our advice would be to go for American-made options from companies and brands with strict manufacturing rules and guidelines. Look for personalized dog collars coming from Western Europe, the UK, Australia, Canada, New Zealand, and other areas with strict manufacturing laws.
Now you know what to look for in custom dog collars. Check out these fantastic personalized dog collars you can choose from;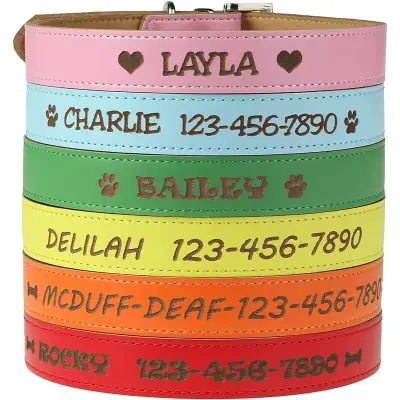 Our top pick for personalized dog collars is the Custom Catch Personalized Dog Collar. This is a high-quality custom dog collar, and you know leather is durable enough even for the most active dogs. This dog collar allows you to embroid any information you want in it. It comes in different sizes and colors. This is an excellent recommendation, and we guarantee you and your dog will be more than happy with it.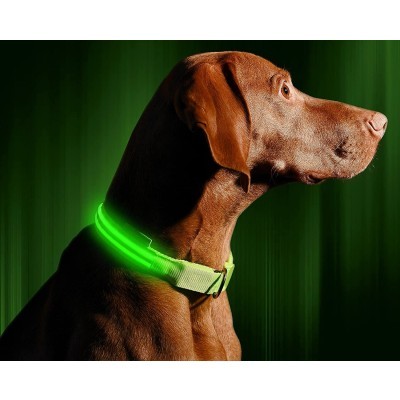 If you are looking for a dog collar that will add a special effect to your night-time dog walk, look no further than the LED Dog Collar by Illumiseen Store. This custom dog collar comes in 6 sizes and different LED colors. This is an ideal choice for winter dog walks when days are shorter, and it is dark outside. You can turn the collar on or off, so you can preserve the battery when there is no need for it to flash.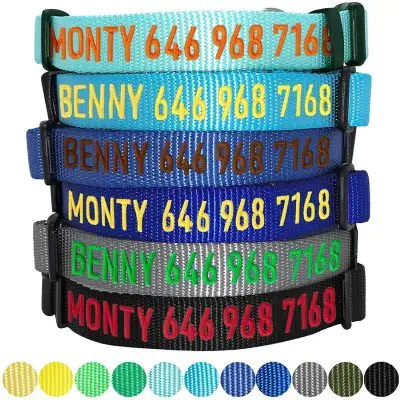 If you are looking for different options, many dog owners recommend the Blueberry Pet Essentials Personalized Dog Collar. These custom dog collars have more than 34.000 positive reviews. The durable materials made sure this is a long-lasting dog collar. There is a good reason this personalized dog collar is the Nr. 1 Bestseller on Amazon - it is customizable, affordable, durable, and you can easily put on it all the information for your dog's safety.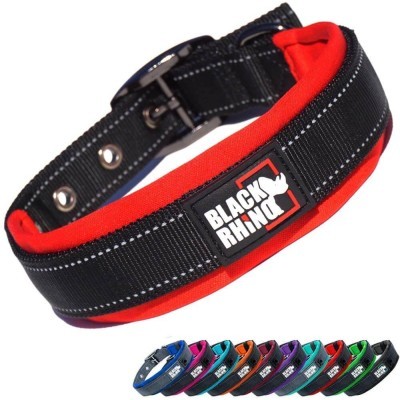 The Black Rhino Comfort Collar is the best possible pick for large, powerful dogs. This custom dog collar can hold back even the strongest breeds like the Central Asian Shepherd. This is a dog collar that is specifically developed for large, strong breeds. It is made of tough and durable materials, and the neoprene padding will ensure your dog's comfort and security.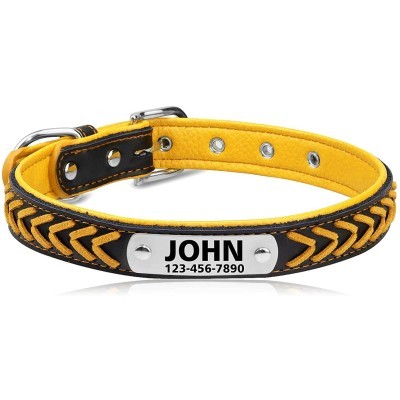 Here is another excellent choice for all dog owners that love leather collars. The Vcalabashor Custom Leather Collar has a unique design that features a braided pattern. It gives a Viking vibe, and luckily, it comes in 8 different colors. Leather is a great and durable material that will make sure you don't have to get new collars every couple of months. One of the best things about this personalized dog collar is its durability. This is a great option that you will be delighted with.
World Dog Finder team