Best Dog Gates for Indoor Dogs
31.01.2021.
Every product and service on World Dog Finder is independently selected by our editors, contributors, and experts. If you purchase something through our links, we may earn a referral fee. Learn more
---
Keeping our dogs safe means sometimes we have to restrain them. It is not the favorite owner activity, but nevertheless, a necessity. This is especially vital when you have a puppy at home. New, unknown places can be pretty scary for a puppy, and that's when dog gates come in handy.
If you ever raised a dog before, you know they are incredibly talented in doing things they aren't supposed to or going to places they shouldn't go to. Our bathrooms can be full of cleaning supplies, and it would be pretty unsafe for a puppy to get their paws on a detergent.
Puppies are interested in everything that goes on around them, and sometimes it can lead them to dangerous parts of the house. Stairs, open doors, and washrooms are just some places that might not be the safest for puppies, so it is up to you, their owner, to make sure they don't get into trouble.
What to look for in a dog gate?
Getting a secure dog gate might be one of the best choices you make while raising a puppy. Sure, puppies need training and socialization, but they also need their designated space where they can safely play and explore the world around them. Getting the first dog gate might not do the trick, and there are some things you should be looking for when picking a dog gate. The three most important things to look for are quality, location, and function.
Quality
The quality of the dog gate and the materials they were made of are essential. You probably don't need a heavy-duty, metal gate if you have a small breed like the Pekingese or a French Bulldog. But you will probably need more robust gates if you have a larger dog. There are different materials to choose from, and you can customize them to fit your interior decor.
Location
Think about where the dog gates will be used. Make sure that you measure the space correctly, and you don't end up with too short or too long gates. Some dog gates have the seal off narrow hallways, and others should seal off an entrance to the living room that might be bigger.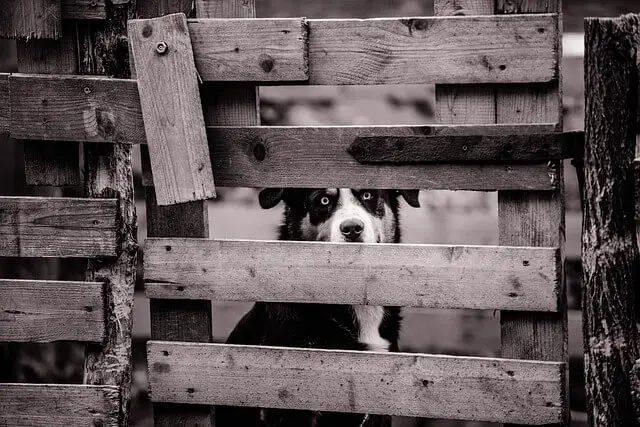 Function
Some products are not the easiest to use. They quickly get jammed, and opening them becomes a hassle. Again, the dog gates must be suited for the breed of your pet. They have to be higher if you have an athletic breed capable of jumping over it. Think about their function and things that would be neat to have, like built-in doggie doors or metal bars if you have a dog that is likely to chew on it.
Picking the right dog gates
If you think this is the right thing for you and it would serve a great purpose for you and your dog, check out the dog gates we prepared for you. Some are metal and light, while the others have a nice, wooden finish that could easily fit in different ambients. Here is a list of our five favorite dog gates.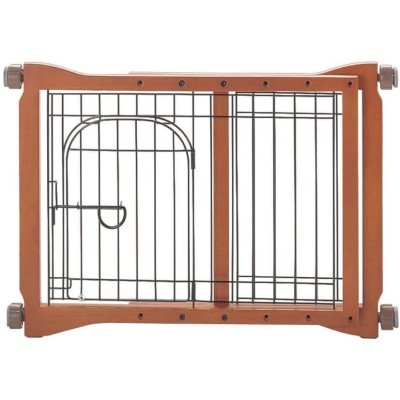 We love wooden dog gates. These ones are not only beautiful, but they also have a built-in doggie door for easy access. It is adjustable and can easily fit in spaces from 28.3 to 41.3 inches wide. These dog gates have a beautiful wooden finish and a metal fence, making them durable and elegant. However, there might be a little drawback because it is not the best option for larger dogs. But if you have a smaller dog or a cat, these well-designed Richell Wood gates will make a great addition to your home.
Pros
Design
Durability
Doggie door
Cons
Not for small dogs
Not for chewers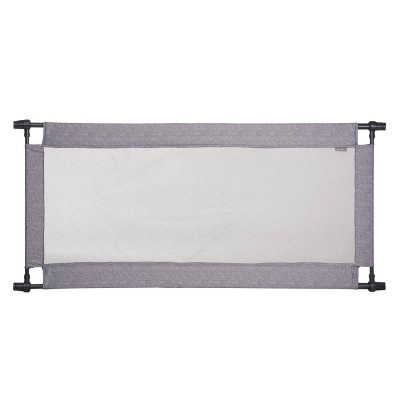 If you are looking for affordable and easy-installable dog gates, then Evenflo Soft and Wide gate is the way to go. Their original purpose was to serve as a baby safety gate, but they will do just as good a job like any other dog gates. This is ideal for smaller breeds like the Pomeranian or a Boston Terrier. These gates are 27 inches tall, so they might work well even on well-behaved larger dogs. It all depends on your dog type. However, it is good to know that an enthusiastic dog could quickly destroy it, so make sure your dog is not that type before buying these gates.
Pros
Affordable
Wide
Easy installation
Cons
Baby gates
Not too secure for energetic dogs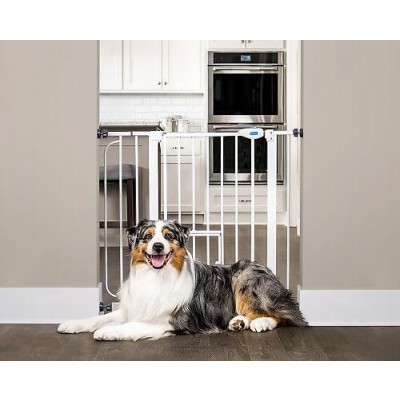 If you are looking for something more traditional in terms of dog gates, then the Carlson Pet Gate might be interesting. These dog gates will fit most doorways and hallways, and they can quickly expand and install. One of the best things about the Carlson Pet Gates is that they are completely metal. This means they are durable, and even the most enthusiastic chewers wouldn't be able to do any damage. It has a small door on them and a quick locking system for easy use.
Pros
Affordable
Adaptable
Doggie door
Easy lock system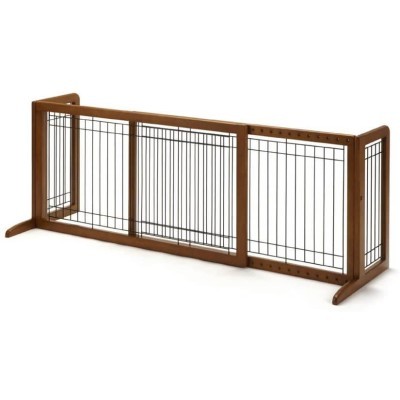 Sometimes you need a little bit more out of your dog gate. The Richell Wood Freestanding Pet Gate can easily be placed and will make sure your dog stays safe and in place. This gate is freestanding, so there is no need for tools or installation of any kind. Simply place the gate where you want them, adjust the width, and keep your dog away from places they shouldn't go. These gates have metal fencing and gorgeous full wood with fine finishing. They will surely go with any decor and look good wherever you place them.
Pros
Sturdy
Wooden finish
Adjustable
Wide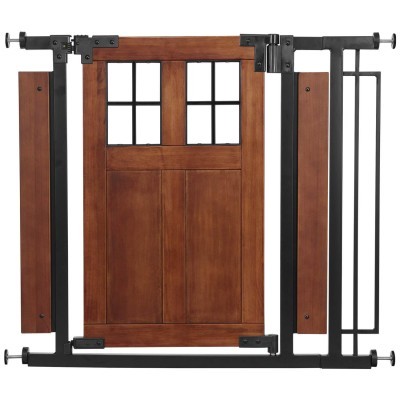 If you are looking for a stylish farmhouse design in your dog gates, then look no further than the Evenflo Barn Door Walk-Thru Gate. These gates are made with babies in mind, but they will do a great job of keeping your large dog at bay. These stylish gates are made from solid wood and metal and measure 30 inches in height. They can be easily adjusted to spaces from 29 to 43 inches, so most hallways and doorways are covered. They are also quite sturdy and robust, so even if your dog jumps on them, they won't budge. These gates even have a handy indicator that will let you know if they are correctly locked.
Pros
Design
Indicator
Safety features
Sturdy
World Dog Finder team