Best Dry Dog Food for Large Breed Puppies [2023 review]
15.04.2021.
Every product and service on World Dog Finder is independently selected by our editors, contributors, and experts. If you purchase something through our links, we may earn a referral fee. Learn more
---
Choosing the right dog food is important no matter what breed your dog is. However, that is especially true for large breeds. Their rapid development and growth can be problematic, and dog foods with the wrong ingredients can cause all sorts of health problems. If you have a large breed puppy at home or you are expecting one, here are some facts you should know about picking the best dog food for large breed puppies.
What is considered a large breed?
Sometimes, the line between medium-sized and large breeds can be a bit confusing. Different associations, clubs, and other resources define large breeds differently. Some focus only on how tall the dog is, and some will rely only on the dog's weight. We believe that it has to be a combination of two. The size means the dog's bones will grow, but their weight means the dog's bones need to support them pretty well. That is why it is crucial to understand which ingredients are suitable for your large breed puppy.
Check out the entire list of large dog breeds here - Large dog breeds.
What to look for in large breed puppy food?
Knowing exactly what to look for in puppy food can be challenging. There is a lot of information and misinformation circling around the internet, and owners and future owners can easily get mislead. The best resource will be your breeder and your vet. Talk to them about what large breed puppy food you should pick for your new puppy. In the meantime, we will bring you the most important things to look for in dog food for large breed puppies.
Origin
One of the best things you can do is to stick to "trusted" countries of origin. Some countries don't have the best regulations for dog food, so sticking to the US, Western Europe, UK, Canada, or Australia is a good thing. We have strict policies regarding dog food production. You can be pretty certain ingredients will be of the highest quality.
AAFCO guidelines
The Association of American Feed Control Officials (AAFCO) has strict guidelines for pet food. They made special guidelines with a deep understanding of large breed puppies' nutritional needs in all different life stages. Their nutritional needs will change, and you don't have to be an expert nutritionist to make sure your big puppy is on a good diet. Make sure the dog food you chose follows the AAFCO guidelines, and you should be sorted out.
Your large puppy will need a lot of training at the beginning. Check out this article for more info - Basic obedience training.
Protein
The main ingredient in the puppy food of your choice should be protein. In fact, if you pick large breed puppy food with whole protein as the first ingredient, that would be even better. That means you should look at the label and make sure the main ingredient comes from, for example, duck and not duck meal.
Grain
Grain has a somewhat bad reputation, but grain is a valuable nutrient that is an excellent source of fiber and carbohydrates for your developing puppy. However, you should make sure your large breed puppy is not allergic to grain. Pick a puppy food that contains whole grain instead of processed, low-quality grain.
Making sure the puppy's food stays fresh can be challenging. Check out this elegant solution - Best dog food containers.
Understandable labels
There is nothing worse than manufacturers trying to conceal what goes into their dog food. It is always a good decision to go for dog foods that have clearly labeled every ingredient in their food. Make sure you check for all protein sources like meat, meat meals, and byproducts. Labeling something as, for example, "duck meal" might be fine, but "meat meal" is not.
Supplements
The FDA doesn't require dog food to contain any supplements, but getting a large breed puppy food that will contain things like glucosamine, chondroitin, omega fatty acids, or other helpful supplements is a good idea. Your large breed puppy will need all the help they can get for their rapid development.
If you want to know more about the importance of vitamins in the dog's diet, check out this article - Best dog vitamins.
Artificial things
Generally speaking, artificial taste inhibitors or artificial colorings are not good. They might make puppy food taste better, but you don't want your puppy ingesting chemicals of unknown origin. Its long-term effect is not entirely known, but we generally believe in natural ingredients and try to avoid artificial things as much as possible.
Now that you know what to look for in the best dog food for large breed puppies, here is a list of our recommendations.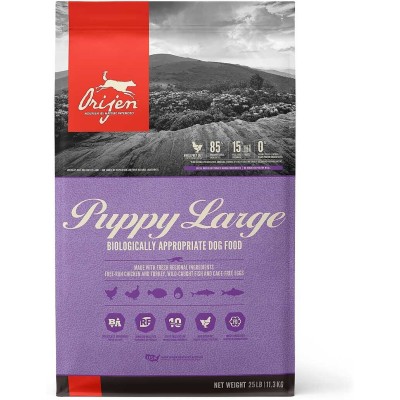 It is not a huge secret that we are huge Orijen fans, which is why our dogs are on the Orijen diet. The Orijen Puppy Large dog food is another brilliant dog food from this dog food giant. Orijen uses only the best ingredients, and they are regularly on the list of the best dog foods available. Their Puppy large recipe gets its protein from chicken, turkey, mackerel, and flounder. This large breed puppy food comes highly recommended by owners and vets.
Pros
High-quality ingredients
4 main protein sources
Dogs seem to love the taste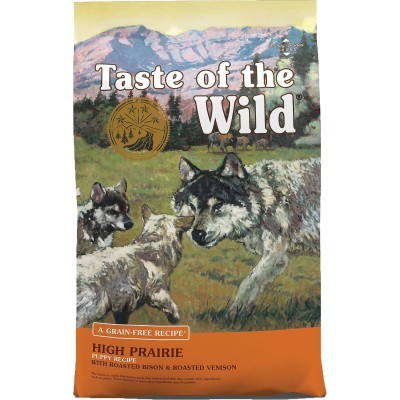 When it comes to making the perfect balance between the price and the quality, the Taste of the Wild High Prairie Puppy Formula hit the jackpot. Not only is this large breed puppy dog food good for puppies, but it also comes with a reasonable price tag. The Taste of the Wild recipe gets its protein from ocean fish, which is very beneficial for developing large breed puppies. The inclusion of omega fatty acids from salmon oil will support joint, coat, and overall development.
Pros
Omega fatty acids
Salmon oil
Fish protein
Affordable
Cons
Grain-free
Some puppies seem to dislike the taste over time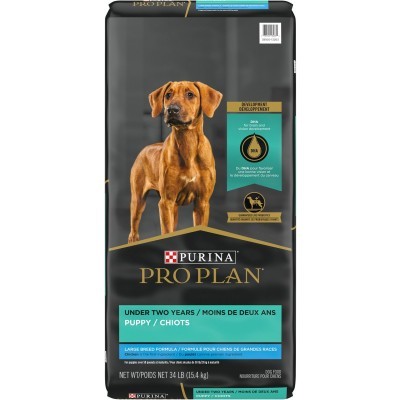 There is a very good reason why Purina is the market leader in the US. Their dog food is excellent. The Pro Plan Large Puppy recipe includes grain and pays special care to balanced calcium levels. Too much of it can cause the puppy's development to go in the wrong direction. Luckily, the Purina Pro Plan for large puppies has a balanced recipe that gets most of its protein from chicken, and dogs seem to love it. This is one of the best picks for large puppy foods out there.
Pros
Great fat-to-protein ratio
Includes healthy grain
Palatable
Cons
Most issues are aimed at the dog food delivery service
Some puppies seem to dislike the taste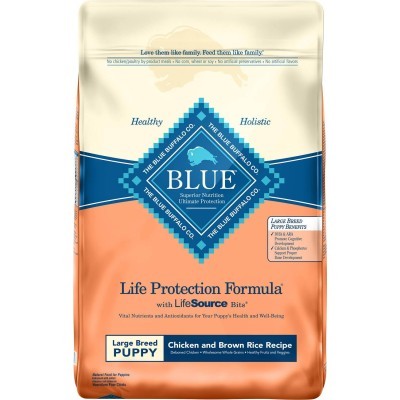 The Blue Buffalo Life Protection for large breed puppies is our close second choice. Even if you are not a dog nutritionist, you can easily spot the healthy ingredients by looking at the label. This recipe includes deboned chicken as their primary protein source and has no weird by-products or "meat meals." Blue Buffalo included omega-3 and omega-6 fatty acids and controlled calcium and phosphorus levels to support gradual puppy growth and development. This large breed puppy food contains whole grain like oatmeal and brown rice.
Pros
Includes grain
High-quality ingredients
Palatable
Reasonable price
Cons
The kibble is on the smaller side, so puppies can quickly "inhale" it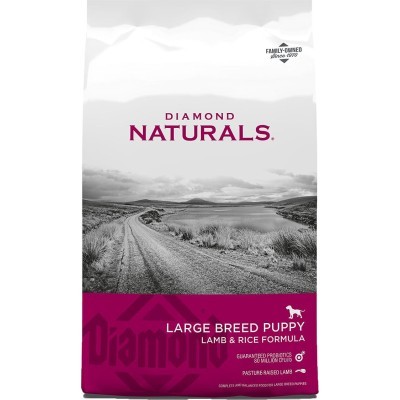 Diamond Naturals is a trusted dog food manufacturer whose dog food your large breed puppy will absolutely love. They took a different approach and included lamb as the primary protein source in their recipe. This is another large breed puppy food containing whole grain, so your puppy will get plenty of healthy carbs and energy to explore and grow. One of the best things about this large breed puppy food is its affordable price tag attached to great quality food.
Pros
40-pound bag
Lamb is palatable
Great for dogs with allergies
Cons
Dogs seem to be gassy after eating this food
Some stomach upset was noted, but it is questionable whether those dogs were properly moved from their original food
World Dog Finder team