The 5 Best Dog Foods for Yorkies
16.12.2021.
Every product and service on World Dog Finder is independently selected by our editors, contributors, and experts. If you purchase something through our links, we may earn a referral fee. Learn more
---
Here at World Dog Finder, we are huge fans of toy dog breeds, and one of our favorite ones is the Yorkshire Terrier. These dogs are the ultimate toy companions. They are absolutely gorgeous. If you're a Yorkie owner, you know these dogs need proper care. They will require training, socialization, grooming, and high-quality nutrition. That means you have to pick the best dog food for Yorkies.
There are many different dog foods you can choose from, and if you don't know what to look for, you can pick the wrong food. Choices are good, but they also make our decisions harder. World Dog Finder did the research, and our nutritional experts talked to Yorkie owners and vets to find out what dog food is best for Yorkies. Here's what we found out.
The best dog food for Yorkies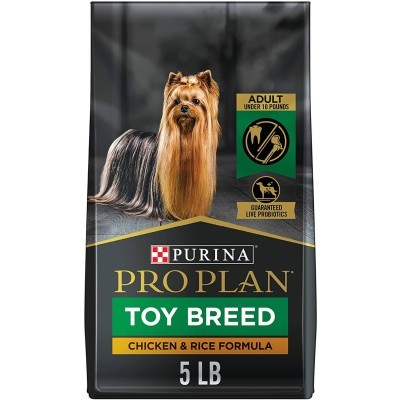 Our top pick on the list for best dog food for Yorkies is the Purina Pro Plan Small Breed & Toy Breed Formula. This dog food is specifically formulated for the smallest breeds, and Yorkie is a part of that group. This dog food has a fairly common chicken and rice formula, but the recipe includes a unique blend of nutrients that will make your dog thrive. This food supports the dog's overall health, skin, coat, joints, and immune system. One of the best things about this food is that it contains prebiotics, which is beneficial for the dog's digestive system. This is a fantastic pick many dog owners are really happy with.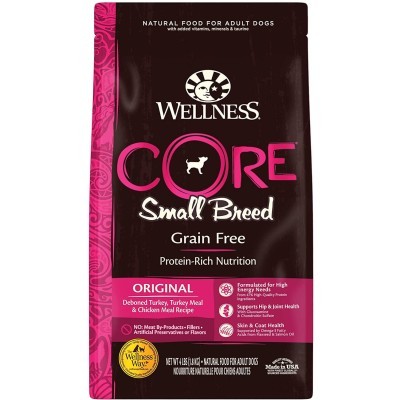 This food is included based on answers Yorkie owners and vets gave us is the Wellness CORE Grain-Free Dry Dog Food for small breeds. This dog food has everything. The main protein sources are deboned turkey, turkey meal, and chicken meal. This recipe contains 36% protein and 15% crude fats. However, this is the best pick for active Yorkies. If you have a Yorkie that leads a more peaceful life and doesn't spend that much energy on a daily basis, you should pick a food that doesn't contain so much fats. Nevertheless, Wellness is a high-quality dog food that will provide your dog with all the nutrients the dog will need.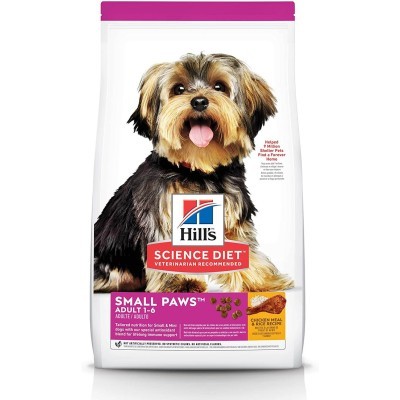 One food veterinarians seem to be particularly happy with is Hill's Science Diet Dry Dog Food. This is another special recipe for small breeds, and most dog owners and vets think this is fantastic dog food. You can choose two recipes - one is based on chicken and the other on the lamb. Since some Yorkies can be allergic to chicken, lamb might be a good choice. Small breeds are prone to food allergies, so it is always good to have a healthy alternative from the same manufacturer. The protein in this food is high-quality. It contains plenty of omega fatty acids that will benefit your dog's skin and coat.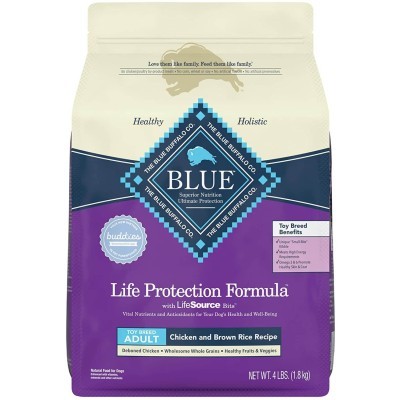 We love Blue Buffalo's dog food, and their Life Protection Formula is simply amazing. This dog food will provide your Yorkie with everything the dog needs. The main ingredient is chicken, so you need to ensure your dog is not allergic to it. This recipe also includes brown rice, garden veggies, grain, and fruit. That means the food is packed with vitamins, minerals, antioxidants, essential fatty acids, and high-quality protein that will support your dog's muscle development. You can ask any Yorkie owner about this food, and even the ones not giving it to their dog will tell you they heard good things.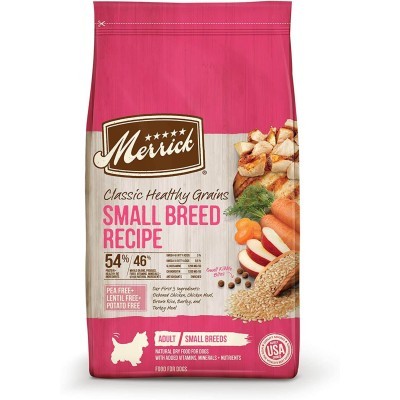 A special editor's pick as the best dog food for Yorkies is the Merrick Classic Healthy Grains Dry Dog Food. We love this food because it doesn't contain things like potatoes, peas, or lentils. The primary protein sources are chicken and turkey, which means your dog will get fantastic ingredients. This recipe is explicitly developed for small and toy breeds, which is exactly what you want to see. Yorkies are prone to skin issues, so it is a good thing this dog food contains loads of omega-6 fatty acids that will support and promote skin and coat health. All Yorkie owners want to keep their dog's coat in the best shape possible.
How to pick the best dog food for Yorkies?
All dog owners will tell you that picking the best possible dog food for your dog is essential. This is especially true for delicate small dogs with silky hair. You need to choose the best dog food that will support and promote your dog's overall health and wellbeing. However, that is not the only thing you should look for;
Ingredient list
No matter which dog food you decide to go for, you should check the ingredient list first. Look for clearly defined ingredients and avoid artificial colors, preservatives, meat by-products, and taste inhibitors.
Dog's age
Yorkie puppies have different nutritional needs than adult or senior Yorkies. That's why you should always choose dog foods that are specially developed for your dog's age. If you have a puppy, choose the best possible puppy food. If you have a senior Yorkie, go for foods containing glucosamine, antioxidants, vitamins, and fatty acids - recipes developed for older dogs.
Origin
Another vital thing to look for is the origin of the food you're picking. Look for dog foods made in the USA, Canada, Australia, the UK, New Zealand, and Western Europe. These countries have strict food processing laws and control, which guarantee the manufacturers are keeping up with the best practices and safety standards.
World Dog Finder team