Why You Should Get Belly Band for Your Dog
16.07.2021.
Every product and service on World Dog Finder is independently selected by our editors, contributors, and experts. If you purchase something through our links, we may earn a referral fee. Learn more
---
Housebreaking a male puppy or dealing with a senior male dog with trouble containing urine can be challenging. During that time, a dog belly band can be very helpful. If you are not familiar with what dog belly bands are or which belly bands are the best, here is a useful buying guide to help you make a better decision.
What are dog belly bands?
The name of this product is pretty self-explanatory - It is a band of fabric that wraps around the dog's belly to prevent or contain urination. Belly bands are for male dogs. Due to the different anatomy, belly bands wouldn't be too practical for female dogs. If you have a female dog with urination issues, you should check out doggy diapers.
Why do dogs need belly bands?
There are many reasons your dog might need a belly band. Younger dogs can have a hard time learning where to pee. Potty training is a lengthy process, and sometimes, accidents happen. This product can help your male puppy keep it in for longer. It will entirely cover the dog's penis, and he will be discouraged from peeing inside.
Older dogs can benefit from it as well. They can have problems controlling their bladder, and belly bands will soak up the unintentional urine release. In that case, belly bands are used in combination with absorbent cloths or something else. It is probably a good idea to get a waterproof dog bed for your incontinent dog.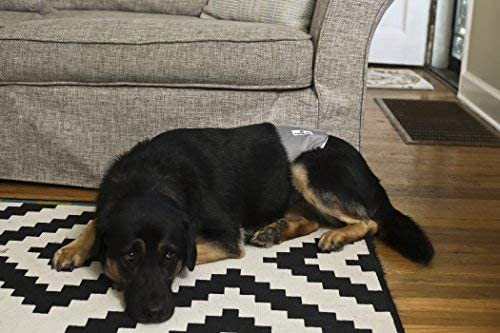 You can use belly bands if your dog is excitable and loves to let out a few drops of pee when the owners come home. When you visit friends or relatives, your dog might want to mark their home as their territory. Some belly bands can even help with containing the mess that usually comes with female dogs in heat.
Best belly bands for dogs
When buying a product for your dog, you shouldn't pick the first thing you come across. Not all belly bands are the same, and the best belly bands for dogs have some specific characteristics. If you are looking for one for your dog, here are some of the things you should look for;
High-quality fabrics
Proper fit
Moves wet fabric away from the dog (absorbent pad)
Machine-washable
Different designs (optional)
Here are the best belly bands for dogs;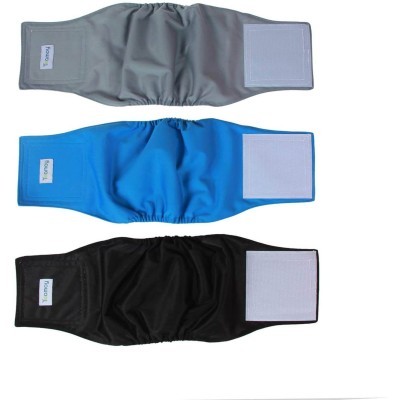 Our top pick in the best dog belly bands category is the Teamoy Reusable Wrap Diapers for Male Dogs. This product includes a large velcro strap that makes it very easy to place on your dog. These bands come in a 3-piece package, and each one has a different color. Not only are they supremely comfortable and effective, but they are also very stylish. The outer layer is waterproof, and the microfiber liner will prevent unwanted leaks. A helpful feature is that these bands are machine or hand-washable, so you can safely use them many times.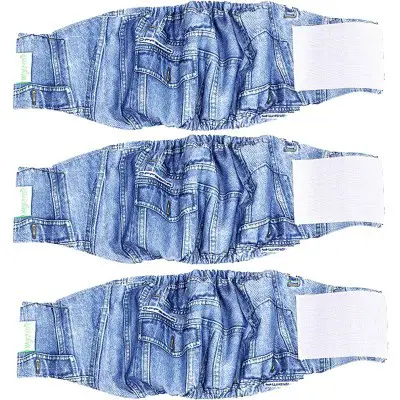 Have you ever wondered how your dog would look in jeans? Now you can get them the wegreeco Washable Male Dog Diapers that have a unique denim design. This model comes in a 3-piece package, and you can choose five different sizes. These belly bands mark all the necessary boxes that make them a great product. They are machine-washable, waterproof, comfy, and easy to put on your dog and secure. The thing that really sets these bands apart is their superior absorbency. It is truly a great product you won't regret getting.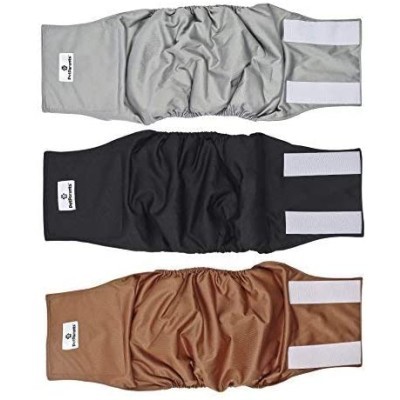 Dog owners highly recommend these dog belly bands. More than 7.500 5-star reviews make Pet Parents Premium Washable Dog Belly Bands one of the best possible choices you can make for your potty-training dog or your senior dog having trouble holding it in. This model is exceptionally absorbent and includes two Velcro strips that will keep them safely on your dog. It is machine-washable, so maintenance is not too big of a hassle. Plus, the design is pretty cool. If you love getting products that other owners recommend, you can be sure you won't make a mistake with these belly bands.
World Dog Finder team