How to Choose the Best Dog Diaper?
14.02.2021.
Every product and service on World Dog Finder is independently selected by our editors, contributors, and experts. If you purchase something through our links, we may earn a referral fee. Learn more
---
Diapers are not just for humans! Our dogs (and their owners) can benefit from using a doggie diaper, and there are plenty of situations where you will be glad you decided to get some dog diapers for your dog. There are different options of reusable, DIY, or disposable diapers that might help your dog deal with their problems. Here is what you need to know about dogs and diapers.
When should my dog use diapers?
Dog diapers have different purposes and can be used for a range of uncomfortable and potentially embarrassing situations. Some of the most common reasons dog owners decide to put their dogs in diapers are;
Health issues
Health issues are probably the most common reason why our beloved pooches end up in diapers. They can be incontinent because of old age, or perhaps they are getting over a UTI, and they have problems controlling their bladder.
Heat
Female dogs in heat will have periods, and diapers can be a lifesaver at that point. Most vets will recommend neutering if you are not planning on breeding your dog, but some owners decide against it or haven't made their minds up yet about breeding. Whatever the reason might be, the solution to that problem is doggie diapers.
Housebreaking
Housebreaking or potty training can be a long process, and your puppy might require some time to learn where they should go to the bathroom. However, it is only a temporary solution; your dog should still learn that they should do their business in designated areas or outside.
What to look for in a dog diaper?
Most dog owners don't think about this part of owning a dog, so it is no wonder they aren't prepared for picking the right doggie diaper. If you are an experienced dog owner and you already know what works for your dog - great. However, if you are a new dog owner and you are not really sure what to get, here are some things you should know and take into the equation before deciding on a particular type.
Type
There are different types of dog diapers, and the first difference is - male and female dog diapers. Female diapers function as underwear with a tail hole, but male diapers are closer to tube-tops that will cover male genitalia. Most males will not poop while wearing the diaper, but if a dog is incontinent, you should look for a model that offers more coverage.
Disposable
Like their name suggests, disposable dog diapers are - disposable. They are usually very absorbent, and they are easy to get rid of. Most of them are made from super-absorbent synthetic materials that work a lot better than cloth dog diapers.
There is another thing that can help you take care of your dog's "business" problems. Check out this article - Best Grass Pad for Dogs.
Reusable
Reusable diapers can be washed and used again and again. They are a lot more environmentally-healthy, and in the end - cheaper. They are the better option for older dogs that will require long-term diaper usage.
Here is the list of best dog diapers.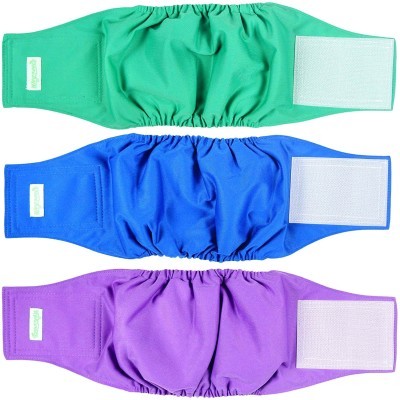 Wegreeco Washable Male Dog Diapers are our top pick for reusable male dog diapers. They are waterproof, and they have a synthetic superabsorbent that will make sure nothing leaks out of them. They are secured with velcro, and unlike other dog diapers, they don't make any crunching noises. These diapers come in packs of three and are machine-washable and machine-dryable.
Pros
Easy to put on a dog
Great reviews
Different colors
Absorbent
Cons
Some dogs might need two pads
Some owners reported a urine smell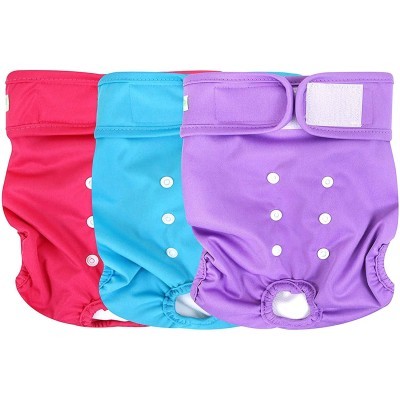 Our top pick for female dog diapers is again the Wegreeco Washable diapers. They have all the features Wagreeco for male dogs have, but these are specifically made for female dogs. They have a superabsorbent material and are completely waterproof on the outside. This model is also machine-washable, and after, you can throw them in the dryer. They come in 3-packs and with different color options.
Pros
Effective
Superabsorbent
Great design
Cons
Small tail hole
Not intended for poop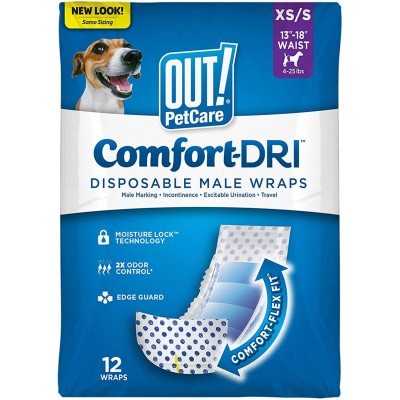 If you are interested in a disposable option for easy use and cleaning, then OUT! Disposable Male Dog Diapers might be a great option. They have a non-stick system so your dog's coat won't get stuck on the diaper. They have a lovely print, and they have several options; size and number in the package. Plus, these seem to have a better performance than their pricier competition.
Cons
Disposable
Temporary solution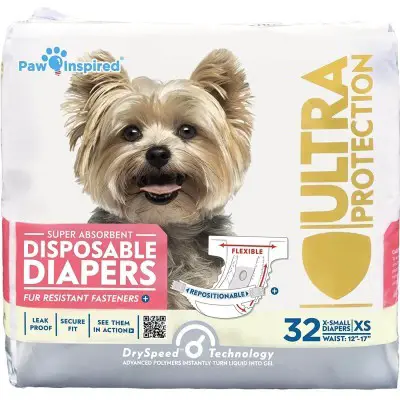 Another great temporary incontinence solution is the Paw Inspired Disposable Dog Diapers. This is an excellent option for female and male dogs that need more coverage. They are ridiculously easy to use, and owners were delighted with the result these diapers were showing. They are stable and have two non-fur-sticking strips. They come in 6 different sizes, and small ones come in 32-pack, and large ones come in 20-pack.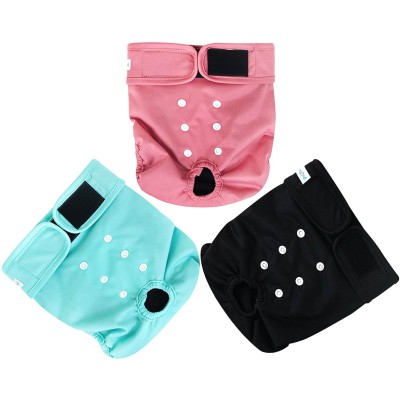 These reusable dog diapers come highly recommended by dog owners across the US. There are both male and female versions of the diapers available, and they are both machine-washable and easy to dry in a dryer. They are effective and cheaper than a lot of their competition. Plus, we like the available sizes and color options.
Pros
Cheaper
Reusable
Affordable
Cons
Some owners reported it was hard to get rid of the urine smell
World Dog Finder team