7 Most Functional Grass Pad for Dogs To Choose For Your New Puppy
07.02.2021.
Every product and service on World Dog Finder is independently selected by our editors, contributors, and experts. If you purchase something through our links, we may earn a referral fee. Learn more
---
Potty training is one of the first things you will have to teach your dog to do, and it is usually a messy process. Getting a dog grass pad to help you in that process can be a lifesaver. Not only is it practical, but it will also get your puppy used to doing their "business" on the grass.
A time may come when your dog can't go outside for a walk, and you might want to think about securing them a comfortable place where they can go to the bathroom. So why not pick something that can provide that service right in the comfort of their home?
Dog grass pads are hygienic, and practical, and, if appropriately fitted, can be a pretty useful feature in the household. We were in a situation like that not so far ago, and the grass pad was a lifesaver. Plus, some dogs don't want to go on newspapers or anywhere else but grass.
To make your choice easier, we prepared a list of 7 practical grass pads for dogs.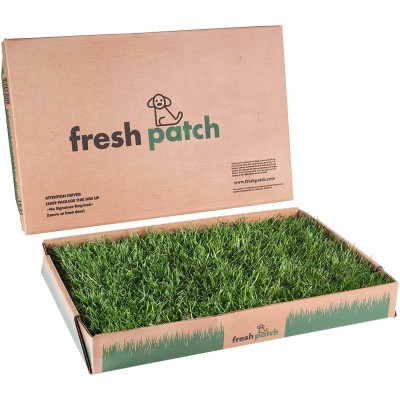 If you are looking for an indoor dog bathroom area and your dog feels most comfortable on real grass, the Fresh Patch Dog Pad with Real Grass has got you covered. One of the best options on the market offers real grass with a disposable tray. This is hydroponically-grown grass will attract dogs, and they will feel very comfortable "going" in the designated space.
Pros
Real grass
Disposable
No odor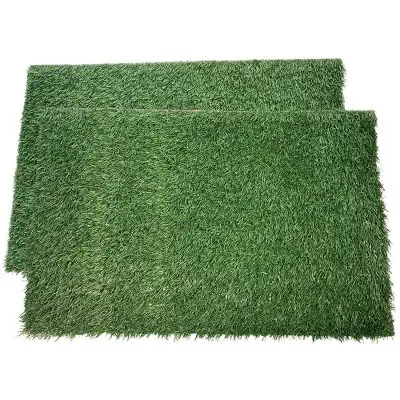 The LOOBANI Dog Grass Pee Pads has excellent reviews and delighted customers. This artificial grass pad has excellent drainage and is fitted with natural agens to neutralize odors. It comes in three different sizes, and the price is very budget-friendly. The best thing about the LOOBANI artificial grass is that it can be used outside and inside. It is here to help make potty training a little bit easier.
Pros
Indoor/outdoor use
Affordable
Easy cleaning
Cons
Some owners reported grass falling off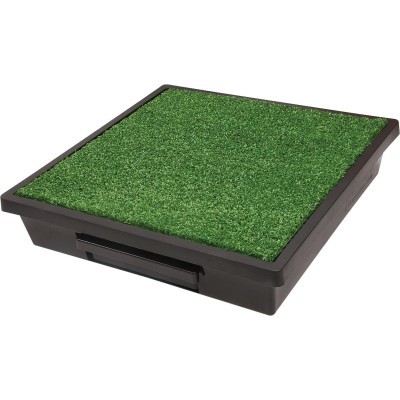 If you are looking for an excellent solution for a doggy bathroom in an apartment or a house, the PetSafe Pet Loo might be the right choice. This grass pad has a special waste solution that gathers all liquids in a specialized container. There is no need to worry about odors with the Pet Loo. This is an ideal solution for all dog owners that love camping and sleeping in. You don't need to get up early in the morning and take your dog out; just make sure they have access to your new Pet Loo.
Pros
Waste system
Reusable
Portable
Removable bin
Cons
Some owners reported grass moving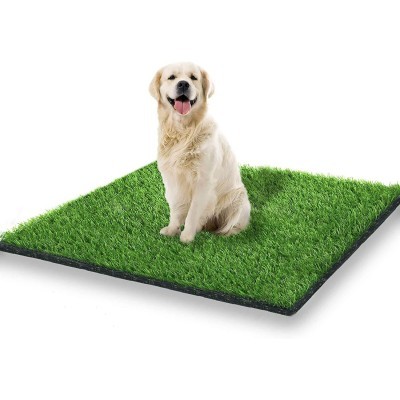 This grass pad for dogs is ideal for training puppies. It has a waterproof design, so you can use it in different places, like garages, hallways, balconies, patios, or gardens to protect real grass. Dog urine can easily create dead and yellow spots; plus, it can have a nasty odor. The STARROAD-TIM is easily washable - all you need is a hose, and everything is gone. It is very light, portable, and soft.
Pros
Large
Waterproof
Great value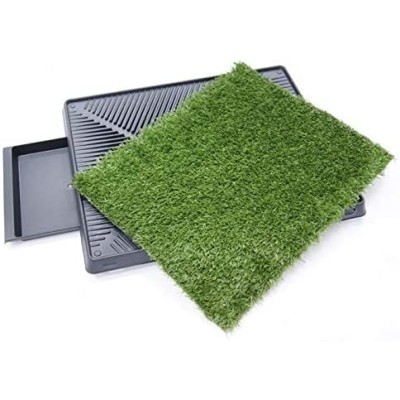 The Synturfmats Grass Pad has a smart 3-layer system for draining and holding liquid. It is an ideal solution for dog owners that live in buildings or have a senior pup that can't walk as they could before. Plus, if you are potty training your puppy, the Synturfmats Grass Pad will save you a lot of cleaning trouble. This grass pad also stops odor, which is an essential thing if you live in smaller apartments.
Pros
3-layer system
No odors
Compact
Cons
Some owners reported inadequate drainage
Not practical for big dogs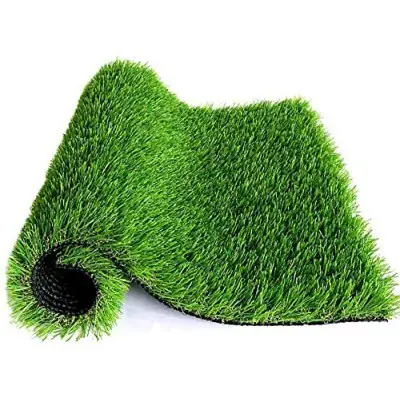 Some dog owners want to fill their backyards with artificial grass. We can live in hot climates where watering a living lawn is just not ecological, or you might want to enjoy your life and not waste time on cutting and maintaining grass. Whatever the reason may be, the WMG Artificial Grass has you covered. This is the best artificial grass imitation. It has drainage holes, and you won't have to worry about your dog destroying your living grass.
Pros
Looks real
Durability
Easy maintenance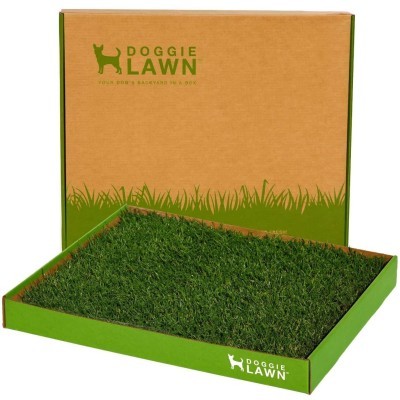 Nothing beats the feeling of real grass underneath your dog's paws. Real grass doesn't need any chemicals, and your puppy will naturally be attracted to do their business in natural grass. It comes in two sizes so that you can use it with larger dogs as well. The DoggieLawn is disposable, so no need to worry about managing bowls full of urine. The downside is that you will have to buy many of these, which might serve as a way of motivation to teach your puppy faster to do their business outside.
Pros
Real grass
Disposable
No chemicals
World Dog Finder team