Best Puppy Training Treats in 2023
12.05.2021.
Every product and service on World Dog Finder is independently selected by our editors, contributors, and experts. If you purchase something through our links, we may earn a referral fee. Learn more
---
Getting a new puppy is very exciting, but pretty soon, you have to start training them to make sure they develop into a friendly, well-behaved, and obedient dog. Puppies have to learn different things, from house rules to leash and potty training. The best way to teach them is by using positive reinforcement training methods. The key thing for this training method is motivational puppy training treats.
What to look for in puppy training treats?
Not all treats are the same. Some are too hard to chew, and your puppy will take too much time and lose focus by the time they are done chewing. Some training treats have too high of calorie content, and you don't want to end up getting your puppy overweight. Here are some of the most important things to look for in puppy training treats;
Size
Size is essential when it comes to puppy training treats. You want to get training treats that are small enough so your puppy can easily swallow them without too much chewing. This will ensure your puppy stays focused, and you don't have to take chewing breaks every time your puppy does something they are supposed to do.
Calories
Training a puppy is a long process. That means you will have to use a lot, and we mean really a lot, puppy training treats. The critical thing is to get puppy training treats that are tasty enough but don't contain too many calories. You don't want your puppy to stop eating their food.
Ingredients
Another essential thing to look at is the ingredient list. You don't want to get puppy training treats that contain questionable ingredients. Look for clear lists and well-defined protein sources. Treats based on chicken, beef, bacon, or peanut butter might be a good option; just keep in mind the number of calories they contain.
Now you know what to look for in puppy training treats. Check out these fantastic recommendations that will motivate your puppy to train and learn new things.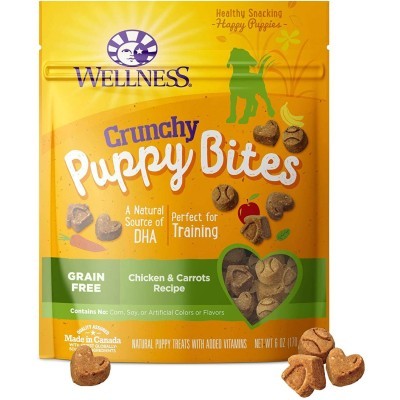 Our top pick for the best puppy training treats is the Wellness Natural Grain Free Puppy Training Treats. These puppy treats are grain-free, and they only contain chicken, fruits, and veggies. They are easy to chew, and your training puppy won't choke on them. However, these training treats are somewhat large, so before you start the training, it is a good idea to break them into smaller pieces. This is ideal for puppies, and they seem to agree. Most puppies get excited just by seeing the bag, and if you give them a treat, you will see how much they enjoy the taste. These puppy treats are a top recommendation and a great choice.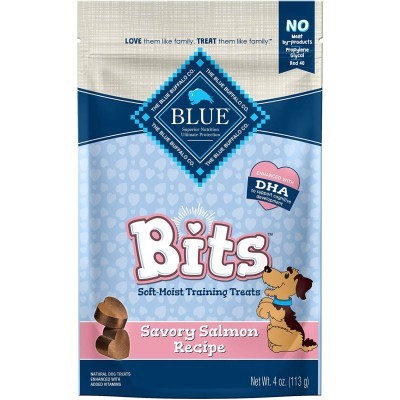 Dog owners often treat puppy treats without the same care they dedicate to choosing the best puppy food. Luckily, the Blue Buffalo BLUE Bits Natural Training Treats are packed with healthy ingredients your dog will love. The main ingredient in these ones is salmon. These puppy training treats don't contain any by-products or fillers, so you can be sure your puppy is getting the best out of their treats. They are great for adult dogs and puppies alike, and they are easy to chew and swallow. This is another high-quality product from the Blue Buffalo factory.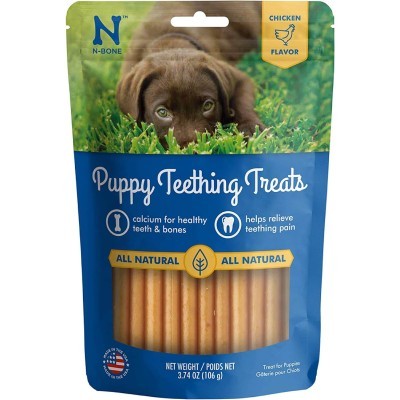 When it comes to training your puppy while they are teething, you want to teach them what they can and cannot chew on. This is when N-Bone Puppy Teething Treats come in handy. These puppy training/teething treats are soft and will keep your puppy away from your fingers, toes, or slippers. This is a far better option than puppy treats that have weird ingredients we can't even pronounce. These treats have just 14 calories each, and to make sure your puppy's teething goes by as comfortable as possible, you can place them in the freezer and give it to them cold.
World Dog Finder team