Best Dog Training Treats
08.05.2021.
Every product and service on World Dog Finder is independently selected by our editors, contributors, and experts. If you purchase something through our links, we may earn a referral fee. Learn more
---
Not all treats are the same, nor do they have the same purpose. Some dog treats are supposed to keep your dog entertained for hours and save them from boredom, while others are specifically developed for training. Dog training treats need to be slightly different. There is a good chance you will have to give your dog a lot, and we mean a looooot, of treats while training them. You can't have your dog or puppy gaining weight because you are training them basic commands. That is why you should choose the best possible dog training treats.
What to look for in dog training treats?
You can't just pick the first dog training treats you come across. There are a few things you should look for because you don't want to end up with training treats that will not adequately motivate your dog. The point of these treats is that they motivate your dog into doing what you want them to do. Here are some of the most important things you should look for in training treats for dogs;
Nutritional value
The most important thing you should look for is the overall quality of the dog training treats. They should provide some nutritional value but not contain too many calories, so your dog actually gains weight from training. Make sure you pick training treats that were made in countries with strict control.
Treats are important, but making sure your dog has a balanced diet is even more important. Check out this article for some suggestions - Best dry dog food.
Smaller size
The good thing about small training treats is that it will take some time for your dog to fill up on them. Your dog will take tiny bites of treats and won't get full. When it comes to training treats, the smaller they are, the better. If you gave your dog a rawhide bone every time they listened to you, there wouldn't be much training done.
Easy-to-chew
You don't want to take a 30-second break every time your dog gets a treat. They will lose focus, and their training will become unproductive. They will be more focused on chewing the treat than learning new things. When picking the best training treats for dogs, you should choose those that are easy to chew and easy to swallow.
Smell
While holding smelly treats in your hand can seem a bit gross, keep in mind that the smellier the training treat, the more it will motivate your dog. While "ordinary" training treats don't have to be the stinkiest ever, training your dog with included distractions is an ideal setting for smelly training treats.
When starting dog training, you should pick a method. Check out this article that will tell you more about our favorite training method - Starting with clicker training.
 Now you know what to look for in training treats for dogs. Check out the best dog training treats here;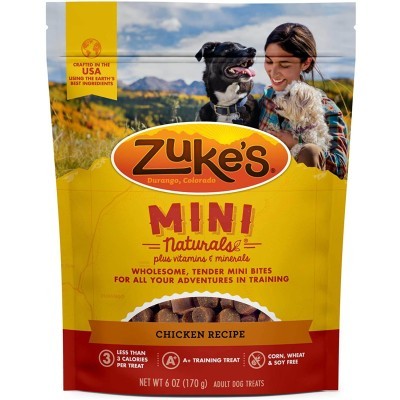 There is an excellent reason why so many owners leave positive reviews about Zuke's Mini Naturals Training Dog Treats - because they are simply amazing. The ones we picked as our top pick are the treats with chicken and hemp. These training treats are small enough for your dog to chew fast and focus on further training. Your dog will swallow them immediately and will be ready to learn a new trick in no time. Zuke's offers different ingredients, so even if your dog doesn't like chicken treats, there are other types you can choose from.
Pros
3 calories per treat
Easily chewable
Tasty
Cons
Need to be specially stored
Chicken is a common allergen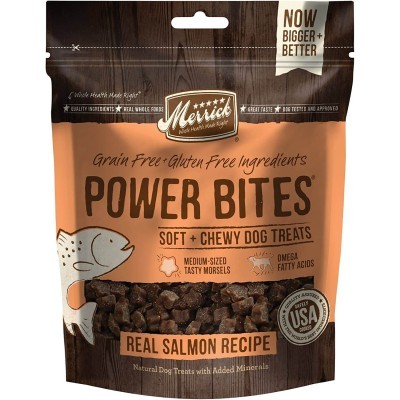 Merrick is a trusted company that makes fantastic dog food. There is no doubt they make great training treats as well. If you are looking for small, low-calorie, tasty training treats, then Merrick Power Bites are the right choice for you and your dog. Plus, if you have a larger dog that is in training, Merrick offers a larger version called "Big Bites." These tiny treats contain only 5 calories each, so you can be sure you won't overfeed your dog and cause involuntary weight gain.
Pros
Made in the USA
Salmon-based
Palatable
Packed with protein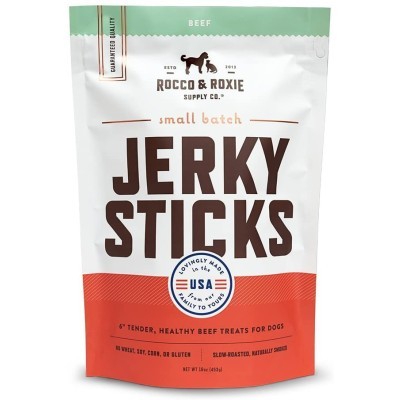 If your dog is highly food-motivated, getting them some stinky dog treats is a good idea. Luckily, Rocco & Roxie - Jerky Dog Treats offer some pretty stinky beef jerky that dogs are crazy about. These dog training treats are made in the US, and the best part about them is - unlike other jerkies, these ones don't leave your hands all greasy and stinky. You can break down a single stick quite easily, which means you can make them last long and motivate your dog for training.
Pros
Tasty
Smelly
Grain-free
Easy to break
Cons
You might have to prepare tiny bits before training
World Dog Finder team