Best Dog Ball Launchers in 2023
26.05.2021.
Every product and service on World Dog Finder is independently selected by our editors, contributors, and experts. If you purchase something through our links, we may earn a referral fee. Learn more
---
One of the best things about being a dog owner is the ability to play with your dog. Playing with your dog is fun, relaxing, and a great way to charge your batteries for the following work week. There is a lot dog owners get from playing with their dog. We all need physical activity and some time in the open, and playing with your dog is a perfect way of doing that.
Dog owners are not the only ones who get something from playing with their dogs - dogs reap the benefits as well. They get a productive way of spending their energy and engage in some mental activity. Playing will prevent the dog from getting bored and destructive. That is why many dog owners decide to get a dog ball launcher.
Some dogs don't naturally love playing fetch. However, you can teach them to fetch things. Check out this article - How to teach a dog to fetch.
Dog ball launcher
If you have a busy schedule, you might find yourself without enough time to play with your dog. However, dogs rarely understand why we can't spend time with them, so an automatic dog ball launcher might be a great way to entertain your dog while you are not at home. Even if you are at home, placing an automatic dog ball thrower in your yard can give your dog hours and hours of fun.
Some energetic breeds, like the Belgian Malinois, have more energy than their owners, and our arms will get tired before these dogs lose all their energy. That is where a dog ball launcher comes in handy. If you are interested in getting one for your dog, here are our favorite dog ball launchers;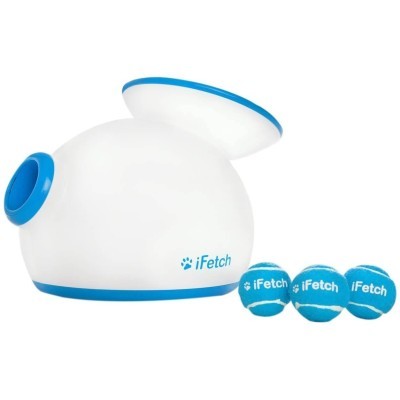 The best choice in the best dog ball launchers category is the iFetch Interactive Ball Launchers for Dogs. This model is developed for smaller dogs and will launch smaller tennis balls from 10 to 30 feet, depending on the distance adjustment. You can easily adjust the distance with a push of a button. This product has the most reviews and a relatively good overall score. Plus, it has a cool design, and that is something many dog owners like. If you are interested in an automatic dog ball thrower, this is the right choice.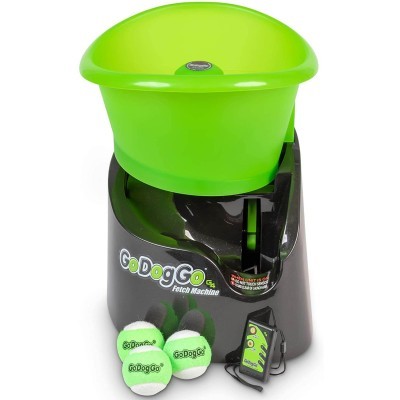 It seems many dog owners are really happy with the GoDogGo Fetch Machine for Dogs. This model comes with three tennis balls, but you can also use regular tennis balls. You'd think that would be a given, but many of these products are set for balls of specific size. The GoDogGo can be adjusted. You can set the interval and the distance on the machine. Just load it up, and watch your dog go nuts for this dog ball launcher.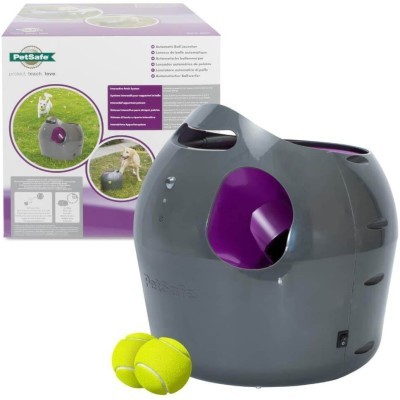 Another great choice is the PetSafe Automatic Ball Launcher. Not only does it come with cool colors, but it also comes with fantastic safety features. This automatic dog ball thrower will not launch tennis balls if there are objects in the 7-feet range. This launcher has sensors inside it, so it will not turn on until it is loaded. It comes with 9 different distance options and 6 different angles. You can be sure your dog will be entertained and will not be able to predict the trajectory of the launched ball.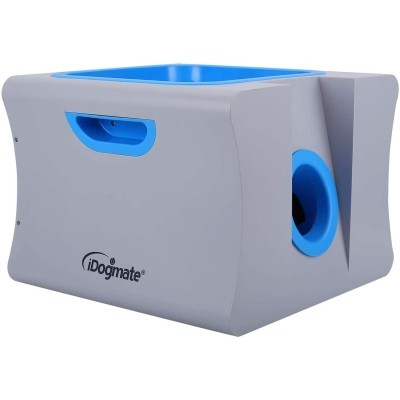 We absolutely love the design of the IDOGMATE Big Dog Ball Launcher. This is an ideal toy for larger breeds like the Golden Retrievers, Labradors, Border Collies, or German Shepherds. The opening where balls go on top is large enough, and this toy doesn't have any cords your dog can bite or trip on. This is a rechargeable toy, so you will need to charge it before you use it.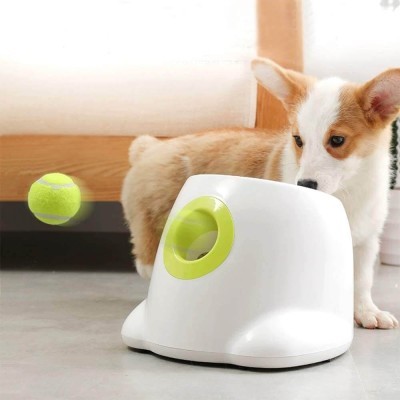 Our fifth pick on this list is the AFP Automatic Ball Launcher. Like many other good automatic dog ball throwers, this one has sensors inside it to prevent it from turning on while it's empty. It comes with 3 different distance settings, and it needs only a 170-inch surface area. This is a great option for all dog owners with fetch-loving dogs and many tennis balls at home.
World Dog Finder team