Top 3 Best & Cheap Dog Food
24.05.2021.
Every product and service on World Dog Finder is independently selected by our editors, contributors, and experts. If you purchase something through our links, we may earn a referral fee. Learn more
---
Price shouldn't really play a huge role when picking the best dog food for your dog, but the reality is - dog food is expensive. Some of us have to think about budget-friendly options that will be easier on the pocket. If you have a large dog at home, you are probably aware of just how much they can eat, and those bills can rack up pretty fast. However, there are some great cheap dog foods in the market we can choose from. Here is what you should know about them;
What to look for in cheap dog food?
Just because dog food has a lower price doesn't mean it can't be good. However, you shouldn't focus just on the price tag. Like with any other dietary product you choose for yourself or your dog, the key thing to do is - look at the label. Here are some of the things you should look for in cheap dog foods;
Label
As we mentioned above, the critical thing to do when picking cheap dog food is to look at the label. Check for ingredients and byproducts, and avoid as many artificial things as you can. Taste inhibitors and artificial colorings are bad, and you should avoid feeding them to your dog.
Protein source
Protein should be the main thing in your dog's diet, and protein can be sourced from different animals. Look for known and trusted protein sources like chicken, turkey, lamb, buffalo, or salmon. Those meats are used in most dog foods and are considered a high-quality protein source.
Origin
One of the best things you could look for is the country of origin for the dog food of your choice. Look for cheap dog foods made in Canada, the USA, Western Europe, Australia, UK, and New Zealand. These countries have strict production rules that ensure all the ingredients are as best as they can be.
Fruits and veggies
Some of the best cheap dog foods include different fruits and veggies in their dog food recipes. Fruits and veggies are great vitamin, mineral, and antioxidant sources, and they add palatability to dog food. Check the label for added fruits and veggies.
These are some of the best things you can look for in cheap dog foods, and here are some of the best possible choices out there;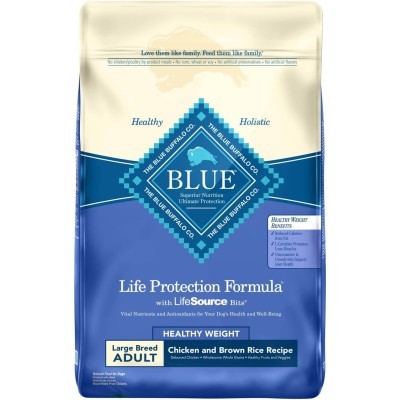 Our top pick for cheap dog foods is the Blue Buffalo Life Protection Formula - Chicken and Brown Rice. Blue Buffalo offers a relatively lower price than its competition, and the ingredients are usually high-quality. Chicken is an excellent protein source, and brown rice is a great carbohydrate source, so your dog will have plenty of energy to explore the world around them. This dog food includes fruits and veggies in its recipe, and that is something we would want to see in the dog food of our choice.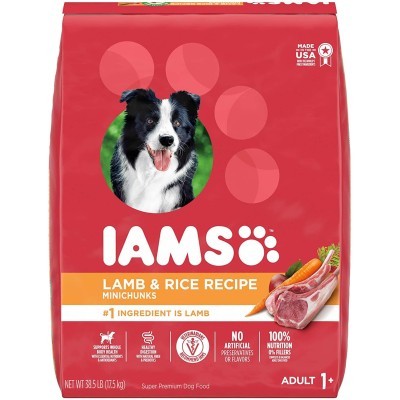 IAMS is known as a great manufacturer of budget-friendly dog food. Their Iams Minichunks Adult Dry Dog Food recipe is one of the best you can pick, and it comes with a very friendly price tag. This recipe uses lamb meat as its primary protein source, and most dogs love the taste. This is not the highest quality dog food, but some things have to be sacrificed for a lower price tag. Still, this dog food contains ingredients rich in omega fatty acids. It doesn't contain artificial additives you might find in other cheap dog foods. This is the best in the cheap dog food category.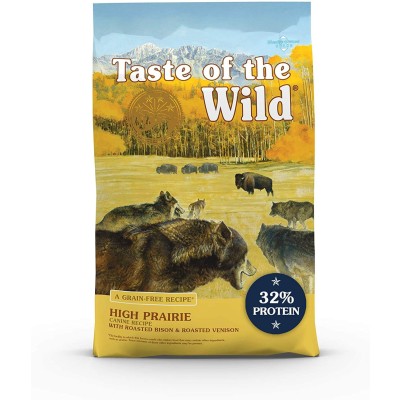 The Taste of the Wild Dry Dog Food With Roasted Bison And Roasted Venison is a great dog food that comes with a budget-friendly price tag. This cheap dog food has unusual protein sources - bison and venison, which is close to what wild canids might eat. It is an excellent choice for dogs with slower digestion because it includes probiotics. This recipe also has ingredients packed with omega fatty acids, vitamins, and minerals. You can be sure your dog will get all the necessary nutrients they need. Plus, this dog food doesn't include grain, so dogs with sensitive digestions might benefit from it.
World Dog Finder team