Should You Use Dog Training Collars?
26.02.2021.
Every product and service on World Dog Finder is independently selected by our editors, contributors, and experts. If you purchase something through our links, we may earn a referral fee. Learn more
---
There is a lot of controversy about using training collars because they are shocking the dog. Controversial as they are, there is no denying that training collars are an effective training method. However, inexperienced owners should avoid it. Dog training collars can be a great tool in the right hands. That means a professional dog trainer or an experienced owner who will know how to use this training collar safely.
What to look for in a dog training collar?
There are many different options available, and if you don't know what you are looking for, picking the right one for your dog can be tricky. There are some things you should consider when buying the best dog training collar, and here are the most important things;
Strength and levels
Dog training collars work based on delivering a static shock to the dog. You should look for a model that has different settings and strengths. There is no point in having just one setting - max. As the dog's training progresses, you can increase or decrease the shock level.
Warning systems
Some dog owners prefer not to shock their dog, and training collars can be used for different training methods. Some dog training collars have other warning systems. They used sound, light, and vibrations that will let your dog know they are doing something they are not supposed to, and the static shock will follow if they don't stop doing what they are doing.
Range
Some training collars have a longer range. The range is important because you don't want an electric dog collar to stop working just because you are in different terrain. The standard ones have a range of 330 yards, but some more expensive ones can go up to a mile. Make sure you pick the best dog training collar.
Durability
The best dog training collars should be durable and waterproof. Some models are better than others. The best dog training collars are usually made from a material that won't get easily torn or broken. There is a possibility you will use the collar during rain, or maybe your dog loves water, so make sure the electric collar you pick is entirely waterproof.
Do shock collars hurt my dog? Are they safe?
Even the manufacturers agree that the training shock collars are not the ideal solution for dog training. Some dog trainers absolutely love them and use them all the time as a correction technique. But once the dog experiences shock, the vibrations or sounds only can be good enough to correct their unwanted behavior. That is why the best dog training collars have multiple warning settings. You don't want to shock your dog with electricity all the time.
Some claim that such a small static shock isn't harming the dog, and it only works on a psychological basis. Our firm belief that there are far better ways of training dogs than to shock them with electricity. However, there is plenty of evidence that proves the effectiveness of dog training collars.
There are more options for training collars, check out this article - Prong collars for dogs.
Whatever your stance may be about dog collars, some owners prefer using them to train their dogs. If you are one of these owners, here is a list of the best dog training collars.
If you are looking for the best of the best dog training collars, then Dog Care Shock Collar is the way to go. It is rechargeable and waterproof, but the best thing about this electric collar is its safety features. The biggest problem with old models was the accidental shock they delivered. This one has a failsafe where that is almost impossible to happen. It offers different ways of letting your dog know they are doing something they aren't supposed to (beep, vibration, and shock), and it has an effective range of 330 yards. One remote can control 9 different training collars, which makes it ideal for dog trainers.
Pros
Waterproof
Failsafe
Controls 9 collars
Cons
Problems for dogs with thick, double coats
Not suitable for small dogs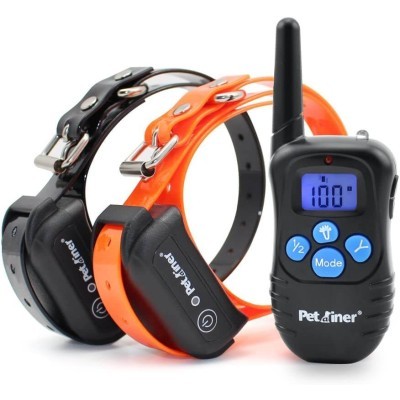 The second best dog training collar is the Petrainer 100% Waterproof Dog Shock Collar. It has many great reviews, and dog owners seem to love this product. It has an effective range of 330 yards, and the intensity of the shock can be scaled from 0 - 100. It comes with beeping, vibrating, and shock modes. The Petrainer is known for having the best waterproofing of all electric dog collars. Plus, the price is really affordable. You can't argue with more than 10.000 positive reviews.
Pros
Waterproof
Controls 2 collars
Affordable
Safe
Cons
Some owners reported connection errors
Goes in sleep mode on its own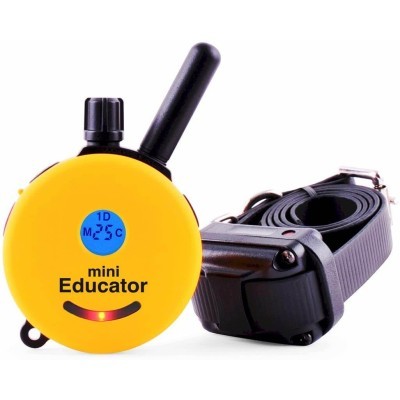 If you are looking for a good-looking training collar that is effective, the Educator E-Collar Remote Dog Training Collar might interest you. This electric dog collar has a different approach, and it doesn't deliver the traditional shock other collars deliver. It has more of a "tap" sensation that is safer and a lot more subtle. Plus, this one is pretty comfortable for dogs to wear, and they don't seem to mind having it on.
Pros
Tap instead of shock
Comfortable
Great design
Cons
Pricey
Tricky to get started
for more options, check out this article - Should you use a shock collar?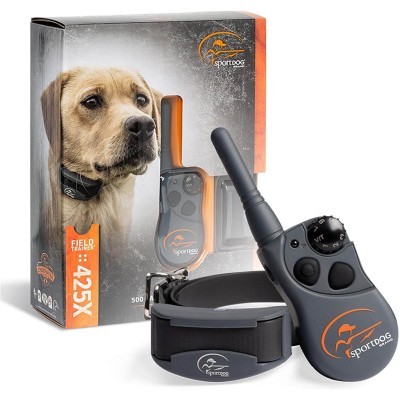 The best thing about this dog training collar is that it has a more extended range - 500 yards. The rest is what you might expect from a training collar - waterproof, different options, and shock intensities. The SportDOG Brand 425X Remote Trainers is submersible up to 25 feet, and it can control 3 different collars. Another unique feature this training collar for dogs has that others don't is a continuous stimulation option. That is a rare feature and is usually used in professional specialized dog training.
Pros
Controls 3 collars
Durable
Cons
Extra collars sold separately
Pricey
Shorter battery life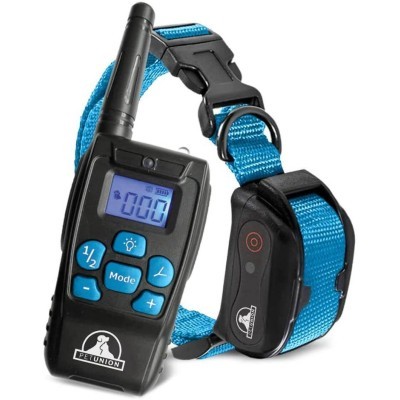 The Pet Union Premium Dog Training Collar has an effective range of 1200 feet. It is ideal for people who love going out in the woods for long hikes with their dogs. The best thing about it is that it is affordable; it offers excellent value when considering how much you get in return. It has a long-lasting battery life, and this training collar even offers correspondence with dog trainers via email. It is a durable dog training collar that won't disappoint you.
Pros
Long battery life
Great value
Cons
Some owners reported problems
World Dog Finder team