Best Wooden Dog Crates in 2023
30.05.2021.
Every product and service on World Dog Finder is independently selected by our editors, contributors, and experts. If you purchase something through our links, we may earn a referral fee. Learn more
---
Dog crates are very useful for keeping dogs out of trouble while you are away. Most dog crates are metal, and it can be challenging to make a good-looking metal dog crate. Luckily, there are many wooden dog crates you can choose from that will not only provide a safe space for your dog, but they will also fit in great with the interior of your home.
What to look for in wooden dog crates?
Not all wooden dog crates are created equal. Before you decide on a particular model, make sure you do your research about these stylish dog crates. It is important to understand your dog's behavior. For example, if your dog loves chewing furniture, getting them a wooden dog crate is probably a bad idea. Here are some of the most important things to look for in wooden dog crates;
Size
The first thing you need to know about wooden dog crates is that they are made for small and medium-sized dogs. If you have a large dog, you might have to look for other options. Before you decide to purchase a wooden dog crate, make sure your dog actually fits inside one.
Material
It is pretty clear that wooden dog crates are made of wood, but not all wood is the same. These crates usually come in one of two materials - solid wood or fiberboard with wood veneer. There are certain advantages to real wood, like sturdiness and longevity, but it also comes with a higher price tag.
Sturdiness and style
Wooden crates come in all sorts of designs. You can pick one that can double as a piece of furniture. That means you will want to choose a crate that is very stylish and fits with the rest of your interior. You don't want to break the flow of the room with a dog crate. That also means you have to pick a model that is sturdy enough for your dog and things you might put on the crate. You don't want to break a vase or glass every time your dog enters the crate.
These are the most important things to look for in wooden dog crates. Here are our favorite models;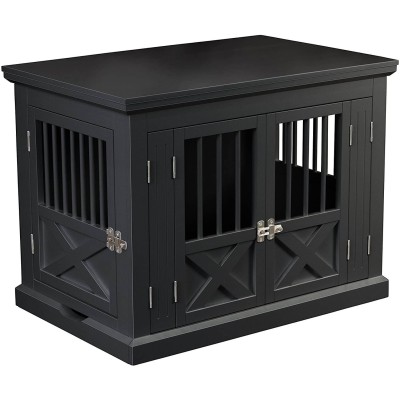 Our top pick in the category of wooden dog crates is the Zoovilla Dog Crate. It comes in black and white, so you can pick the best option for your interior. This dog crate comes with a sturdy build, and you can easily place it wherever it fits. You can even use it as an end table. The only downside to this wooden crate is that it is for smaller dogs. This crate can be taken apart for easy cleaning, and it comes with triple doors so your dog can enter from different sides. It has a beautiful finish, and dog owners reported the color doesn't fade. This is an excellent choice for all dog owners that share their home with smaller dogs.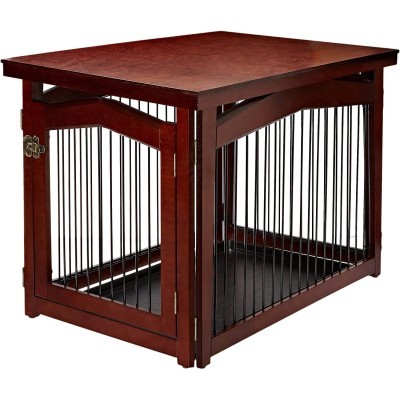 If you are looking for a dog crate that can double as a dog gate, the Merry Pet 2-in-1 Configurable Pet Crate and Gate is the right choice for you. Not only is this dog crate stylish and functional, but it can also be used to block a specific part of your home where you can safely contain your dog. This product comes with a removable plastic tray that will easily fit a comfy dog bed. The removable parts make it very easy to clean. Most of all, we love the smooth design of this wooden dog crate. It can be easily used as a table, and it doubles as a crate and dog gates. This is a great find and a top recommendation.
Check out these amazing dog crates that can double as furniture - Dog Crate Furniture for Your House.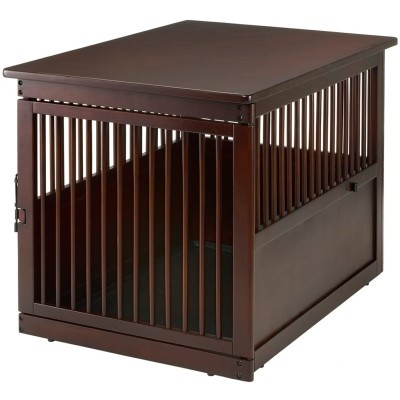 Our third option on this list is the Richell Wooden End Table Crate. This is another multi-purpose dog crate that will save you space. You can use it as an end table, and the design of this product is certainly something you don't want to keep a secret. Wooden dog crates are proof that dog crates don't have to be ugly and impractical. This model has a beautiful brown finish, and it comes in three sizes. Even larger breeds like the Labrador can fit in it. This product comes with a removable tray for easy maintenance. The front door open completely, so your dog gets a nice large entrance. This is another excellent choice for your home and your dog.
World Dog Finder team