Best Wireless Dog Fence
02.02.2021.
Every product and service on World Dog Finder is independently selected by our editors, contributors, and experts. If you purchase something through our links, we may earn a referral fee. Learn more
---
Making sure your dog doesn't run away is a task all dog owners need to take very seriously. The best way to do that is with a fence. Some of us don't want to have an above-ground fence. Plus, dogs can easily dig under it or jump over it. The best possible way is to teach your dog where the perimeter is and that they should stay inside it.
That can be somewhat complicated, and some owners don't have the knowledge or experience to do it. Plus, some dogs can be stubborn or overwhelmed by something they want to chase. In that case, a wireless dog fence can be a fantastic ally. There are several types of wireless fences. If you never had one before, knowing what to get can be complicated.
What is a wireless dog fence?
A wireless dog fence can easily be defined as a dog containment tool. Once a perimeter is made, it will stop your dog from leaving it. It uses GPS, wi-fi, or other electric impulses to let your dog know that they are near the perimeter line and they should get back. At first, when the dog nears the line, the special collar will make a warning sound, and if the dog crosses it, it will emit a mild static shock to correct their behavior. It has a similar function as electric bark collars.
Advantages of wireless fences
Some owners prefer having a wireless option instead of an ugly, closed fence that can easily be surpassed. Some dogs, especially terriers, love digging. If you don't cement the fence in the ground, they can easily dig under it. The best advantages wireless dog fences offer are:
Easier maintenance
Safer
Cheaper
Do not obstruct the view
Disadvantages of wireless dog fences
Like with any other thing in life, this product has two sides. You can't have good without the bad, and even such a good product has some disadvantages. The main ones are:
GPS fences can fluctuate
Some products can be influenced by radio signals
Complicated installation
Repairs can be problematic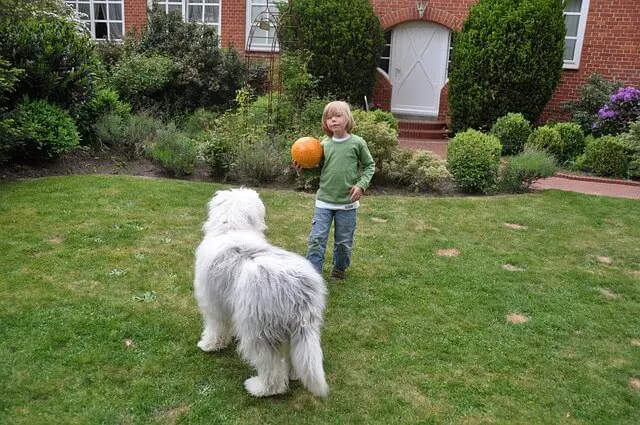 Training
One of the biggest things when it comes to wireless dog fences is training. Just installing the product and hoping your dog will understand to get back a few steps after the collar shocks them is not a good idea. It can ultimately backfire, and your dog might end up paralyzed with fear of going out.
To get your dog to understand what is happening, you need to train them to understand. Most wireless fences come with a set of flags in them, and those flags are used to train your dog. Follow these steps to make the best use of your wireless fence, and help your dog live a happy, carefree life.
Set up - After setting up the wireless fence, set up the flags along the perimeter. Make sure you have enough flags for the whole perimeter.
Meeting the boundary - Take your dog for a walk along the boundary line and set their collar to sound warning only. Come closer to the flag, turn the collar on, and after the dog hears the sound, take them back in the "safe" zone.
Repeat - Repeat this process along the borders, and make sure your dog understands that sound means retreat.
Static correction - This is the tricky part that some dog owners do not approve of. Start with the lowest and weakest setting, and take your dog to the boundary. After the correction, retreat them once again. Repeat until the dog doesn't want to come close to the flags.
Include distractions - After a few days of repeating this process, start introducing some distractions. Throw their favorite toy outside the perimeter. If they refuse to get it, reward them with treats and praise.
Removing the leash - After it seems your dog understands that the perimeter shouldn't be crossed, try repeating that without the leash.
Flags - If it seems your dog understands what is going on, you can start removing flags. Don't remove all at once; take a few out and check their reaction.
If these steps are followed, your dog will quickly understand what is going on, and you can take full advantage of a wireless fence. Remember, include plenty of praise, treats, playtime, and keep training sessions short and exciting.
If you are looking to get a wireless dog fence, here are our 5 favorite wireless dog fences.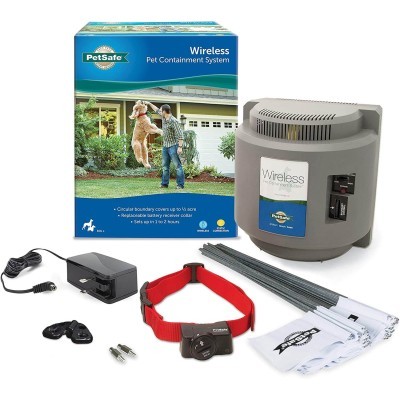 PetSafe is a pioneer in producing different pet products, and it is a company we completely trust. Their PetSafe Wireless Fence requires no complicated installation or hiring professionals to help you set up. It can be easily installed and is not at all complicated to use. The dog's collar has several settings and is completely waterproof. Plus, it has long battery life. This wireless dog fence uses radio waves to establish a perimeter. It is an excellent choice for pet owners, and it can even support several dogs at once.
Pros
Unlimited number of pets
No wires
Easy installation
Cons
Radio signals can be weak
Do you know which dog toys you should get your dog? Check out this article for more ideas - Good Toys for Dogs.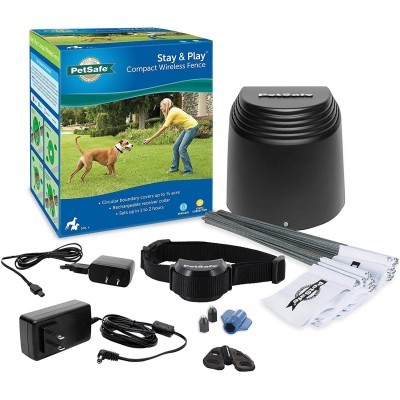 There are over 3.000 satisfied owners that use the PetSafe Stay & Play wireless dog fence. It has a huge radius that can cover up to a ¾ acre, and the best thing is - it is easy to install. This wireless dog fence can work with the smallest dogs, even the ones that weigh only 5 pounds. It has 5 different correction settings, and it comes with a training manual and training flags. Plus, this is a mobile unit, so it is perfect for camping trips, vacations, or any type of relocation.
Pros
Easy installation
Unlimited number of pets
Waterproof
Cons
Some owners reported inconsistent signal (less than 1%)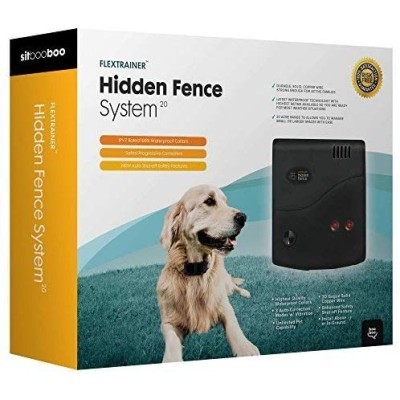 If you are looking for something more trustworthy than a radio signal, installing an in-ground wireless fence might be the solution. For a wireless fence, this does contain a lot of wire, 500 feet to be precise. The installation might be more challenging than with radio signal wireless dog fences. Still, the in-ground fence is a lot more precise. This fence will make sure you never lose signal or that the radio waves get jammed or obstructed. The collar that comes with this fence has static, sound, and vibrating options, so you can pick how you want your dog trained and contained. This fence is waterproof, works in freezing temperatures, and supports multiple pets.
Pros
Affordable
Multiple pets
Works in freezing temperatures
3 correction options
Cons
Installation
Repairs are problematic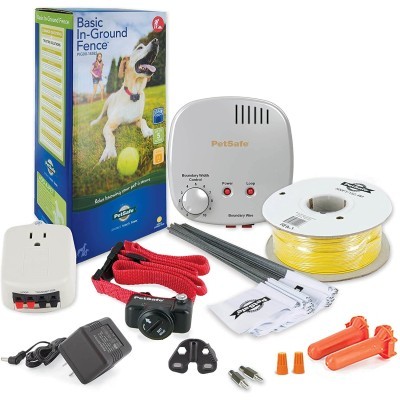 PetSafe has an in-ground wireless dog fence option too. This fence includes 500 feet of wire, and a good thing is that it can be customized to fit the boundaries of your yard. That is something that radio waves cannot do. Yes, the installation might take longer, but not worrying about radio signals is excellent. One of the most significant advantages of in-ground wireless dog fences is precision. The PetSafe in-ground option supports multiple pets, works with pets from 8 pounds, and comes with training flags.
Pros
Affordable option
Precision
Multiple pets
Cons
Installation
Repairs are problematic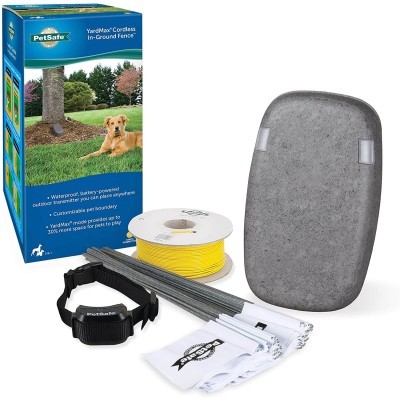 Some owners believe that drilling and shoveling required for installing an in-ground dog fence are just not worth it. So, if you still want to have a precise, in-ground wireless fence option, but you don't want to drill the side of your house, why not get a battery-operated system? The PetSafe YardMax fence transmitter is waterproof, runs on batteries, and can be placed wherever you'd like. The only thing you need is 10 D cell batteries, and one charge can last from 9-12 months. This is as easy as it gets to installing an in-ground wireless dog fence.
Pros
Waterproof
Mobility
Easier installation
Cons
Batteries not included
Installation still needs a lot of digging
Shorter collar life
World Dog Finder team