Why Do Dogs Love Squeaky Toys so Much
12.08.2021.
Every product and service on World Dog Finder is independently selected by our editors, contributors, and experts. If you purchase something through our links, we may earn a referral fee. Learn more
---
Dogs love playing; that is not a huge secret. In fact, it is what makes them, so fun to be around. Most dog owners want to entertain their dogs and provide them with nothing but happiness. To do that successfully, you need to know what type of entertainment your dog loves and why do they like it so much.
One of the things dogs seem to enjoy profusely is squeaky toys. They are fascinated by them and the squeaky sound they produce when dogs bite down on them. Dog owners and behaviorists wanted to know why that happens exactly, and we were interested as well. We decided to do some digging, and here is what we found out.
Why do dogs love squeaky toys?
A few theories explain why dogs love squeaky toys so much, and it is possible that all of them are true. If you need proof, just give your dog a squeaky toy and see what happens. You can be sure your dog will start playing, and all you have to do is push the toy, so it produces a sound. The three theories say;
Genetics
The first theory says that dogs love squeaky toys because dogs come from wolves. Wolves had to hunt to survive, and one of the ways they did that is by listening to squeaky sounds wounded animals make. It is believed the same part of the brain remains with dogs, and the squeaky toy lights up something primal in them.
Pleasure
The second theory says that dogs get pleasure when they bite down the squeaky toy, and it makes a sound. Apparently, dogs love the feeling of pleasure the toy gives to them, so they start squeaking more and more to repeat the feeling.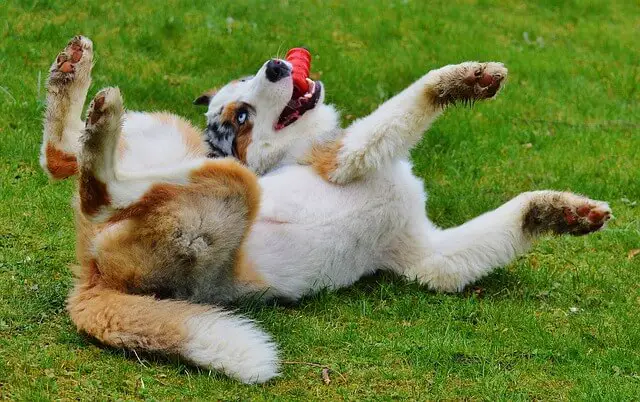 Attention
The third theory says dogs love the squeaky sound because that sound grabs their owner's attention. Dogs share an incredible bond with their owners, and their ultimate goal is to get their owner's attention. The squeaky toy is very effective at that, which is why dogs love them so much.
Is the squeaky toy safe for dogs?
The squeaky toy is not considered the safest toy out there for dogs. Dogs want to get to the center of the toy and reach the squeaker producing the enticing sound. Since dog's jaws and teeth are strong, they will probably reach it. When they reach it, there is a chance the dog might try to eat the squeaker. These toys can present a choking hazard, so you should be very careful when choosing one for your dog.
What to look for in dog squeaky toys?
When buying any kind of product for your dog, there are a few things you should look for. Don't settle for the first thing you come across. Make sure you pick the best possible squeaky toy for your dog. Here are the most important things you should look for;
Material - Many squeaky toys are soft and plush. Make sure you pick a durable material your dog will not immediately destroy. You want the toy to provide at least a few days of entertainment. Dog toys can be expensive and picking a new one every couple of days can be costly.
Stuffing - Squeaky toys filled with plush material are generally not safe, so you should avoid them.
Rubber - Rubber squeaky toys are probably the safest option out there. These types of toys are durable, and some even have spiked surfaces that can clean your dog's teeth and gums.
The best squeaky toys for your dog
If you are looking to get your dog a squeaky toy to play with, there are some great options out there. Here are our recommendations;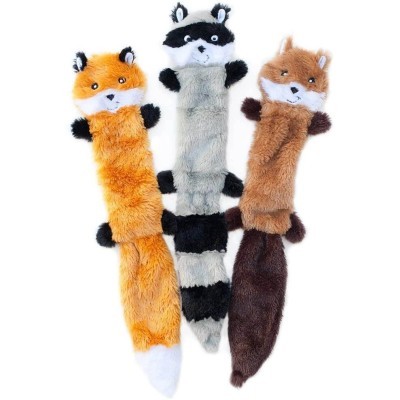 If you are looking to get a squeaky toy that will entirely capture your dog's attention, the ZippyPaws Squeaky Plush Dog Toy is the right choice for you. This toy comes in the shape of three adorable woodland creatures, and you can be sure your dog will love them. These toys are plush, but they have no filling. They are durable, and your dog will not be able to destroy them in seconds. This is an excellent choice for all dog owners whose dogs love squeaky toys.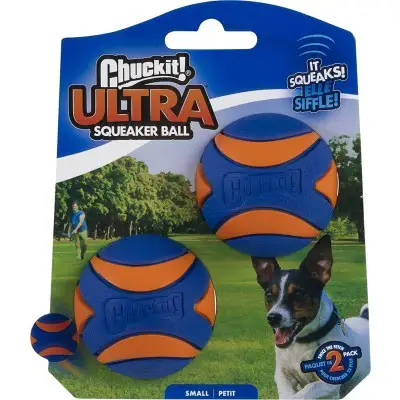 Nothing beats a good old game of fetch. However, playing fetch with a squeaking ball might be slightly better. The Ultra Squeaker Ball is a durable dog toy that will pique your dog's interest. There is a good reason this toy has more than 14.000 5-star reviews on Amazon - it is simply that good. Dogs seem to love it, and whatever their dog loves, the owner loves as well. You can be sure you will not make a mistake if you order this fetch toy.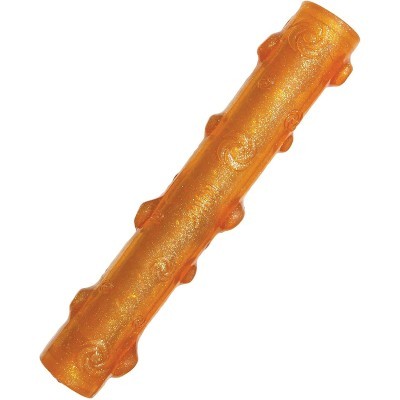 After a while, the squeaking sound might start getting on your nerves. Unfortunately, that is the truth about squeaky dog toys. However, if you want a dog toy that works on the same principle but is a lot quieter and doesn't produce the traditional squeaky sound, you can try the KONG Squeezz Crackle Stick. When the toy is squeezed, it will produce a cracking sound that will interest your dog as much as the traditional squeaker. Plus, it is durable and has high-quality materials.
World Dog Finder team